...Guess How Many Days it takes Bed Bugs' Eggs to Hatch?!?
Details for ...Guess How Many Days it takes Bed Bugs' Eggs to Hatch?!?
They feed on human blood, they come out at night when you are sleeping, they can live from several months to over a year without feeding!!! 
So how do you get rid of them!? 
Do not treat bed bugs yourself.  If you try to kill bed bugs in your home, it could lead to health problems or even death!  We are trained experts and specialize in resolving ANY bed bug infestation from the smallest home to the largest commercial properties - Let us help!  Call (605) 484-0391 if you have an infestation.
Do you call exterminator after exterminator to get rid of the problem?  Well here's where the problem is.  Bed bugs' eggs incubate as long as up to 120 days, so when you think you've annihilated them, that's when they come back for more.  Other exterminators may offer a 3 month guarantee, or if you're unlucky – none at all.  Wait a minute, three months is right around 120 days isn't it? 
We offer a 6 month guarantee on bed bug jobs because we do it right the first time, and follow up to make sure it's done right. 
If you or someone you know needs a quality exterminator to rid your bed, couches, or anywhere else they hide waiting for you, call Anderson's Pest Pros, and you won't have to call another pest control company after the job is complete.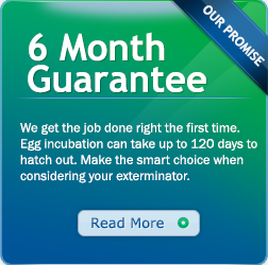 Learn more about beg bugs and other pests on our website or for more information specifically on bed bugs - check out this really nice article by Michael F. Potter, Extension Entomologist with the University of Kentucky College of Agriculture.
Make the right choice, the first time, when you choose an exterminator.
FREE ESTIMATES
Buddy Anderson & Anderson's Pest Pros
(605) 484-0391
http://www.andersonspestpros.net