DEADWOOD | The fifth annual Forks, Corks & Kegs food and wine festival is set for April 6-7.
A release from the Deadwood Chamber of Commerce says event organizers expect it to sell out for the third year in a row.
This year's event starts at 5 p.m. on April 6, with Wine Around Deadwood, a two-hour wine tasting tour of the town. New this year, there will be VIP passes, which will get attendees into a special wine tasting in the Charlie Utter Theater at the Deadwood Social Club.
After the wine tastings, festival attendees can join the Appetizer Crawl from 8 p.m. to 10 p.m., which showcases local chefs' bite-sized creations, each paired with a wine or brew.
On April 7 from 11 a.m. to 3 p.m. is the Deadwood Dine Around. Chefs around Deadwood will prepare samples of their favorite meals paired with wine, beer and cocktails.
At 4 p.m., the Deadwood Mountain Grand Event Center hosts the Grand Tasting. Sample dozens of top choices from participating wineries, breweries and distilleries in a special commemorative glass. VIP pass holders gain early admittance into the Reserved Room at the Grand Tasting.
At 6 p.m. the Deadwood Tobacco Co. will host a $2 Cigar Tasting for guests to sample one of their specialties. Samples must be smoked on-site.
Tickets are only available as a two-day festival pass, and are available at 559-1188 or ticketmaster.com.
A $75 standard pass includes admission to all of the Friday and Saturday events, the commemorative wine glass and free trolley rides around Deadwood to participating locations.
VIP passes are $115 and include all the perks of the standard ticket plus two high-end wine tastings.
Pass holders must stop by the Deadwood Mountain Grand to pick up their festival lanyard and official event guide during registration hours, which are from 2 p.m. to 8 p.m. April 6 and from 8 a.m. to 1 p.m. April 7.
Curiouser and curiouser ...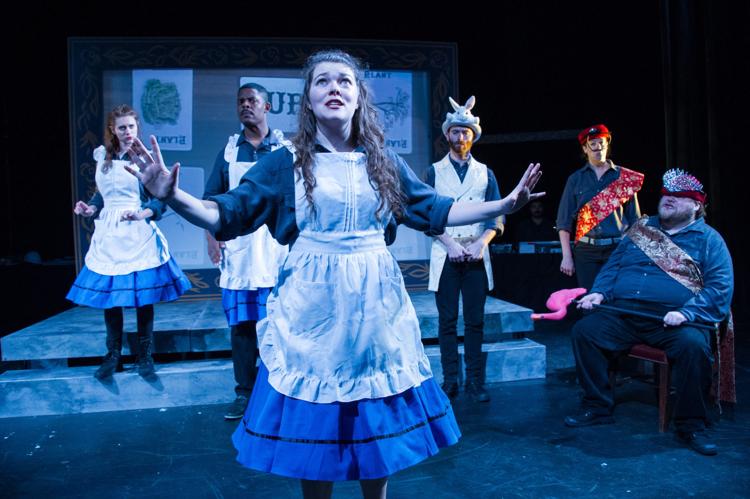 The National Players Touring Theater is back in Spearfish for the third straight year.
On this visit, the group will present Lewis Carroll's "Alice in Wonderland," at 2 p.m. Sunday, April 8. 
A precocious girl falls into a fantastic world of extravagant characters where little makes sense. In this 21st-century staging, cameras, projection and puppets help tell the story of Alice's journey through Wonderland.
Tickets are $10 for adults, and $5 for ages 18 and under and for Black Hills State University students. They are available at the Matthews' art gallery from 10 a.m. to 5 p.m. Tuesday-Saturday, by phone at 642-7973, or online at www.matthewsopera.com.
The theater troupe will also perform William Shakespeare's "Othello" at 7:30 p.m. Tuesday, April 10.
For those weary of the modern world, take a trip back to olden times with a Medieval Banquet Dinner on April 7 at the Naked Winery, 23851 Hwy 85, Hill City. 
Festivities start at 6 p.m. and include belly dancers, tarot card readings, games, minstrels and a magician. 
The four-course meal includes a banquet table, roasted fowl, herb-roasted potatoes, "freshly harvested legumes," and "The King's Confection" for dessert.