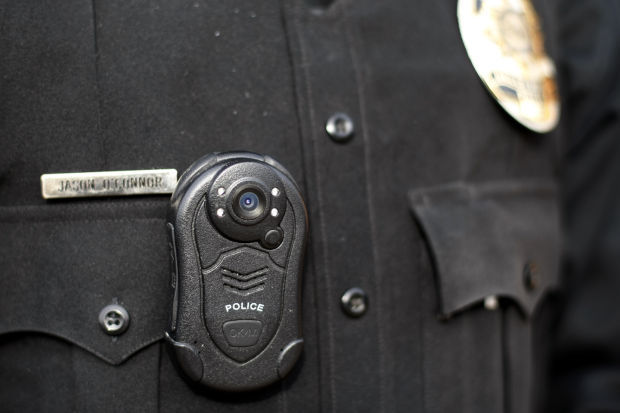 Police officers patrolling Rapid City's streets are expected to be equipped with body cameras by the end of June.
At the Rapid City Council meeting Monday night, the council authorized the Rapid City Police Department to enter into a five-year contract with Axon, an Arizona-based company specializing in technology and weapons products for law enforcement and civilians.
The contract is for $666,446, and includes the purchase of around 100 cameras, RCPD Chief Karl Jegeris said in a Journal interview after the meeting.
"Everybody that's working in a uniformed operational capacity will be wearing the body cameras," he said. "It's patrol. It's field services."
A $300,000 Department of Justice grant to the RCPD and Pennington County Sheriff's Office to help fund the implementation of body camera technology was awarded in October 2017 and will help the RCPD offset $150,000 of the cost split over the next two years.
Alongside the contract for body cameras, a separate, five-year contract at $191,135 for dash-camera technology was also approved Monday night. The RCPD's patrol cars are already equipped with that technology, but the new contract will see the RCPD switch from L3 Technologies to Axon's camera and technology infrastructure. Jegeris said he expects the transition to be complete by the summer of 2019. The purchase of about 30 cameras is included in the contract.
The body camera contract comes following a three-month pilot project that saw 15 police officers and 15 deputies test three different body camera manufacturers. The names of the other manufacturers tested were not disclosed as per a confidentiality agreement, RCPD spokesman Brendyn Medina said in October.
During the past year, the RCPD has also been crafting a department policy for body camera use by its officers. A draft of the policy was made public in December and requires that officers activate their cameras during most routine encounters — e.g. traffic stops, vehicle/foot pursuits, arrest and transports, domestic violence calls, DUI investigations, the reading of Miranda rights and the seizure of evidence — while noting that activation may be delayed due to immediate safety concerns by the officer.
Further, storage of the recordings is set at a minimum of 60 days for arrests and pursuits and a minimum of 30 days for traffic stops, searches and other "miscellaneous categories." Long-term storage is required in homicide investigations, officer-involved shootings, vehicle pursuits resulting in obvious serious injury crashes, fatality crashes and "significant incidents at the direction of a supervisor or investigator." In past interviews, creating the infrastructure for the storage process has been cited as the largest ongoing cost of body camera technology.
As for the release of the recordings, the videos are not subject to inspection or copying but can be released if the agency or court "determines that the public interest in disclosure outweighs the interest in nondisclosure."
Jegeris said his department engaged with the American Civil Liberties Union, its community advisory committee and then the public while drafting the policy.
"I would call it a community inclusive policy," he said. "I think it's going to serve our community very well."
A recent study of over 2,000 police officers in Washington, D.C. — perhaps the most comprehensive study of body camera use by law enforcement to date — found that officers equipped with cameras used force and faced civilian complaints at about the same rate as officers without cameras.
The D.C. police chief overseeing the department that was studied, Peter Newsham, told The New York Times that the primary benefit to using body cameras is less to affect police behavior than to improve the community's trust and relationship with law enforcement.
In other action, the council:
• Approved a management plan as the city prepares for a looming infestation of Emerald Ash Borers, an exotic beetle native to Asia that's known for its insatiable appetite for ash trees. Infestations have been detected in 31 states and are slowly spreading westward. In Iowa, an infestation was recently found within 90 miles of Sioux Falls. About one of every five trees in Rapid City is an ash tree and the city estimates that it has about 40,000 ash trees in total.
As part of the city's management plan, it will begin thinning the ash tree population by about 100 trees per year until ash tree levels are below 5 percent or ash borer infestation is found in the area. Ash trees of "poor quality" and trees less than 10 inches in diameter will qualify for removal but woodland areas, riparian zones and unmanaged city property will go untouched. Trees on private property that are suspected of ash borer infestation will be inspected and if found infected, will need to be removed by the landowner.
Infected ash trees in the right-of-way adjacent to private property will also need to be removed by the adjacent landowners. Chemical treatment for certain trees is also planned but would not be initiated until an infestation is detected in the area. Chemical treatment will be minimal, however, and is quite expensive — between $7 and $16 per inch of tree diameter every two years — and will only be applied to trees in downtown Rapid City, along West Boulevard, and other "large legacy" and "memorial trees." Funding will determine the location and number of trees that receive this treatment. Once an infestation is in the area, the treatment must be injected into the tree's trunk every two years or the tree will become infected and die.
• Approved the first reading of an ordinance further regulating food truck vending operations in Rapid City just over year after the council passed regulations for food trucks operating within city parks. The ordinance seeks to prohibit food trucks from operating in certain locations — e.g. on city streets and sidewalks, within 300 feet of any event held in the central business district or in the public right-of-way, unless given permission — while also creating new rules like the prohibition of "audible amplified music" and signage on anything other than the food truck. Perhaps most notably, the ordinance would not require food truck operators to apply for any additional permits from the city. The state Department of Health already requires a license and conducts occasional health inspections while the city requires permits for food trucks operating in city parks.
• Approved the first reading of an ordinance concerning the city's Planning Commission. The most notable change the ordinance introduces is opening up the possibility that the commission be filled with people from the same city ward. Under the current ordinance, appointments that would result in two or more commission members being from the same ward are prohibited. Under the proposed ordinance changes, such appointments would be allowed once "due regard" was given to "obtaining representation from all five wards." The change, assistant city attorney Carla Cushman wrote in an April 26 memo to the Planning Commission, comes after the city had difficulty filling empty commission seats due to a lack of membership and applicants from Wards 2 and 4.
• Approved putting three public improvement projects out for public bidding. San Marco Boulevard from South Canyon Road to West Chicago Street will receive a facelift, and sanitary sewers will be extended at a cost of approximately $300,000. Chip sealing of certain city streets — Meade Street, Galena Drive, Elm Avenue and Sitka Street — was budgeted at about $300,000. A corroded water valve beneath Saint Joseph Street from East Boulevard to Third Street will be repaired along with other improvements at an estimated cost of $260,000. A request by Jeff Crockett, the city's water superintendent, for $150,000 to cover the cost of concrete replacement resulting from the repair of water main breaks was also approved.
• Approved a request by the Black Hills Farmers Market to operate at 145 E. Omaha St. for the 2018, 2019 and 2020 seasons. In a March 28 letter to the city council, Farmers Market Manager Barbara Cromwell indicated the location had adequate space for its 56 vendors and sufficient parking for customers. This year marks the 30th year for the Black Hills Farmers Market, which is scheduled to open on May 12 through Nov. 3 on Saturdays and Wednesdays from 8 a.m. to 2 p.m.