From rock 'n' roll to landing on Mars: NASA scientist holds talk on space exploration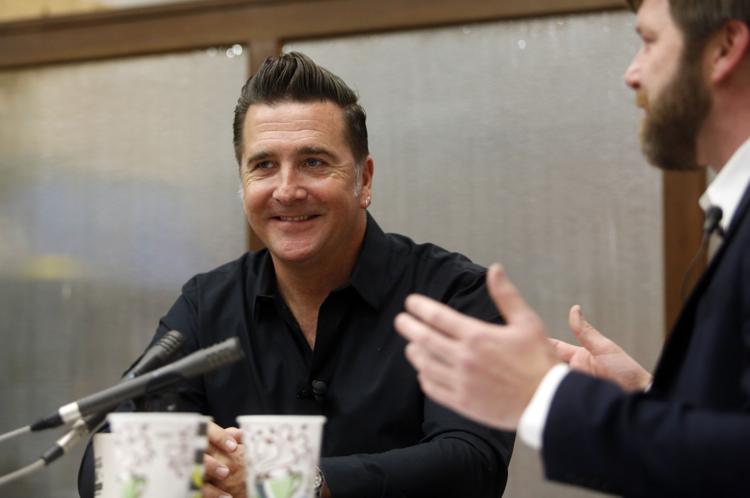 It was a long and unlikely road that led Adam Steltzner to Mars.
As part of the monthly Morning Fill Up series at The Garage on Thursday morning, Steltzner chronicled how he went from a high school student with poor grades who played in a rock 'n' roll band to leading the design and implementation of the landing for the Mars Curiosity rover for NASA in 2012.
Steltzner, who was interviewed by Matt Ehlman of the Numad Group, doesn't look like a scientist. His Elvis-style haircut and black button-up ooze cool. Also, most scientists haven't been in GQ magazine. 
In high school, Steltzner said, "I had done a really good job of convincing myself that I was not an academic."
He failed geometry and passed the second time with an F plus. "Miss Hunter just didn't want to see me in the classroom anymore." 
After high school he studied music for a year and eventually ended up playing bass in a band called Stick Figures. "I love music, but I played it poorly," Steltzner said.
He found his band's success was more about the clothes they wore or the clubs they played, and less about how good they were at music.
"It just didn't square with me," he said. "There were so many pieces of the puzzles that didn't seem to be derived from the thing we were doing — the music we were making."
It was after playing a gig one night in California that he looked to the stars and he was hit with a spark of curiosity that lead him on a journey to Mars and better understanding of the world.
"Orion had been in the east when I went to play a show, and it was in the west when I came home," Steltzner said. He wanted to know why Orion had moved across the sky, so he enrolled in a College of Marin astronomy class and took a corequisite physics course.
"It took that little spark of curiosity and lit a fire," Steltzner said of the physics course."The idea that you could understand the world, and through math, that you could predict the future state of the world, was incredibly calming."
He dove head first into science and went on to get a Bachelor of Science degree in mechanical engineering at University of California, Davis; a Master of Science degree in applied mechanics at California Institute of Technology, and a Ph.D. in engineering mechanics at University of Wisconsin–Madison.
Steltzner then landed a job at NASA's Jet Propulsion Laboratory, where he spent 10 years designing and building the landing system for the Mars Curiosity rover.
"The laboratory had this appreciation for ideas no matter where they came," said Steltzner, who thrived in the environment.
Steltzner said his job was to look for design failures in the landing system, and then look for ways to make sure the design didn't fail because of those failures. 
In August 2012, after a decade of work, Curiosity was finally set to land on Mars. The federal government had spent $2.5 billion on the rover project, but Steltzner wasn't concerned about the amount of money that had been invested. Instead, he thought about his 3,000 colleagues who had worked on the project. 
"I was desperately concerned that some inadequacy on my part could jeopardize some part of their lives," he said.
As Curiosity hurdled toward Mars at 13,000 mph, more than 50 million people from around the world tuned in to watch. For Steltzner, it was the most "agonizing minutes" of his life.
As the rover entered Mars' atmosphere, the first signal it sent back read "beta off nominal catastrophic." The word catastrophic isn't generally a great sign. 
"The very first thing that comes back said says, 'Oh, you screwed that up, and it's over,'" Steltzner said, noting that he wasn't surprised something went wrong but just that it happened so quickly. "I had not thought about success, I had only thought about failure because that was my job."
Adrenaline rushed through his body as he thought his 10-year project had come to an end. Just as the team thought all was lost, they discovered that the first measurement had been off. The second message came back normal. The rover was still fine and racing toward the surface of Mars.
The team crossed milestone after milestone in what they now refer to as the seven minutes of terror.  Finally, Steltzner heard "touchdown confirmed, we are safe on Mars" over the communication system.
"The room explodes, and I am still there waiting for the failure," he said. "Those 10 minutes were the most agonizing minutes of my life."
Steltzner said all kinds of people came up to him after the landing and said they were moved by what he and his team had done. The car-sized Curiosity rover was able to explore and retrieve data that had never before been collected. 
"It's kind of like performance art," Steltzner said. "We are sort of asking the question of what is possible for us as human beings to do."
In the past, according to Steltzner, space exploration had always been rationalized by the spinoff technology it created.
He joked that Teflon, a space race byproduct, made "many pans very slippery."
"And Tang came out of that," he added with a laugh.
But now, Steltzner says space exploration is different.  "I vastly prefer to say that we do it for no good reason."
He lists music, art, sports, literature, dance and architecture as other examples. "All of the things that define us as a species, are things that don't make the price of gas any cheaper," Steltzner said.
"All of the great things that make us who we are, are done for no good reason."