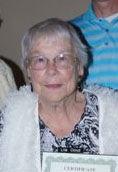 Lila Doud's life was changed forever on Dec. 8, 1983, the night her daughter Lori was hit by a drunken driver. The collision prompted Doud to spend 33 years volunteering as the director of Mothers Against Drunk Driving Pennington County.
Doud is now retiring from her director's role. On Thursday night, during MADD's annual candlelight vigil, law enforcement officials and the national president of MADD honored Doud for her years of service.
Doud got involved with MADD because she felt compelled to fight back against drunken driving. She still vividly recalls the night her daughter was injured.
"I got the phone call: 'She's not dead, but we need you here,'" Doud said. "It was winter, it was cold. I went to the emergency room where she was, and then I took her home with me to watch her for signs of shock."
Lori recovered but, decades later, still suffers side effects. Glass embedded in her body from the accident periodically works its way through her skin and, as recently as a few weeks ago, Doud said, her daughter was picking glass out of her face.
At the time of Lori's accident, South Dakota lacked a MADD chapter, so Doud got involved in starting one. Doud served as its director since the chapter formed in 1984. "I thought if nobody's here to do something, I've got to do something," Doud said.
Over the past three decades, Doud has become "a force," according to MADD's national president, Colleen Sheehey-Church. South Dakota Attorney General Marty Jackley and Sheehey-Church both honored Doud at Thursday's vigil and presented gifts of appreciation for her service.
Jackley praised Doud for being a strong partner with law enforcement in the fight against drunken and impaired driving. During her MADD tenure, Doud has worked on legislation to get better laws in place. She has ridden with police officers on saturation patrols, visited DUI checkpoints and local courts, all to get a better understanding of how local and state law enforcement deal with drunken drivers.
"As we continue to move forward, you know law enforcement needs (MADD). You're an organization that makes a difference," Jackley said.
Doud has been "a lifeline and a shoulder to cry on," Sheehey-Church said, noting that no one seeks MADD's help or support until a tragedy occurs.
"I want to thank you for the constant support of our mission. You gave courage to many and encouraged many more," Sheehey-Church said. "With fighters like you on our side, I hope one day there are no more victims."
MADD's ongoing mission is to raise awareness about drinking and driving, Doud said. Locally, MADD's most visible campaign is the "Think" signs placed at sites where people have been killed by drunken drivers. Signs are placed at the request of victims' families, Doud said.
"The awareness we've raised is one of the big things (we accomplished). People know now if they're going to go out and drink, they'd better not be driving," Doud said. "We don't tell people not to drink, but if they are going to drink, for God's sake don't get in the car and intend to drive."
Doud also issued a warning to sober drivers. "Watch out for the cars around you, especially at night, but we have drunk drivers on the roads 24 hours a day," she said.
MADD's candlelight vigil also honored local and county law enforcement. This year, Deputy Anthony White of the Pennington County Sheriff's Office, Officer Brandon Johnson of the Rapid City Police Department and Trooper Brandon Hansen of the South Dakota Highway Patrol were honored for their work to arrest drunken drivers. Rick McPherson, who developed the Freshman Impact awareness program, also was honored.
To conclude the vigil, the names of South Dakotans killed by drunken or impaired drivers in 2016 were read aloud. Last year, 55 people died and 589 more were injured.
New director takes reins
Connie Hobbs is the new incoming director of MADD Pennington County. Like Doud, personal tragedy prompted her involvement with MADD. She was delivering valentines with her two young daughters in 1994 when her car was struck by a drunken driver coming from a nearby bar. Hobbs' younger daughter, Rachel, then 5, survived, but Hobbs' oldest daughter, Lesley, 9, was in a coma for a week before she died from her injuries.
Hobbs wants to expand MADD Pennington County to become MADD South Dakota, she said. She also plans to revive and expand events such as the MADD Dash 5K Run/Walk that raise awareness and funds for MADD. The money will help with victims' assistance, education and promotion of MADD's mission, Hobbs said.
"I want to get MADD's name back out there and be known across the whole state," Hobbs said. "People are going to drink; all we ask is that they don't drink and drive. Think before you drink. Designate a driver. … That's what we want — no more victims."