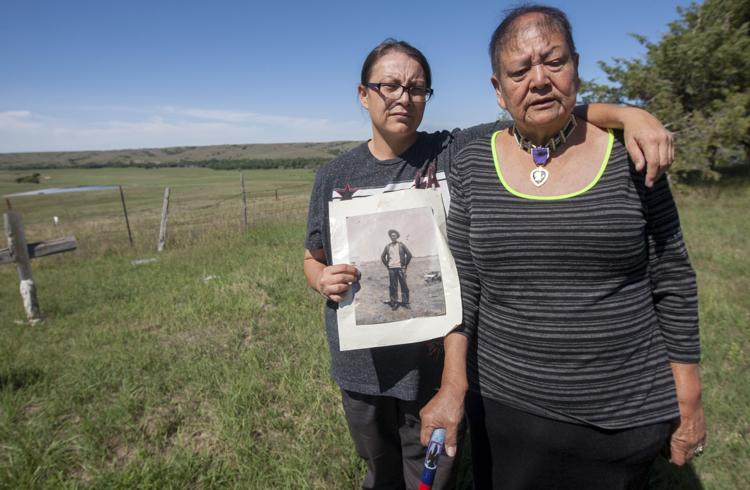 WHITE RIVER | After 66 years, a Lakota warrior is coming home.
Philip James Iyotte was born in Mellette County on Nov. 19, 1929, to Joseph and Florence (Menard) Iyotte but was raised by his father and his second wife, Rose (Highpine) Iyotte. As the oldest of 14 children, Phillip was reared in a two-story, five-bedroom home built in White River just north of the Rosebud Indian Reservation by his father, uncles and a brother.
As a young man, Iyotte was given the Lakota name Akicita Isnala Najin, meaning "Soldier Who Stands Alone." No one could have known then how prescient that moniker would become.
A Lakota soldier
In 1950, at age 20, Iyotte enlisted in the U.S. Army, destined to serve the same country that had relegated his tribe to a remote reservation in southwest South Dakota. Following boot camp, the young soldier was assigned to the Army's 21st Infantry Regiment of the 24th Infantry Division and soon was deployed to the Korean conflict.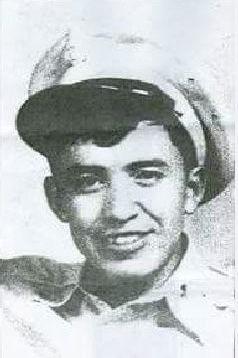 Fragments of an enemy missile seriously injured Iyotte in a battle on Sept. 2, 1950. After being hospitalized for treatment, Iyotte returned to his regiment and the war in just 19 days.
In the heat of combat near Seoul five months later, Iyotte and several of his fellow soldiers were captured by Chinese forces and marched to a prisoner of war encampment. An Army archival photograph from that day of his capture — Feb. 9, 1951 — shows the young South Dakota soldier being held at gunpoint by the enemy.
"When my uncle was captured, he was west of Seoul, and he and his fellow prisoners were made to walk," Iyotte's 40-year-old niece, Dera Iyotte, said from her White River home last week. "Two gentlemen, fellow Sioux, named Moses Garneaux and Norman White Buffalo Sr., were in the camp with my uncle.
"They had to walk a long ways, and they were not getting proper nutrients," Dera explained. "My uncle had been shot in the stomach, developed gangrene, when his friends told him they had found an escape route."
Unable to walk and knowing he would be unable to join the POWs in their dangerous flight to freedom, Iyotte sang them a Lakota honor song before their departure, Dera noted.
"Then they shook hands, and the two men took off running," she said. "They floated at sea for 18 days before a foreign fishing vessel picked them up, and they returned home. That's all we know of him, this last story, because they had to leave him. But they made it home to tell my grandfather of their last time together."
Family pride
Dera's pride at her relative's selfless service is apparent as she discusses his plight.
"He was a warrior before the Army got him, a Lakota horseman, and he prayed and he sang those two men a song, which showed he had the biggest heart in the world," she said with faraway eyes. "He was my uncle."
In the ensuing 66 years since the last word of the Lakota warrior filtered down to rural South Dakota, the Iyotte family never gave up hope for the warrior who mysteriously disappeared at the hands of his Chinese captors. They maintained contact with the Army, attended meetings conducted by the Army's Past Conflict Repatriations Branch, also known as the Army Casualty Office, headquartered at Fort Knox, Ky. And they wrote letters and made phone calls to their state's congressional delegation asking for assistance in finding their lost sergeant.
Official recognition
Thirty years ago, then-U.S. Sen. Tom Daschle traveled to White River to present the Iyottes with a memorial plaque in honor of Phillip Iyotte's service and sacrifice. The plaque, presented because the Army could not declare the missing soldier legally dead, was later installed on the family plot at the Old Two Kettle Cemetery 12 miles north of the serviceman's childhood home.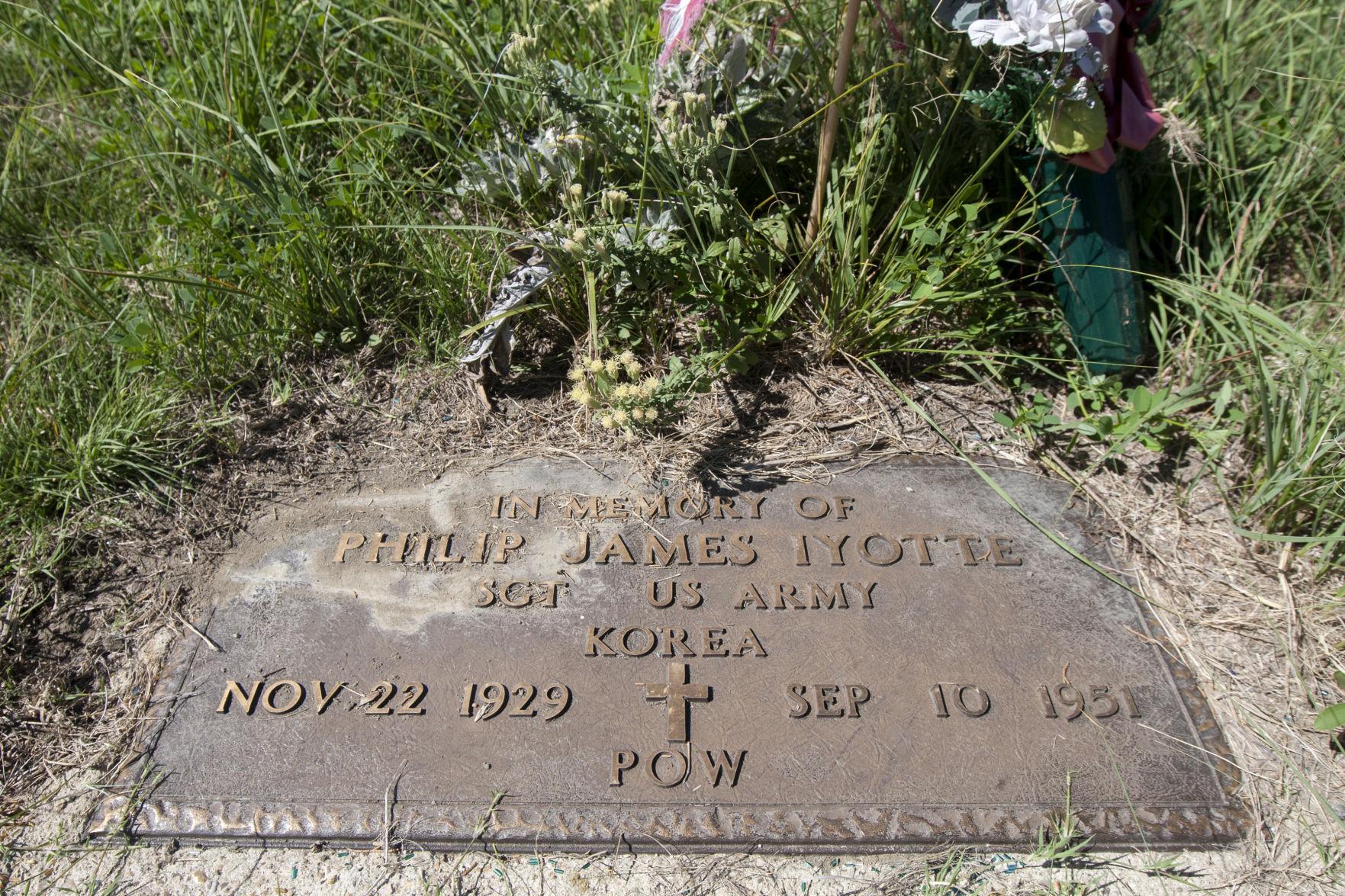 Then, on Sept. 12, 2003, representatives of then-U.S. Sen. Tim Johnson presented the surviving members of the Iyotte family with a series of medals recognizing their lost soldier's service and valor. Among those honors were the Purple Heart with bronze oak leaf cluster, POW Medal, National Defense Service Medal, Korean Service Medal, United Nations Service Medal, and Combat Service Award.
"Iyotte died while serving his nation," Sen. Johnson noted in prepared remarks presented that day. "Today we come together to honor Sgt. Iyotte, who served his country with valor and distinction and gave his life so others may live freely."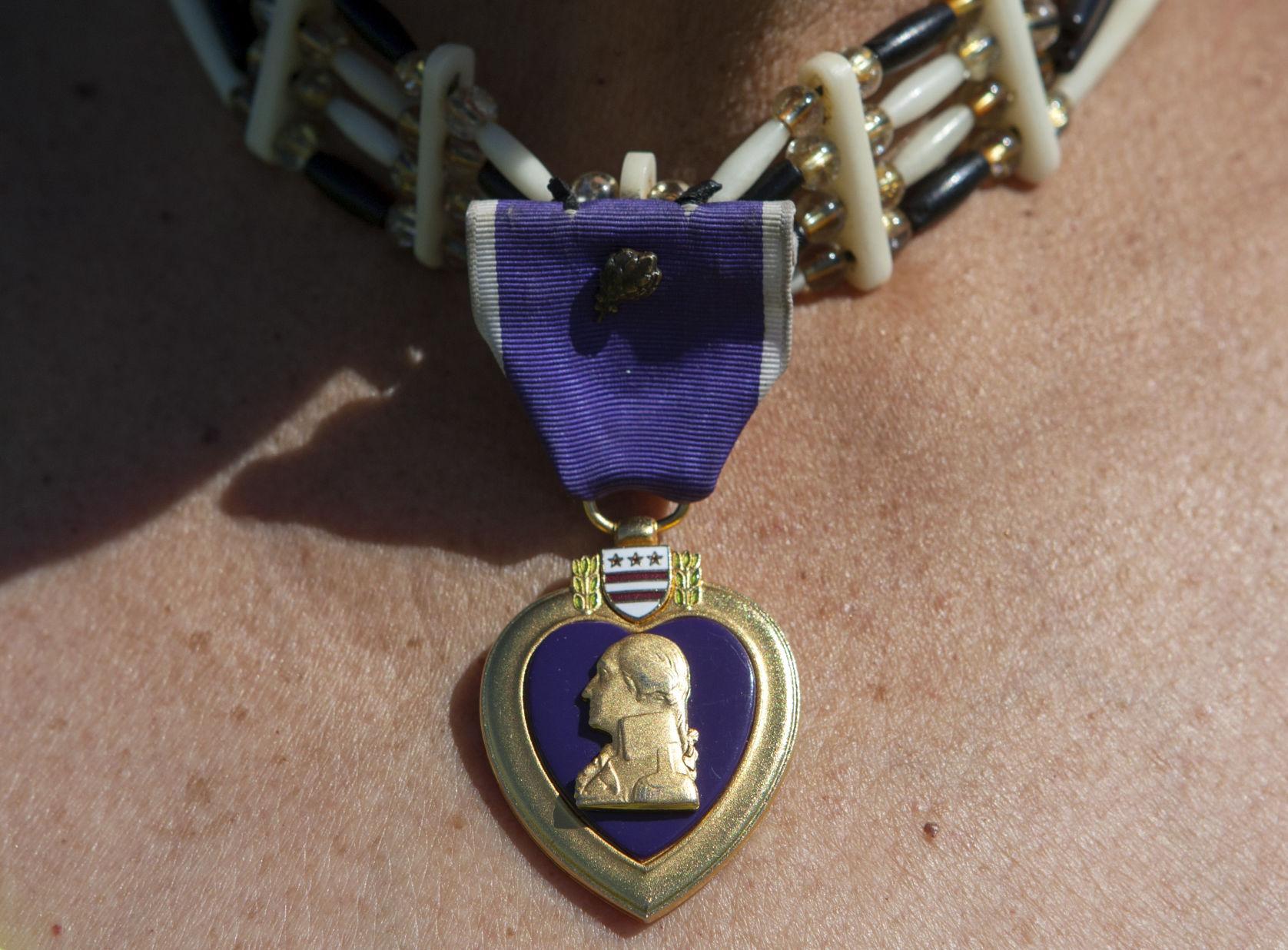 Lone survivor
At the time, Iyotte was survived by four of his 13 siblings. Today, there is but one.
Eva Iyotte, 63, the youngest child of the large family, wasn't even born when her oldest brother disappeared into the Chinese POW camp.
"I was born three years after he was captured," Eva said last week. "I never knew him, but for the pictures and from my mom and dad. He never got to see me, either."
But Eva grew up revering her lost sibling and, with the passing of her mother and father, eventually adopted the challenge of finding him.
"We prayed every morning that he would return because they had him as a POW in Korea," she remembered. "We all prayed to hear news of him and that he would come home. Four of my brothers were in the Army and the Marines, and they were all my heroes. But there was one I never met, and he's always been my greatest hero."
Eva laments how her young brother fared; leaving his reservation to fight people he never met, being captured, wounded, and dying a lonely death so far from home.
"Each Veterans Day, my grandma would always sing an honor song for him," Eva recalled. "In the back of my mind, I always wished he would come home alive. There was this huge hole in my heart. It's a void that drives you, and you want to find out — it's your flesh and blood."
As her father lay dying four decades ago, he made Eva promise to continue the pursuit to solve the mystery of her brother's disappearance and, ultimately, to bring him home. She embraced that challenge, attending annual meetings of the Repatriation Branch, providing DNA samples a decade ago to aid in the search, reading journals from those detained in Korean and Chinese POW camps, and commiserating with the families of other soldiers missing in action.
"As a young girl, I wondered where Korea was, and when I went to school, I found out," Eva said. "I told my dad that he was across the ocean, but one day he would come home."

Homecoming
Last month, when the most recent Repatriation Branch meeting was conducted in Washington, D.C., on Aug. 8, family finances wouldn't let Eva attend. But a telephone call a few days later changed her life.
"The man asked if I was sitting down," Eva recalled. "He said, 'We wanted to tell you in person that your brother, Sgt. Phillip Iyotte's, remains have been positively identified.'
"I almost fell over, and I started screaming and hollering," she said. "When I think about it, I still cry. I am so happy; it's such a miracle. It has been our family's prayer for 66 years, and sometimes all we have is prayer. When they say the family that prays together stays together, it's true, because Phillip is coming home, and we're going to be together again."
Eva and Dera said they were told that Iyotte's remains were identified with the assistance of Chinese officials. The serviceman's remains have since been transported to Hawaii and will soon make their way back to South Dakota, they said.
When they do, the Iyottes plan to conduct a memorial service in White River, followed by burial in the family plot north of their home. And on that day, Eva said she will have an intimate talk with the warrior brother she never knew.
"I went to my parents' grave last Friday and told them Philip is coming home, but I said, 'You already knew that,'" Eva whispered. "When Phillip comes back, I will tell him, 'Hello, brother. Welcome home. I have looked for you for so long.' I will probably cry. And I will get a buffalo robe for him, because he was a true warrior."