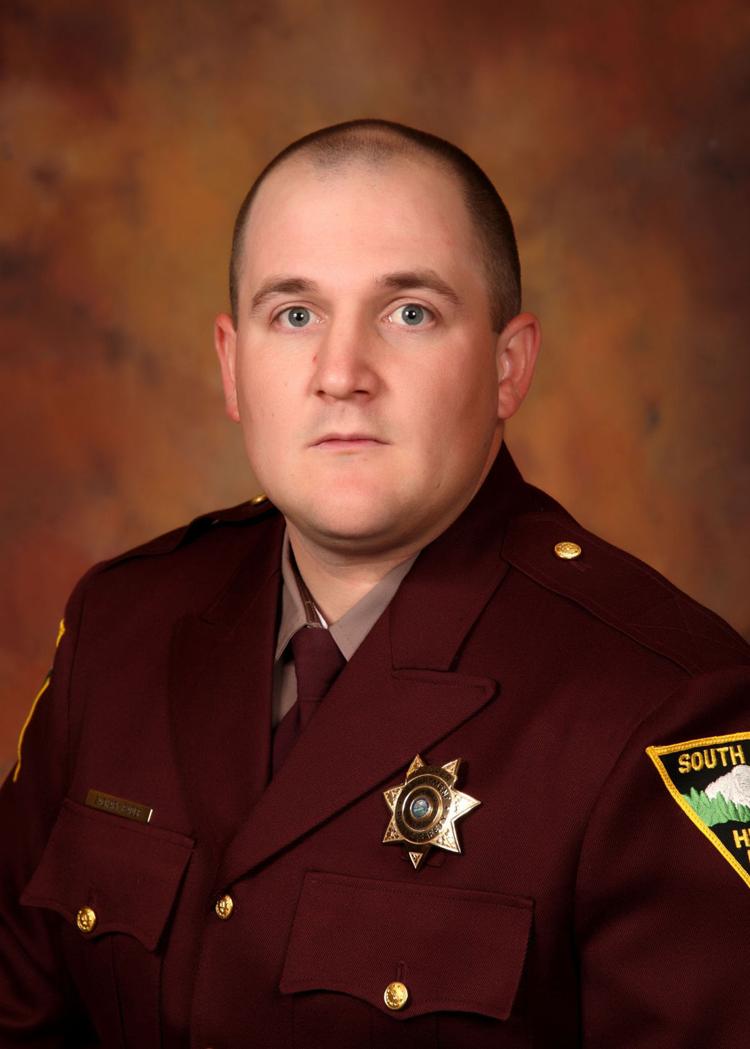 The state trooper who got beaten up following a traffic stop in Pennington County testified that he couldn't remember the assault. Just several minutes beforehand Wednesday, jurors heard the defendant admit to the attack on video.
Trooper Zachary Bader, 36, said he couldn't recall what happened after he pulled out handcuffs to arrest Donald Willingham that morning of Oct. 24, 2015. Bader said he regained consciousness with his body lying face-down on the ground, grass tickling his face.
He asked perplexed emergency responders if everyone was all right, Bader said. He thought a car had veered off the interstate, hitting him and Willingham's group.
In the ambulance, on his way to the hospital, he knew that he was bleeding badly.
"I could see it … I could taste it," Bader said Wednesday afternoon in front of a packed Pennington County courtroom. "Seems like no matter what I did, I couldn't take a full breath."
Bader, who is married and has three daughters, said doctors hooked him to a ventilator through a tube inserted in his neck. He learned that practically every bone on the left side of his face had been broken but didn't care to do a full assessment of his injuries.
But Bader did remember what came after that consequential traffic stop on Interstate 90 near Box Elder: He smelled marijuana inside the Chevrolet Suburban that carried Willingham and three others, he wrote up a speeding warning for the driver and asked the passengers to get out so he could search the vehicle.
In the back cargo area, Bader said he found "heat-sealed packages of marijuana" and intended to place the SUV's occupants under arrest. He was going to handcuff Willingham first, Bader said, because the man appeared to present the biggest physical threat.
Bader, dressed in the South Dakota Highway Patrol's brown uniform, smiled a lot and tried to maintain a light-hearted tone during his 50-minute testimony. But at certain moments, his voice cracked with emotion or he would stop to control his tears. Off to the trooper's right, seated beside his two lawyers and wearing a light gray suit, was Willingham.
The 35-year-old Renton, Wash., man is being tried for attempted first-degree murder and aggravated assault on a law enforcement officer. He is charged also with possession of marijuana with intent to distribute, possession of marijuana and commission of a felony with a firearm.
Where the trooper's memory of their encounter fails, Willingham fills in the gap in a video-recorded police interview, which was shown to jurors before Bader took the stand.
Willingham admitted hitting Bader about six times, explaining he didn't want to go to jail for possessing large quantities of marijuana or Bader confiscating the cash he was carrying. Investigators later found some 40 pounds of pot and $30,000 in hundred-dollar bills that Willingham said belonged to him.
These seized items, including a small handgun, were among the evidence that prosecutors presented to jurors Wednesday morning. The vacuum-sealed marijuana came in their original containers, which included two transparent storage bins placed inside huge black plastic tubs.
"I needed some money. I took a risk, and I (expletive) myself," Willingham told two investigators during an October 2015 interview. He admitted dealing marijuana, saying he had a daughter to support. In a police interview a day earlier, Willingham said he hit Bader because he feared getting attacked. He and his companions were arrested in Wall about an hour after they left Bader by the interstate.
Bader, who returned to work last year, said that every day he lives with the effects of the assault. He has some double vision in his left eye, which has required adjusting the way he does firearms training. His bite has gotten misaligned, which Bader said he'd rather fix with braces than surgery.
The left side of his face remains numb, so he is not aware when food dribbles out of his mouth. And shaving has become the most difficult task. "Are you cutting your face or doing what you're supposed to be doing?" he said.
The defense didn't ask Bader any questions. The prosecution rested their case after the trooper's testimony. The trial is expected to close today.
Willingham's companions, who were also charged with multiple felonies, pleaded guilty last year to possession of marijuana with intent to distribute and being an accessory to a crime. They are due to be sentenced today.
Willingham's most serious charges — attempted murder and aggravated assault — each carry a penalty of up to 25 years in prison. He is detained at the Pennington County Jail.