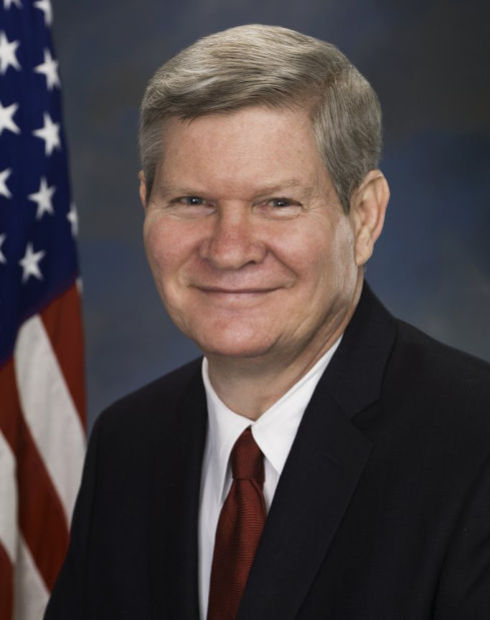 Nearly five years since announcing his retirement, former U.S. senator Tim Johnson, D-S.D., continues to use his leftover campaign money to dish out some of the biggest and quietest political contributions in South Dakota.
In September, he contributed $50,000 to a politically active nonprofit — managed in part by his former chief of staff — which in turn spent the money on a petition drive to put redistricting reforms on next year's general election ballot.
That contribution notwithstanding, Johnson still has more than $800,000 in campaign funds at his disposal as the calendar turns toward the 2018 elections, with few limits on the amounts his federal committees can dispense to state-level candidates, political parties and ballot-question committees.
Johnson has been slowly doling out the leftover money from his Senate campaign committee and his political action committee, South Dakota First, since he announced on March 26, 2013, that he would retire rather than seek re-election in 2014. Former governor Mike Rounds, a Republican, won the election for Johnson's seat, and Johnson — who suffered stroke-like symptoms caused by brain bleeding from an arteriovenous malformation in 2006 — has since withdrawn into private life and stopped granting interview requests.
Johnson went into retirement with about $1.5 million in combined balances in his two federal fundraising committees, according to public reports filed with the Federal Election Commission around the time of his 2013 announcement.
Since then, further reports show he has disbursed about $688,000 from the committees, reducing their combined balance to about $816,000.
Johnson's use of the money is restrained by federal law, including a prohibition against personal use. Permissible uses include donations to charity and contributions to national, state or local candidates and political parties.
Ballot-question committees in South Dakota have been the biggest beneficiaries of Johnson's money so far. His reports to the FEC show at least $150,000 in direct or indirect contributions to South Dakota ballot-question committees since 2013, including the recent $50,000 contribution to TakeItBack.org-Advocacy, a 501(c)(4) nonprofit organization.
Rick Weiland, who runs the nonprofit with former Johnson chief of staff Drey Samuelson, said the nonprofit gave the money to Citizens for Fair Elections, a South Dakota ballot-question committee. Citizens for Fair Elections has not yet reported the contribution because it is not required to file its next campaign finance report until Jan. 26.
Weiland said the committee employed paid petition circulators and volunteers to collect 34,000 signatures in support of a state constitutional amendment to strip legislators of their redistricting power and establish an independent redistricting commission.
Whether the measure will be included in the 2018 general election remains to be seen, because although the 34,000 submitted signatures exceeded the roughly 28,000 that were required, the South Dakota Secretary of State's office is still reviewing the validity of the signatures.
Johnson's other contributions to ballot-question committees have included $70,000 to Vote Yes On V — South Dakotans for Non-Partisan Elections (originally named South Dakotans for a Nonpartisan Democracy), which supported a 2016 ballot measure to establish nonpartisan elections that voters rejected 55 percent to 45 percent; and $30,000 to Raise South Dakota, which supported a 2014 ballot measure to raise the minimum wage that voters approved 55 percent to 45 percent.
Beyond ballot issues, Johnson's committees have made big contributions to several other entities and causes, including the South Dakota Democratic Party, which has received $60,500 from Johnson's committees since 2013.
The biggest charitable gifts from Johnson's committee have gone to his alma mater, the University of South Dakota, which has received $37,000 from Johnson's campaign committee since 2013.
Candidates have also received money from Johnson's committees, including failed South Dakota congressional candidates Corinna Robinson, Weiland and Jay Williams, who each received $10,000. The campaign of Billie Sutton, a Democrat running for South Dakota governor in 2018, has so far received $5,000 from Johnson's campaign funds.
Surprisingly, one of the biggest recipients of money from Johnson's campaign committees since his retirement has been the South Dakota Department of Revenue, to which his committees have reported paying about $67,000 in taxes since 2013.
A spokesman for the state department declined to comment on Johnson's situation, citing a policy against disclosing information about individual taxpayers. But the spokesman provided the Journal with a "Taxes on the Campaign Trail" publication, which explains that candidates and political organizations are required pay sales and use taxes on products and services they purchase.
Taxable services include work performed by campaign managers and consultants, and taxable products include campaign material such as bumper stickers and buttons. Because sales taxes are paid periodically, some of the taxes paid by Johnson's committees may have been due on products and services purchased well before his retirement announcement.