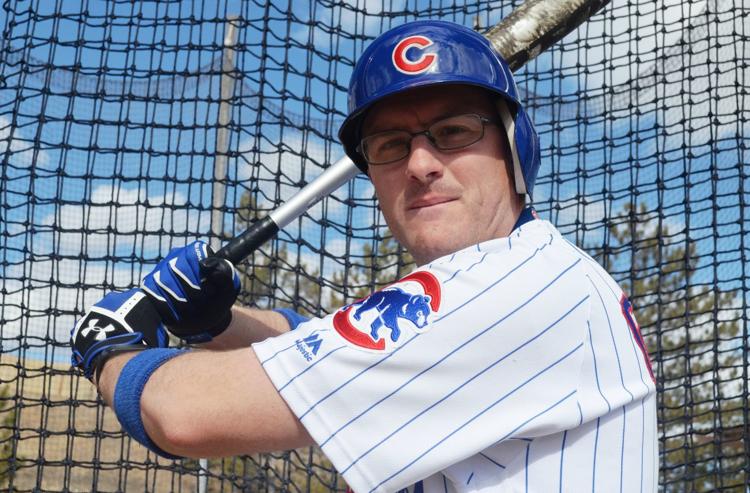 Twenty five years ago, Josh Gilbert got his first taste of Major League Baseball, and it was enough for the Rapid City man to be hooked for life.
"My dad took us to a Chicago Cubs game," said Gilbert, but it ended abruptly when he and his siblings wanted to go back to the hotel to swim instead of watching the game.
"I felt really bad. Now I stay until the whole game is over. It's the reason I became a Cubs fan. My dad is proud now."
Gilbert, 32, will represent South Dakota as an outfielder on the Special Olympics softball team at the 2018 USA Games in Seattle the first week of July. He will be one of five Special Olympics competitors who will help with Black Hills Works' annual Black Hills Putt-n-Pub event today, which will raise money for the organization as well as the five Special Olympics participants. An additional 35 people supported by the organization will help as well.
The event is in its sixth year and has continued to grow, said Tara Wilcox, director of engagement and events for the organization's foundation. The event started with eight teams, and this year 80 teams will participate.
"We're really excited that it brings in a new generation of people who are learning about our mission," she said. "It's grown tremendously."
Funds from the event during the last three years helped the organization renovate the gymnasium, giving the Rapid City Flame and Storm Olympian teams a space to practice year-round.
Today, the Putt-n-Pub teams will try their hand at one of two miniature golf courses located throughout downtown Rapid City.
Team check-in begins at the Rushmore Hotel starting at 10 a.m. Play begins at 11 a.m. and continues until 5 p.m. Teams will return to the Rushmore Hotel at 5:30 p.m. for awards. Prizes will be awarded for best and worst team scores, best costumes, and holes-in-one.
Holes will be located at Wobbly Bobby, Thirsty's, Murphy's Pub, 445 Lounge, Paddy O'Neill's Irish Pub & Grill, Press Start Retro Arcade Bar, Suzie Cappa Art Center, Independent Ale House, Que Pasa, the VFW, Tinder Box, Brass Rail, BakeWorks, Kol and the Oasis Lounge.
The Special Olympics participants will be located at various locations. Gilbert will be at Thirsty's, a business that has planned a few extra events to support him. Owner Frank Morrison said Gilbert is a consistent customer and avid Cubs fan.
"We're very proud of him," Morrison said. "He's very self-sufficient, hardworking and an all-around good guy. He's a familiar face at Thirsty's, always friendly and willing to chat with anyone, especially about the Chicago Cubs."
Gilbert will be at Thirsty's from 10 a.m. to 6 p.m. today, wearing his Cubs uniform and available for autographs.
Morrison said the event is a good way to support a great local organization. "They provide such an awesome service for our community," he said. "It's an honor to be considered a partner to such a worthwhile organization."
Joe Burmeister, director of Special Olympics for Black Hills Works, said it's nice to see local businesses and the community support the Special Olympics and Black Hills Works.
"Thirsty's took it to a whole new level," he said. "Josh has a rapport there."
The five athletes include Gilbert, David Tanner, Derrick Boegel and Mike Estman in softball and Matt Morin in bocce.
Burmeister, who will travel with the team and compete as a non-disabled participant alongside Morin, said he's excited for the competitors.
"I hope they soak up the experience," he said. "It's not something that happens very often. I hope they cherish it."
Gilbert, who has participated in the Special Olympics since 1998, said that's exactly his plan. He hopes to see the Space Needle, take a dinner cruise and tour the city. He also plans to do well during competition. The support he feels is invaluable, he said.
"It's a big honor," he said. "It means so much to me. It feels like playing for the Chicago Cubs."