Serving Eastern South Dakota & Western Wyoming
Hermosa
,
SD
57744
Last Updated: March 14, 2017
| | |
| --- | --- |
| Sunday | Closed |
| Monday | |
| Tuesday | |
| Wednesday | |
| Thursday | |
| Friday | |
| Saturday | Closed |
About Anderson's Pest Pros



Anderson's Pest Pros in Hermosa, SD provides effective and environmentally friendly pest control services to the entire Black Hills Area and Gilette, SD. Our number one goal is to rid your home or business of pets while keeping your pets and family safe from harmful chemicals. Our highly trained professionals are fully equipped to handle any sized job big or small. We specialize in bed bug control and removal! We can help you with:

• Pest Control Services – Ants, spiders, rodents, bed bugs, termites, fleas and more.

• Bed Bug Control – We use the number one method for removing bed bugs from homes and hotels! See more about our bed bug service below.

We use green products!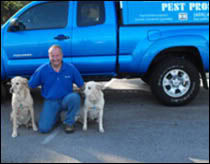 Anderson's Pest Pros in Hermosa, SD uses the most effective and safe products on the market and offers a variety of pest control services to the entire area including Rapid City, SD. Our methods include interior and exterior spraying, tamper proof bait stations, rodent exclusions, thermal remediation and more. All of our techniques are highly effective even in the most difficult infestations.

We are proudly locally owned and operated and fully licensed and insured for your protection! Our Pest Control Services Include:

• Ants
• Spiders
• Bed Bugs
• Termites
• Fleas
• Roaches
• Rodents
Bed bug control
Anderson's Pest Pros in Hermosa, SD specializes in bed bug control and removal in homes and in the hospitality industry. We are expertly trained and can resolve any bed bug infestations with our thermal remediation methods. Our bed bug control services include:

For more information on bed bugs, check out this really nice article by Michael F. Potter, Extension Entomologist with the University of Kentucky College of Agriculture.

• Thermal remediation
• Bed bug removal
Fall is the Time to Treat For Other Pests
Box Elder Bugs

While the boxelder bug can cause minor damage to its preferred host plant, the boxelder tree (Acer negundo), it is primarily a nuisance for the homeowner who finds large colonies of adults seeking places to overwinter. The boxelder bug will seek access to warm buildings through any cracks or crevices in foundations, doors, and windows, and it is their presence indoors that poses a nuisance. Although the boxelder bug neither bites humans nor spreads disease, the very act of trying to eliminate them is a major challenge.


Cluster Flies

Often confused with the common house fly, cluster flies are roughly the same size. Some characteristics that differentiate the cluster fly: they fly somewhat more slowly than the house fly, they almost always fly toward windows on the warm side of a structure and their wings overlap almost completely, when at rest. Cluster flies are most common along the northern part of the US and in other countries around the world. They will appear inside homes only during the cool fall, winter or spring months.


Spiders

Venomous spiders in the U.S. are: the black widow, brown recluse, and hobo spiders. Even though most spider bites occur outdoors, these spiders occasionally find their way inside and can present a risk to your family and employes.


Rodents

Rats are true omnivores and can eat everything from grains, vegetables and eggs to carrion. An adult rat is able to eat a third of its weight in twenty-four hours. Large cities are ideal places for them because there are large amounts of spoiled food and places to hide. In the wild, rats are active year-round and are usually nocturnal. They often occur in large numbers and always follow the same routes. Their home ranges may reach only 50 m in diameter, but for want of food they can travel 3-4 miles a night.

The House Mouse, the most commonly found mouse near humans through history, is an average 6 1/2 inches long and 8/10 of an ounce in Montana (Foresman 2001). The large ears are nearly bare. The short fur will be grayish brown above, with an underside that will be brown, gray, or even whitish, but never pure white, as in other mice of the same size (Ulrich 1986). Unlike most voles and mice, the tail is nearly uniform in color, top and bottom, and is scaly rather than haired.




Accepts:

Cash

Check

Discover

MasterCard

Visa
They feed on human blood, they come out at night when you are sleeping, they can live from several months to over a year without feeding!!! 
So how do you get rid of them!? 
Do not treat bed bugs yourself.  If you try to kill bed bugs in your home, it could lead to health problems or even death!  We are trained experts and specialize in resolving ANY bed bug infestation from the smallest home to the largest commercial properties - Let us help!  Call (605) 484-0391 if you have an infestation.
Do you call exterminator after exterminator to get rid of the problem?  Well here's where the problem is.  Bed bugs' eggs incubate as long as up to 120 days, so when you think you've annihilated them, that's when they come back for more.  Other exterminators may offer a 3 month guarantee, or if you're unlucky – none at all.  Wait a minute, three months is right around 120 days isn't it? 
We offer a 6 month guarantee on bed bug jobs because we do it right the first time, and follow up to make sure it's done right. 
If you or someone you know needs a quality exterminator to rid your bed, couches, or anywhere else they hide waiting for you, call Anderson's Pest Pros, and you won't have to call another pest control company after the job is complete.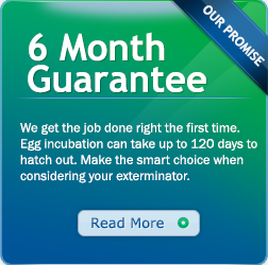 Learn more about beg bugs and other pests on our website or for more information specifically on bed bugs - check out this really nice article by Michael F. Potter, Extension Entomologist with the University of Kentucky College of Agriculture.
Make the right choice, the first time, when you choose an exterminator.
FREE ESTIMATES
Buddy Anderson & Anderson's Pest Pros
(605) 484-0391
http://www.andersonspestpros.net