705 W Main St
Rapid City
,
SD
57701
Last Updated: October 5, 2017
| | |
| --- | --- |
| Sunday | |
| Monday | |
| Tuesday | |
| Wednesday | |
| Thursday | |
| Friday | |
| Saturday | |
About Black Hills Escape Rooms
Welcome to Black Hills Escape Rooms!
---
Thank you for choosing Black Hills Escape Rooms!
Black Hills Escape Rooms is a live-action team game where you and your team will uncover clues, solve puzzles and accomplish tasks in one of three historically-based rooms in order to escape!
Teams are from 2-8. With an e-mail, however the entire experience can be rented depending on availability. This will allow up to 24 friends or workmates to all compete at the same time.
Bookings are now available for all three unique and exhilarating escape rooms. For more about booking information, please click here!
Do you have more questions? Call Black Hills Escape Rooms today! We'd be more than happy to take care of you over the phone and get you set up for your next visit to Black Hills Escape Rooms!
605-731-8050
605-381-0290
blackhiilsescaperooms@gmail.com
Black Hills Escape Rooms
705 W. Main St.
Rapid City, SD 87701
http://www.blackhillsescaperooms.com/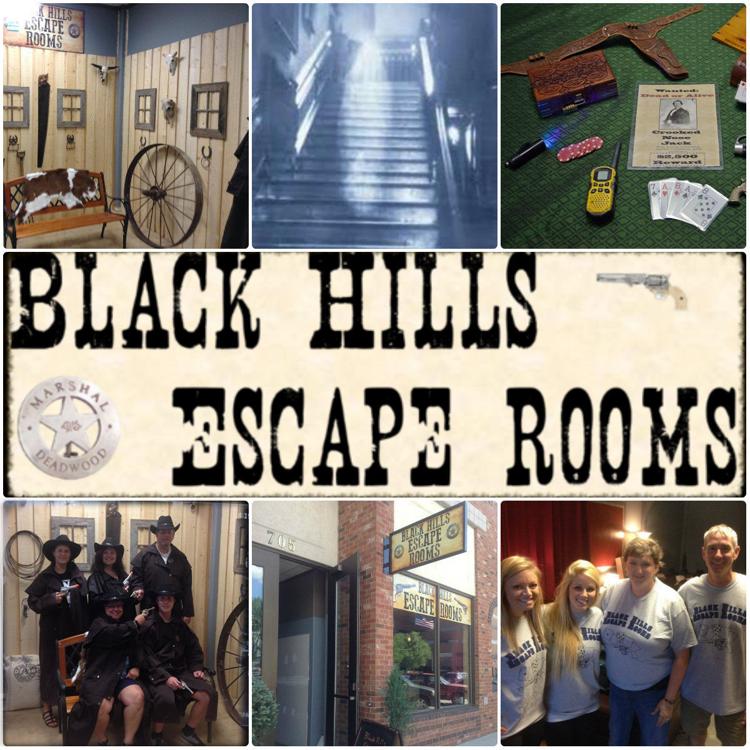 More About Us
---
Bring your family, friends or corporate retreat to Black Hills Escape Rooms and play through one of three exhilarating escape room scenarios.
OR, depending on availability, rent all three and challenge your group of up to 24 people can participate in a battle of wits to see who can escape the room in the fastest times!
Our Escape Rooms Include:
MURDER IN SALOON #10
A gunshot rings out in Old Saloon #10, leaving the famous marshal Wild Bill Hickok dead on the floor. Rumors spread through town that Jack McCall, known locally as Crooked Nose Jack, is the perpetrator. Deadwood's sheriff, deputizing you as the new marshal, assigns you the case. Follow the clues and work quickly to unlock the butcher's shop where McCall is hiding. Catch him within the hour before he can escape into the wilderness of the Dakota Territory forever.
Our simulated location is the old style saloon #10 in Deadwood South Dakota. You will start in a "replica" of the saloon complete with saloon sounds and sawdust on the floor (for ease of cleaning up blood and bar spills)! :-)
Calamity Jane. Our first character. Bad memory...said she was married to Wild Bill, but Bill wanted little to do with this stinky foul mouthed drunk! She adored him though and is buried beside him!
Wild Bill Hickok. Our second character. Good at cards, amazing Marshall, and a devoted husband to circus performer, Agnes Lake, of Cheyenne WY.
And our last character in true Melodrama, "Meller Drammer" fashion, BOO & Hiss, the alleged cowardly murderer Jack McCall!
GHOSTS OF THE BLACK HILLS!
You have become paranormal deputy marshals and have start at room 812 in the famed Alex Johnson hotel. It will be up to you and your team to solve mystery of the "the Lady in White" and remove her ghost haunting the AJ hotel. "Ghost Hunters" of the Syfy channel documented this ghost in season 7 episode 5. ​​
All the ghosts need to be "helped" along using your paranormal equipment (provided). Failure to do so in 1 hour could banish you to the ghostly world to haunt with them for ever!
The suicidal bride: crying from a broken hearted woman is heard coming from room 812. Why did a bride kill herself by jumping out the window, or was she pushed? A female entity called "The Lady in White", still dressed in her wedding gown floats around the halls and rooms of the 8th floor looking for her killers. Can you help this poor woman on and save the Alex Johnson hotel and it's guests from her wicked hauntings?
Ghosts have locked you in Deadwood's Mt. Moriah cemetery. 2 coffins have been exhumed in the hopes of ridding Mt Moriah of its ghosts. Many wild Stories followed Potato Creek Johnny and Calamity Jane. Some are true, some are not and it is up to the paranormal marshals to set the records straight and put to rest these active ghosts and escape the cemetery!
TREASURE IN THE HALL OF RECORDS?
We enter Gutzom Borlum's studio in the early 30's during the depression. Borglum is high ranking in the freemason society. The freemasons trace their origins to the ancient guilds of the stonemasons. The stonemasons were responsible for building the Egyptian, Incan and Mayan pyramids as well as stuctures like the Taj Mahal. The masons employed slave labor, but they themselves were rewarded handsomely in gold and jewels.
Is the conspiracy true that the freemasons have been hiding the stonemason's treasure for millennia and did Borglum build the hall of records to house such a fortune? At the time of construction he knew the government wasn't going to give him the Constitution and Declaration of independence so just why did he continue and build the hall of records.
It is up to you to see if he has laid a trail for future masons to follow to uncover the hidden treasures!
Black Hills Escape Rooms
705 W Main St
Rapid City, SD 57701
---
Accepts:

American Express

Cash

Discover

MasterCard

Visa
Take the challenge and escape the room in 60 minutes, if you can!
Are you hosting a birthday party, bachelor/bachelorette party, corporate retreat or other large event? Host your next party of 18+ at Black Hill Escape Rooms! Play with and against your friends and co-workers to see whose group can escape in the fastest times!
Reserve all three rooms and receive the discounted rate of $240 (a savings of $120)!
If you're a recurring customer of Black Hills Escape Rooms, we want to take 10% off the purchase of your next ticket!
Schedule your group's next play-through today!
Black Hills Escape Rooms
705 W. Main St.
Rapid City, SD 57701
http://www.blackhillsescaperooms.com/
Click here to Like us on Facebook