RSSLocal Sports
When Chad Horst crossed the checkered flag for the 100th time at the Black Hills Speedway on Sunday night, he got a reaction that has become q…

In a tournament where no lead appears to be safe, Rapid City Post 22 had an answer to Rocky Mountain's answer Friday during the Camping World …

With a final tie down roping run in the South Dakota High School State Finals Rodeo in Belle Fourche last week, Spearfish's Rance Sivertsen wr…
Recent Sports News

Down 13 runs, the Eden Prairie, Minn., American Legion baseball team never felt like it was out of it.
Rush
Legion
Outdoors
Auto racing
Blog
The Rapid City Post 320 Stars fell just short in their attempt to rally from a two-run deficit in the bottom of the seventh inning in an 8-7 loss to Lincoln East in the 2015 Black Hills Classic Tournament Saturday evening at Pete Lien Memorial Field.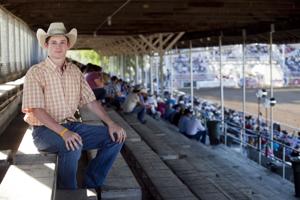 With a final tie down roping run in the South Dakota High School State Finals Rodeo in Belle Fourche last week, Spearfish's Rance Sivertsen wrapped up an outstanding senior year.
NCAA Football
NCAA Basketball
URBANA, Ill. (AP) — Seven former University of Illinois women's basketball players sued the university Wednesday, accusing coach Matt Bollant and a former assistant of violating their civil rights by using race to divide the team and try to f…