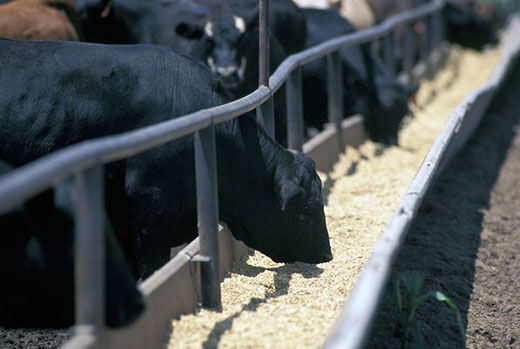 With 2021 shaping up to be a strange year for agriculture, Dr. Darrell Peel, a professor at Oklahoma State University, said that perhaps the most challenging part of the year for livestock producers will be contending with rising crop prices.
Dr. Peel gave a market outlook presentation at South Dakota State University's virtual Beef Day Feb. 9. The university ag economist said that while the ag economy as a whole is going to benefit from the dramatic run-up in soybean and corn prices, livestock producers may need to take a step back and rethink feeding costs.
"This is going to indirectly impact all cattle producers on supplemental feeds," Peel said. "The national average corn prices are gearing up to be as high as we've seen since 2013."
While Peel said he expects corn prices to remain high, livestock producers cannot simply stop feeding their animals. That makes it important to look sooner rather than later on how supplemental feed will be impacted on your operation.
To accompany the suspected high cost of feed, drought conditions are getting worse across the country. That could adversely impact all areas of agriculture, but specifically forage and hay production.
"If this persists and we start 2021's growing season with this kind of drought, then it will be a significant deal," he said.
At the time of the presentation, all of South Dakota was listed as abnormally dry or worse. The southeastern part of the state was in a D3 drought. With climate prospects estimating South Dakota's lack of moisture to continue through April, Peel said he wasn't optimistic to an easy beginning of growing season.
On the controllable side of livestock production, Peel said that going into 2021 it appears that many of the numbers will hold steady from the previous year but trend downward as supply will be a bit tighter than years past.
"The supply side will be a bit more supported this year with beef production estimated to be down this year (by roughly 1.1%)," he said.
While cattle inventories are trending downward, South Dakota cattle numbers continue to rise. However, South Dakota will remain seventh in the country in terms of cattle on feed.
"The cattle on feed numbers are actually up about 4.5% compared to Jan. 1 of last year," he said.
The pandemic shifted producers' reality a bit last year with nowhere to bring the cattle during the period packing plants were shut down. Peel said for the first time since they began recording the numbers, overall cattle weights jumped as much as 28 pounds in 2020. Typically, a shift of 4 pounds per year is average.
He doesn't expect that trend to continue as there doesn't look to be another major processing slowdown, but as COVID-19 highlighted the shortcomings of the livestock production sector, he expects fears of another pandemic to continue.
"It's just a reality that those things can happen," he said.
Due to the dramatic rise in weights, carcass weights averaged over 900 pounds year-round for the first time.
"We produce more beef today with 30 million beef cows than we would have in the '60s with 45 million," he said.
With 2021 shaping up to be a "feel it out year" after last year's pandemic-crazed situation, Peel expects production to remain the same internationally. The U.S. will likely retain the top spot as the world's largest beef producer with Brazil, the European Union, China and India following in order. As far as exports are concerned, he expects Brazil to remain the world's largest exporter.
The wildcard, like always, Peel said, will be China's beef consumption. A simple rise in consumption coming off a down year could mean a lot of money.
"We need to remember the law of Chinese markets. Any number times 1.4 billion is a big number," he said. "Beef is not their main meat, but if they eat a little bit more it's a lot of pounds of beef."
While the markets remained high into late February, Peel said he cannot say for certain whether or not these prices will drop down to the expected normal or continue to rise.
"I went to college for 10 years to never tell you a price and a date in the same sentence," he joked.
However, Peel did say that much like everything else agriculture related, he encouraged producers to never hesitate to lock in prices when the number is right.
"You are never going to go wrong locking in something that is favorable to you," he said.
SDSU's beef day is typically an in-person event, but was held virtually this year due to COVID-19. During the introduction by Dr. Bill Gibbons, he said that it's more likely than not that SDSU will continue to offer virtual options moving forward.
"There is a tremendous value in being able to reach out and shake hands, but we want to reach out to producers," Gibbons said.
Dr. Joe Cassidy, the head of the animal science department at SDSU, said that with the pandemic came a slowdown in SDSU's ability to continue its typical volume of market research. He said he was proud of the professors, as well as the Extension staff, for continuing to provide insight into what was happening in the market.
One of the largest topics — specifically related to beef production — that Cassidy saw evolve over the year related to local processing plants. Newly signed on Extension beef specialist Christina Bakker took the lead on highlighting what needs to be done to create more local processing options.
"Sometimes the complexity of starting those operations are more than people were expecting," Cassidy said.
However, even with the slowdown in research and lack of in-person events, Cassidy highlighted the value of virtual meetings showing that courses like the Feedlot Short Course held in the summer shot up to 275 participants from 25 states and six countries due to its online offerings. The Dairy Beef Short Course followed suit with 185 participants.
"(The pandemic) definitely expanded the participation in those events," he said. "It will cause us to rethink how we offer those in the future."