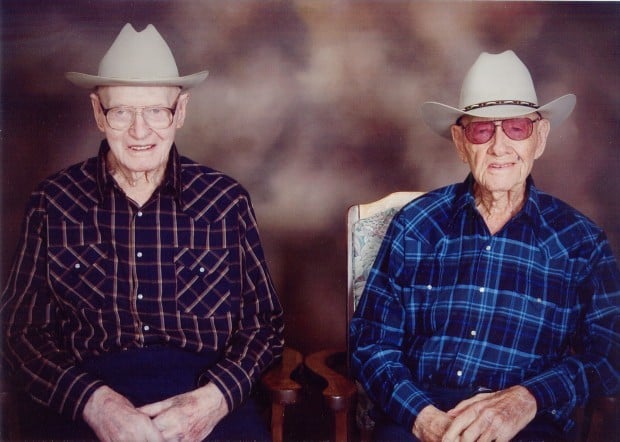 Brothers Vern and Tom McDonnell chose to quietly celebrate their 101st birthday on May 15, with just family and friends at the Philip Nursing Home.
"Tom said that last year pooped him out," Vern's daughter-in-law, Terry Jo McDonnell, said of last year's birthday party at the family ranch north of Quinn.
This year's birthday party, however, was noteworthy for other reasons.
The online encyclopedia Wikipedia lists the twins as the oldest living set of male twins and 19th on its list of twins who are older than 100, according to Terry Jo.
According to Wikipedia, the Guinness Book of Records identifies Edith Ritchie and Evelyn Middleton of the United Kingdom as the oldest living set of twins to surpass the century mark. The sisters are 102 years and 187 days old.
Wikipedia lists Brazilian twins Maria do Carmo and Maria Anunciada as the confirmed oldest twins living, having reached 106 years and 214 days.
A doctor and midwife delivered the sons of Frank and Ida McDonnell on the same homestead where they lived until they moved into nursing homes.
Tom arrived first, tipping the scale at 9 pounds, 2 ounces; Vern nudged the scale up to 8 pounds, 14 ounces.
Tom has always claimed the midwife suggested drowning one of the boys. The McDonnell's, however, kept them both but contented themselves with just the two boys.
The brothers grew up together, worked together and lived near each other. Tom claims they never had a disagreement.
Both men have outlived their wives. Tom and his wife, Rose, never had children.
Terry Jo's husband, Steve, was the only child Vern and Beaulah McDonnell had.
After a health scare right before last year's birthday, Vern is doing relatively well, according to Terry Jo. At times, he's wide awake and willing to chat.
"He has good days and bad days," she said. "He spends a lot of time sleeping."
Tom quit driving about two years ago, not long before he moved into the nursing home.
Always a character, age hasn't dulled Tom's quick wit, Terry Jo said.
He is counting on at least six more birthdays. His doctor recently assured him that his Pacemaker is good for another six years, Terry Jo said.
And skip the funeral when the time comes, he's instructed the family.
"If they can't come see me when I'm alive, they don't need to see me when I'm dead," Tom told Terry Jo.
If it wasn't for a painful bone spur on his neck, Tom would still be living at home, she said.
"He's so cute. He told me that 'I never walked when I could drive. That's why I still have my hips and knees,'" Terry Jo said.
Tom, who uses a wheelchair only to avoid falling, takes regular rides to the country with a nephew to check on the crops and watch farming operations.
The staff at the Philip Nursing Home takes good care of the twins, according to Terry Jo. The brothers are still treated to their favorite foods, including bacon or sausage for breakfast.
Both continue to ask for their daily dose of vinegar water. "It's one of those things they've always done," Terry Jo said.