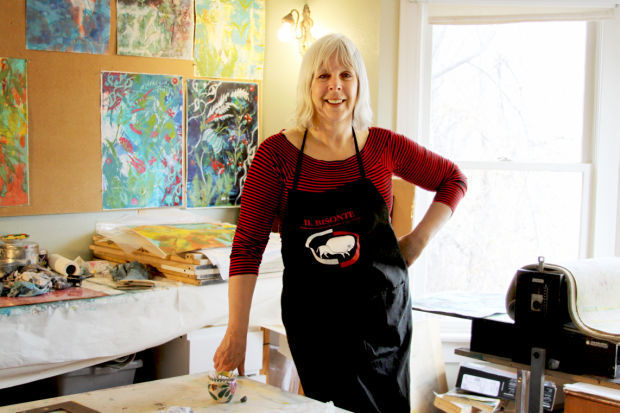 Sitting at Deborah Mitchell's cozy dining table, with hot coffee kindly provided by the artist, it's hard to imagine this composed college professor blazing through the Black Hills on her motorcycle. After one trip through her studio, though, you can begin to picture it.
The artist's walls are full of vibrant, bold colors that speak of adventure. For this print-maker who wants to capture not just a place, but a sensation, experiencing the open road is a vital part of her process.
Mitchell grew up near Boston, but always felt a westward pull and moved to Rapid City 15 years ago. She teaches art history and drawing at the South Dakota School of Mines & Technology and is also director of the university's Apex Gallery.
"It's like Shangri-La here," she said. "I've met some great people and amazing friends. It's the longest I've lived anywhere aside from where I grew up."
Mitchell always travels with some way to create along the way, whether it's just pencil and paper, watercolors, or her kit of Plexiglas, ink, rollers, brushes, and cotton swabs (which can get pretty messy, she acknowledges).
"I rarely work from a photograph," Mitchell said. She likes to be fully immersed in the environment she's interpreting.
Mitchell attended Maine College of Art and then moved to Utah to pursue a Bachelor's of Fine Arts at Utah State University, where she studied under Moishe Smith and also received an advanced degree in printmaking.
As a graduate student, Mitchell's works were accepted into the Boston Printmakers Society Show. She worked at the campus museum and was accepted for a summer internship at the Metropolitan Museum of Art in New York City.
Mitchell put 10,000 miles on her motorcycle last year. She makes art everywhere she goes including trips to Finland, The Netherlands, Kenya, Greece, Italy and Turkey. She also teaches art classes abroad.
In May, Mitchell will hand carry her work to Izmir, Turkey, for the International Izmir Art Biennial. She will then stay on Skopelos Island for part of the month to teach Printmaking in Paradise.
If you're not up for traveling to Turkey or Greece anytime soon, Mitchell will have a one-person show in May 2016 at the Dahl Arts Center in Rapid City.
Mitchell said she is exploring more abstract and colorful prints. She adds collage elements from her journeys, and in her work one finds bits of broadsides, wallpaper, posters, and even a T-shirt sleeve, all layered among hints of Grecian pottery design, artichokes and other patterns, textures, architecture, or icons unique to the cultural sites she visits.
Her advice to other artists is, "just do the work. I love that quote by Picasso, 'Inspiration exists, but it has to find you working.' I love how the scene here has grown and matured. It's truly amazing from when I first arrived. I love the receptions at the Dahl, the music in town, the little more intimate venues, Main Street Square during the summer. I'm so proud of our little burgh."
For the full-length interview with more images and links, visit the ArtSpeak Blog on ArtsRapidCity.org on April 1.