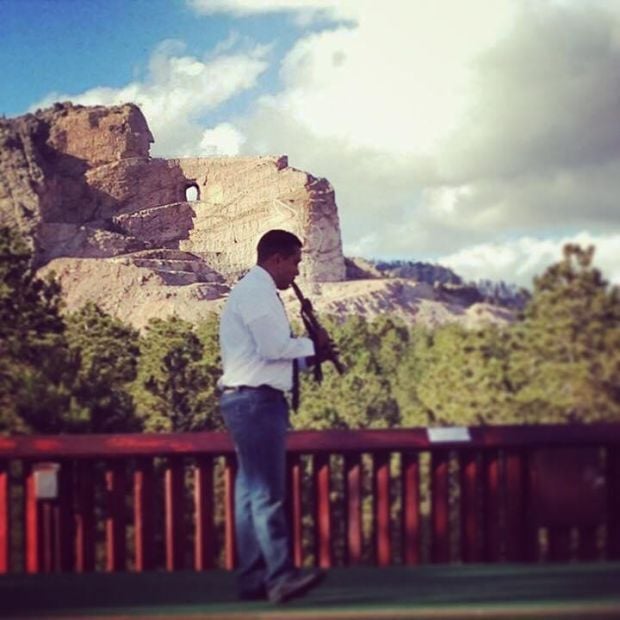 Born into the Ojibwe tribe on the Lac du Flambeau Reservation in northern Wisconsin, Darren Thompson felt like he had a great upbringing. He didn't see the community as lacking anything, until he experienced life outside the reservation.
"When I went on to college, I saw economic, social disparities and that lead me to develop a sense of what's out there," he said. 
Thompson will be one of the primary acts playing Sunday in the benefit concert for the Black Hills at the Dahl Arts Center in Rapid City to celebrate World Water Day. The concert is being jointly hosted by the Clean Water Alliance and Dakota Rural Action to rally support against proposals to mine uranium in the Black Hills.
Thompson is a specialist at playing the Native American flute. He brings his skills from Wisconsin and across the globe, where he has been playing the flute professionally for 10 years. He has been to Melbourne, Australia, Istanbul, Turkey and at the opening of the Smithsonian National Museum of the American Indian in Washington D.C.
He first picked up on the music when he was going to Marquette University in Milwaukee, Wisc., because it creates a soothing melody.
"The flute has the ability to produce sounds to soothe, calm and relax people," he said.
"How I felt upon listening to the instrument, when I was going to school there, was a lot of reading and writing and that sound of the flute helped you relax and I was able to focus," he said." I started playing out my curiosity. I started listening to it so much that I decided to challenge myself to actually play it."
The concert is also an opportunity for him, and many others, to show they do not want foreign uranium mining companies operating in the Black Hills, as has been proposed through an in situ mine company now seeking a permit to mine near Edgemont.
He said a friend came to him and explained what was happening, so he decided to volunteer his time and talent. 
Lilias Jarding, a member of the of the Clean Water Alliance who has a doctorate in environmental policy from Colorado State University, said she has been battling for years to keep uranium mining out of the Black Hills.
Jarding has been researching the potential impacts of uranium mining in the Black Hills. She said if a mine is allowed to operate, it will cause serious problems soon after, and could threaten fresh water supplies.
"This kind of mining has never been cleaned up in the subsurface water, you'll also find that surface water nearly always gets contaminated," she said.
"We've been working against this proposed mine for about six years now," she said. "That would have ramifications across the state because if one mine gets in more mines could get built."
Jarding said a total of 11 uranium companies have also expressed interest in uranium mining in South Dakota; all but one are foreign companies, she said.
Jarding and others are concerned about water quality, transportation of processed uranium, and what many argue is an overstated economic benefit, as well as potential damage to our tourism industry.
"If uranium mining becomes a major industry it's going to negatively impact tourism and agriculture, South Dakota's two primary industries," Jarding said. "We want to let people know what's going on, give people a chance to speak out against uranium and tell them how to express their fears to the Legislature."
Information on contacting government officials will be distributed during the show.