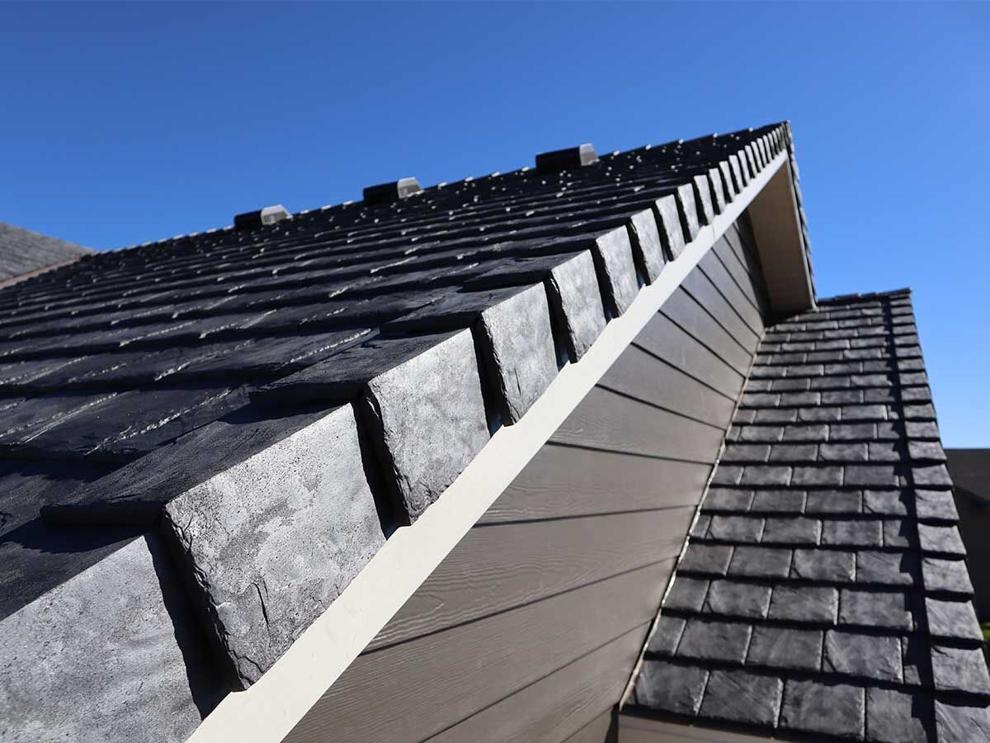 Construction and demolition in the U.S. in 2018 generated 600 million tons of debris, more than twice the amount that municipal solid waste generates, according to the EPA.
Weather-Tite Exteriors in Rapid City is helping reduce that staggering amount of waste. In 2019 the company diverted more than 450,000 pounds of debris from the local landfill, according to Sam Chandler, president of Weather-Tite.
The company, founded in 1990 in Green Bay, Wisconsin, and expanded to Rapid City in 2012, specializes in siding, windows, gutters, decks and residential and commercial roofing.
"With over a dozen crews, we make many trips to the dump every single day," said Chandler.
Eco-responsibility
Chandler noted it's important to him to reduce waste. "We all have to be responsible for our environment and the world in which we live," he said.
Weather-Tite also plants a tree in each customer's name somewhere in the world affected by fires or overlogging.
The company tries to use sustainable and recyclable products, but Chandler added: "We're not using cheaper or flimsier products. They're actually some of the best in the industry."
For example, Weather-Tite contracts with Trex Decking, which uses 95% recycled material, mostly shopping bags and sawdust. Likewise, Weather-Tite contracts with Malarkey Asphalt Shingles, which are made of recycled tires and milk jugs.
Euroshield Shingles, made of recycled tires, are rubber a half inch thick. "I have yet to see a hailstone that can damage it," Chandler said. "That's actually hail-proof."
Recycled products last longer "so they don't end up in the landfill 10 years later," he said.
Steel roofing and some shingles are recyclable, he said. Some 500 tires go into roofing for the average house.
"Those are 500 tires that didn't end up in the landfill," Chandler said.
Rapid City's damaging weather greatly reduces roofing products' life span. An asphalt shingle roof that lasts 30 to 50 years elsewhere may last just seven years there, he said.
Chandler got a taste of Rapid City weather his first night there. The area was hit with 2-inch hail. "I had never seen anything like that in my entire life," Chandler said.
Impact-resistant products
It only took Chandler working on a few roofs to ask why they were putting the same shingles on a house that had its roof replaced three years earlier because of hail damage.
"It'll just be damaged again," he said adding with a laugh: "The definition of insanity is doing the same thing over and over again and expecting different results."
Chandler knew there was a better option. "That was the first crusade that I went on — trying to promote impact-resistant products to everybody," he said.
Investing in impact-resistant roofing also saves the homeowner money. "You're not incurring cost of having a roofer come over every few years to make a bunch of noise and a big mess," Chandler said.
And it can save on insurance premiums too, he said.
The cost of recyclables and impact-resistant shingles can be twice that of traditional materials, depending on the type of product used, Chandler said.
"But some of them are a few hundred dollars more on an average house to a couple of thousand dollars more depending on the level of protection," he said.
With Euroshield roofing shingles, "you're paying a premium price but it's going to actually last way longer than other products on the market," Chandler said. "And it gives you a premium look on your home. It's truly a completely different look."
---
This content was produced by Brand Ave. Studios. The news and editorial departments had no role in its creation or display. Brand Ave. Studios connects advertisers with a targeted audience through compelling content programs, from concept to production and distribution. For more information contact sales@brandavestudios.com.