Yes. You can grill pizza.
The first time I grilled pizza, I was skeptical. I thought the dough would stick to the grill grates or that it might sink through the grates into the fire. But no – the dough didn't stick and grilled up toasty and crisp. Really, the pizza turned out better than when I made it in my oven.
You can either cook your pizza over a live fire, like I do in the video, or on your gas or charcoal grill. You want the heat to be medium-high, being sure to preheat the grill grates so they are at temperature before you add the dough to the surface. If you're cooking your pizza over a live fire, heat a deep cast-iron skillet alongside the grill – after you add toppings to the dough, just cover the pizza with the skillet, creating a dome of heat that will ensure your toppings cook and your cheese gets melty while the dough crisps up. Of course, if you're making these pizzas on a gas or charcoal grill, just close the lid.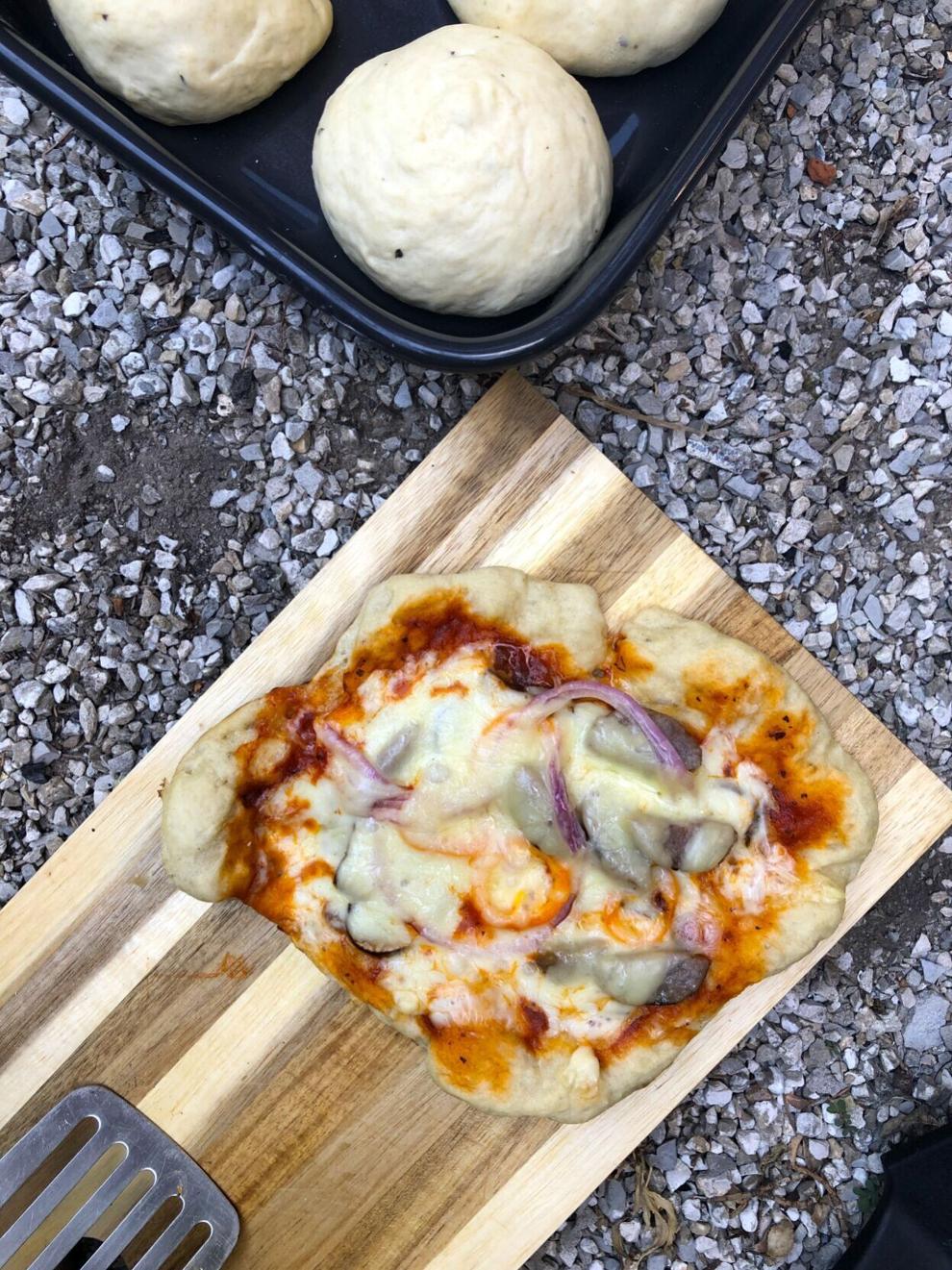 The dough recipe I share here is very easy to make – it's adapted from the tried-and-true King Arthur Flour recipe. I use instant yeast, which eliminates the need to bloom, and I also leave the dough to rise slowly in the fridge overnight. This helps to develop flavor and it also allows you to make the dough before you hit the road for your camp site. Just pack the dough in your cooler and take it out about an hour before you plan to make your pizza so it gets to ambient temperature before cooking.
As far as toppings, it's pizza. You can play with whatever flavors you enjoy. The only real rule of thumb is to pre-cook anything you wouldn't want to eat raw, like sausage or shrimp, because the pizza won't be on the fire long enough to properly cook meat.
One last thing – consider making pizzas for breakfast or for dessert. Crack an egg on the dough and top with cheese and crumbled sausage for an eye-opener that will fortify the family for a day outdoors. And at night, before you crawl into your tent, try topping a sweet pizza with Nutella, fresh berries and goat cheese. Pizza is a blank canvas, so get creative and have fun!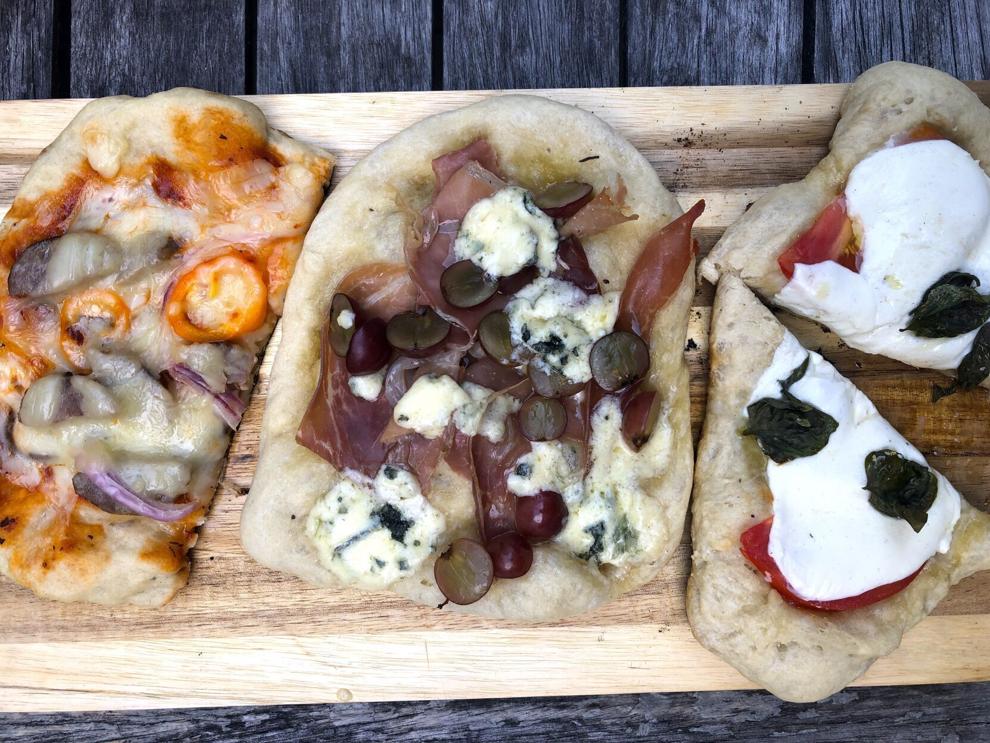 Emmy-winning host Cat Neville is the publisher of Feast Magazine and the producer of tasteMAKERS, which airs nationally on PBS. She has been in food media for about 20 years and when she's not on the road, she can usually be found playing around with new flavors in her St. Louis kitchen.
Grilled Pizza
Yields | 6 Personal Pizza Doughs
3 cups all-purpose flour
1 cup lukewarm water
2 ½ tsp instant yeast
2 Tbsp olive oil, plus more for greasing bowl
1 tsp salt
toppings of your choice (suggestions follow)
| Preparation | In a large bowl, mix flour, water, yeast, 2 tablespoons oil and salt together until a shaggy dough forms, then turn out onto your counter and knead until smooth. If the dough is sticky, add a bit more flour and if it seems hard and dry, add a bit more water. Add in increments – you can always add more, but you can't take anything away.
Shape the dough in a ball and put in a medium bowl that's been greased with a bit of olive oil. Cover with plastic wrap and let rise for an hour at room temperature, then put in the fridge overnight. Remove from the fridge and bring to room temp before making your pizza.
Build your fire and allow it to burn down to coals. Heat grill over the fire and also heat a deep cast-iron skillet. Cut dough into six pieces and shape into balls. When grill is hot, work dough into a disc and place directly on the grill grates. Add your toppings (ideas below), cover with the hot skillet, creating a dome of heat that will cook the pizza evenly. Check the dough from time to time to ensure it's not burning, moving the pizza to a cooler spot on the grill if necessary. When the dough is golden and crispy and the toppings bubbly – from five to 10 minutes depending on hot how your fire is – pull your pizza off the heat and enjoy!
Tomato sauce, sausage, red onion, sweet peppers, mushrooms and shredded mozzarella
Olive oil, heirloom tomato, sliced fresh mozzarella and fresh basil
Olive oil, prosciutto, sliced grapes, crumbled blue cheese
Pesto, red onion, sweet peppers, goat cheese
Pesto, cooked shrimp, roasted garlic, fresh spinach, sliced fresh mozzarella
Barbecue sauce, chicken, red onion, sliced jalapeño, shredded mozzarella
Olive oil, egg, crumbled bacon or sausage, sliced jalapeño, shredded mozzarella
Nutella, fresh berries, goat cheese, shaved chocolate
This content was produced by Brand Ave. Studios in collaboration with the sponsor. The news and editorial departments had no role in its creation or display. For more information about Brand Ave. Studios, contact tgriffin@brandavestudios.com.