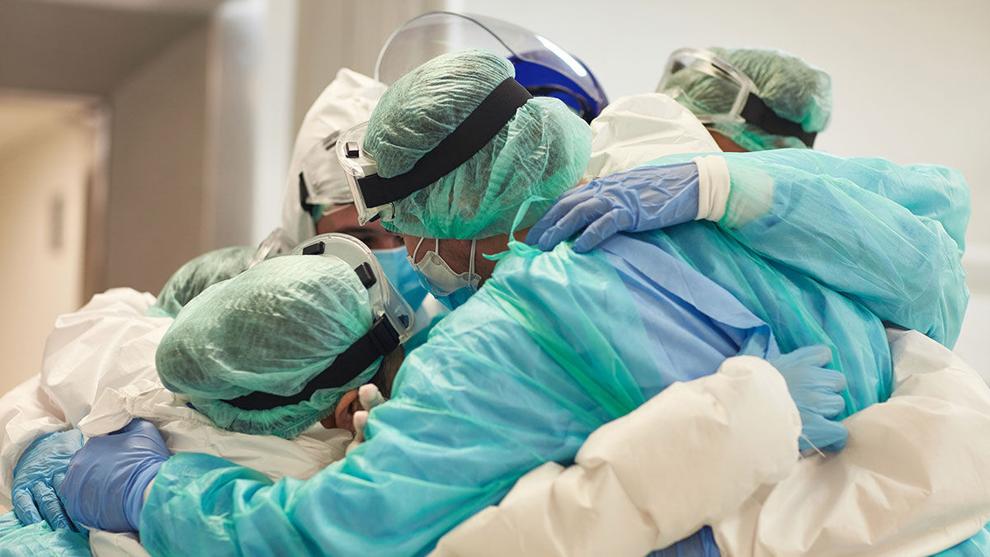 A recent graduate wrote to Anne Kleinhesselink and told her she had never seen so much death. A third-year student, when asked how she was adapting to her internship, said that the death and PPE (personal protective equipment) usage was all she knew nursing to be.
Two different perspectives from nursing students at different stages of the learning process.
But for Anne Kleinhesselink, Associate Chair of Academics and Vermillion campus Program Director at the University of South Dakota Department of Nursing, it was crucial information that helped shape the constantly evolving curriculum during the pandemic's devastating assault on the country and its health care system.
Classes pivot with ever-changing pandemic situation
At the onset last March, Kleinhesselink and her team, other USD campus directors and clinical partners from throughout the state, formed a COVID task force to transition the nursing classes from in-person to online — in just one Spring Break week. Through a combination of previously taped labs from the year before, virtual simulations and labs that mimicked real life scenarios, ongoing two-hour pre- and post-debriefing seminars and lots of role playing, the new innovative program took shape. Masked up, socially distanced, and plexi-glass protected, the instructors relied on Zoom as the new learning lifeline.
As the pandemic raged, feedback from clinical partners helped Kleinhesselink continually monitor and modify class content and style to reflect their experiences in the field and what they felt imperative for the students to know. Classes began to have a pandemic skew to them. For example, information on COVID response and vaccination was added to Population Health, a class that previously focused on disaster preparedness. A seminar lab session on the science behind PPE usage and safety was also added.
Preparing students to handle grief on the job
In-depth, personal seminar discussions that focus on resilience, flexibility and grief are now standard. In fact, the topic of grief, which had previously only been included in discussions about palliative care, is now addressed throughout the curriculum, rather than siloed within one area.
"Nursing is a science and an art," Kleinhesselink said. "There is the science of dying and the art of dying. In addition to the medical aspect, it's important that nurses are comfortable just being present with the families and understanding the emotional toll that death has on both the patients, the families and even themselves. The pandemic has shifted this more to the forefront."
Helping nursing students build professional identity
Another change has come to the school as well. Again, based on feedback from their clinical partners, the idea of building professional identity — helping the students foster their place within the profession — is a critical component to being a successful nurse in today's world of trauma and pandemics.
To that end, USD has reached out to Nelda Godfrey, a Ph.D., R.N., associate dean of the University of Kansas School of Nursing, and a core founder of the Professional Identity Formation initiative. The effort provides a staircase model for professional development throughout a nurse's career development, addressing four pillars of best practices in terms of moral, ethical, leadership and comportment.
For Kleinhesselink, the challenges, changes and effort to adapt are ongoing.
"Our curriculum is constantly under review and we need to be sure we are making informed decisions based on evidence that is changing every single day," she said. "Today, it's COVID-19. But our response to this virus is our response to any pandemic, because next time it could be something else, and there will be a next time."
---
This content was produced by Brand Ave. Studios. The news and editorial departments had no role in its creation or display. Brand Ave. Studios connects advertisers with a targeted audience through compelling content programs, from concept to production and distribution. For more information contact sales@brandavestudios.com.