Brooks VanDyke didn't expect to find himself in the business of selling purebred Charolais, but he enjoys working with cattle, and he's built …
The South Dakota Pork Producers Council is proud to award Shelbi Lindner of Gayville, Daniel Fuoss of Armour and Trevor Johnson of Centerville…
A producer who has served pork leadership at both the state and national levels is being recognized with the Dedicated and Distinguished award…
The dead of winter is tough on everyone. Single-digit temperatures with double-digit wind chills are especially hard on farmers and their live…
"Were you born in a barn?" The question hasn't been directed at me for decades, but it used to be occasionally when I left a door open or aban…
Opening a new business location three states away can be daunting. Opening a new location and needing 5,000 dairy cattle to fill it is even mo…
Tom and Renae Morog finished soybean harvest in late October, getting stuck only one more time.
"If there is anything that we have learned this year, it is that we need to keep our faith," said crop watcher Kenny Weber.
The newest method for in vitro fertilization (IVF) oocyte extraction was on display on Oct. 16 in Mitchell, South Dakota.
Wetlands can be a beneficial part of a farming operation, and a group of conservation organizations are out to prove it with a new demonstrati…
Having lunch in a warehouse full of bees may not seem like the most idyllic experience, but at Albrecht Angel Honey Farm and Winery, it's a pe…
Hanging on in this tumultuous agricultural economy has been a point of emphasis for the last three years, but for farmer Chase Crawford outsid…
Owning and operating a ranch, crop operation, brewery, wedding venue, hunting lodge and wildlife preserve isn't a typcial day job. For Jerry a…
With African swine fever (ASF) forcing pig producers to keep one eye on their pigs and one eye on the unknown, a new app is helping them keep …
Someone once asked Darwin Latham's grandpa Frank about his heritage. His answer? "Texan," said the Camp Crook rancher.
Back in 1965, South Dakota School of Mines & Technology chemistry professor Dr. John W. Willard had hopes, but no real evidence, to show h…
The new offices of South Dakota State University Extension Rapid City Regional Center and the South Dakota Department of Agriculture Western A…
SPEARFISH | Sixteen months after forging a partnership between Black Hills State University, area retailers and restaurants, and local farmers…
PIERRE | A Black Hills state lawmaker said Monday he wants production and sale of industrial hemp to become legal in South Dakota.
SIOUX FALLS | A week of warm, windy weather has advanced the maturity of crops in South Dakota.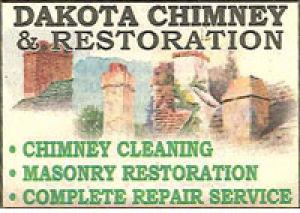 Dakota Chimney & Restoration, Inc.
SIOUX FALLS | A week of warm, dry weather in South Dakota has advanced the maturity of crops including corn and soybeans.
OAKES, N.D. | Four miles south of Oakes, on the west side of N.D. Highway 1, a 20-acre plot features a patch of carefully cultivated crops.
SIOUX FALLS | The percentage of farms with access to computers is slightly higher in the Dakotas than in the nation as a whole.
Before 2013, Reed Cammack had never dealt with a large outbreak of pinkeye bedeviling his cattle.
SIOUX FALLS | South Dakota Stockgrowers Association President Bob Fortune says Congress shouldn't hastily act on repealing country-of-origin m…
Starting Monday and running for 60 days, Pennington County agriculture producers can apply for cost-sharing money and technical assistance in …
South Dakota State University is calling for nominations for the 88th Eminent Farmer/Rancher and Homemaker awards program.