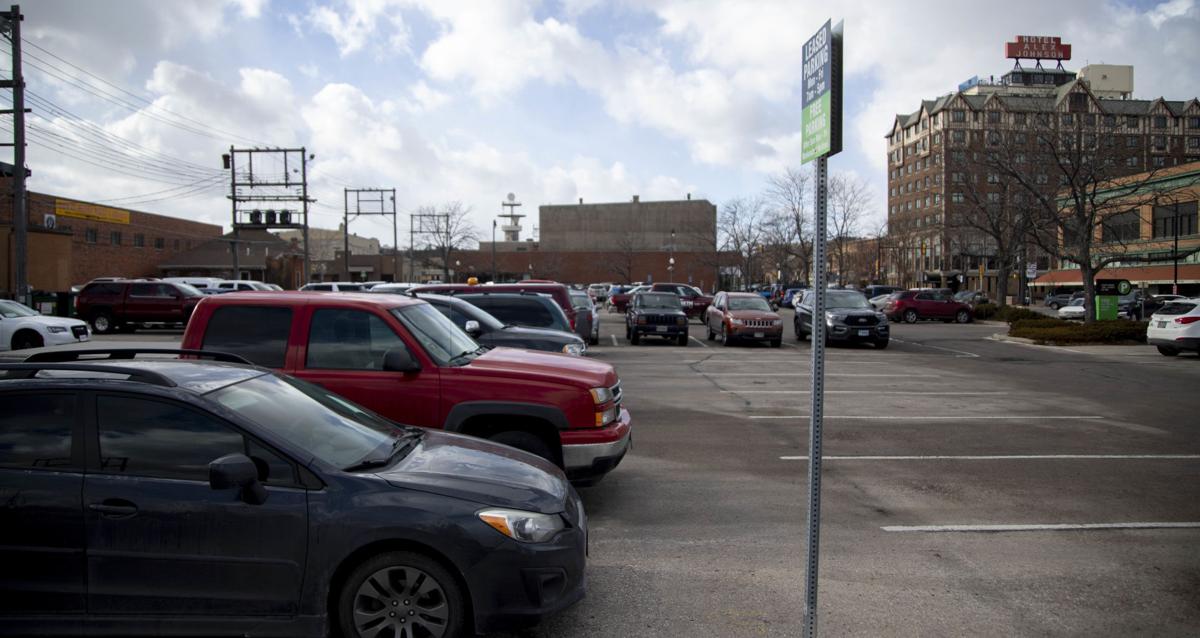 Construction on a $43 to $45 million project that will transform a downtown parking lot into a facility with retail spaces, loft apartments and a Hyatt Place hotel is scheduled to begin this summer.
Rapid City and Elevate Rapid City collaborated to find a developer for the project and announced in November 2019 that Lloyd Companies had been chosen to develop the site on the 500 block of St. Joseph Street between Fifth and Sixth streets.
Lloyd, which has offices in Rapid City and Sioux Falls,  proposed a five-story project consisting of 80 or more apartments, a hotel with 100 to 113 rooms and 5,000 square feet of meeting space, and 17,000 square feet of retail space, according to Lloyd Companies' executive vice president of development, Jake Quasney.
"We've got history and connections to Rapid City. When we saw this opportunity, we felt it was a great way to (expand into) Rapid City," said Quasney, who works in Lloyd Companies' Sioux Falls office but is originally from Rapid City. Lloyd Companies opened a Rapid City office in 2019.
The Block Five project will start with the first phase of loft apartments, as well as retail development on the first floor. The apartments will be a mix of studio, one- and two-bedroom lofts with rents ranging from $950 to more than $1,500 per month. The most expensive units will likely have high-end finishes and amenities such as larger decks and gas fireplaces, Quasney said.
"When we do a project like this, we have two distinct audiences. It's that young professional just out of school up to about 35 … and we get a lot of empty nesters that are 55-plus. They've got a lot of disposable income," he said. "There's a lot of people that love living in these sorts of places."
The residential portion of Block Five will be designed with spaces such as an outdoor patio and amenities such as fitness facilities.
Downtown living tends to appeal to people who appreciate dining, culture and entertainment that's accessible within walking distance of home, he said. Lloyd Companies has developed, built and managed similar multi-use projects in Sioux Falls.
"Rapid City has great recreational opportunities with Main Street Square, the bars and restaurants. The atmosphere is awesome. It's a unique opportunity to bring this level of housing to it. We're excited to jump in with both feet," Quasney said.
The retail portion of Block Five will be "dynamic and flexible," Quasney said. Retail spaces will be smaller, 45 to 65 feet deep, so rent and utilities will be more affordable.
"Those first tenants will really have the ability to craft (the retail spaces) around their businesses," he said.
"We're excited by the momentum and potential of downtown Rapid City," Lloyd Companies' CEO Chris Thorkelson said in a news release on the company's website. "We believe the community's efforts to connect downtown and the South Dakota School of Mines campus will continue to activate downtown and attract people to shop, dine and be entertained here. We'll be focused on bringing in retailers that complement existing businesses."
Lloyd Companies has signed a franchise agreement for a Hyatt Place hotel. It will be called Hyatt Place at Block Five.
"They are very excited for that to be their entry into the Rapid City market," Quasney said. "Hyatt offers a great experience. They have a nice restaurant and bar that comes along with it, and these Hyatt Places, the way they fit into the community, it was a perfect fit when we started talking to brands about Rapid City."
"There's a lot happening in the business community. You have what's going on with Ellsworth Air Force Base, Monument Health … and the city's engaging the School of Mines and some ideas from there to grow businesses. You're going to see a continued demand for business travel, and I think Rapid City is going to outpace much of the country for business travelers," he said.
The future Block Five will be built on the site where the multi-use Presidents Plaza development had previously been proposed.
Ken Young, Rapid City's community development director, said the Block Five plan will bring in more housing. It will be situated nearly in the middle of downtown's the East of Fifth area and the future Sixth Street corridor.
"We need a project that will bring more housing into our downtown area. We've got a downtown that's been successful in some ways but needs a little help in terms of traffic and business opportunities and for that to happen you need more people downtown," Young said.
"It's just going to help spur on additional development. It's part of expanded growth … all the way east to the School of Mines campus. There's so much potential for growth and our downtown plan for that area has called for this type of development. It's right in line with what we're projecting and hoping to see more of."
Though the city is losing a downtown parking lot, Young said a city study showed the inventory of parking is sufficient for what is already downtown and for future growth. Additionally, plans for the Block Five project include 71 surface parking spaces and 121 underground parking spaces.