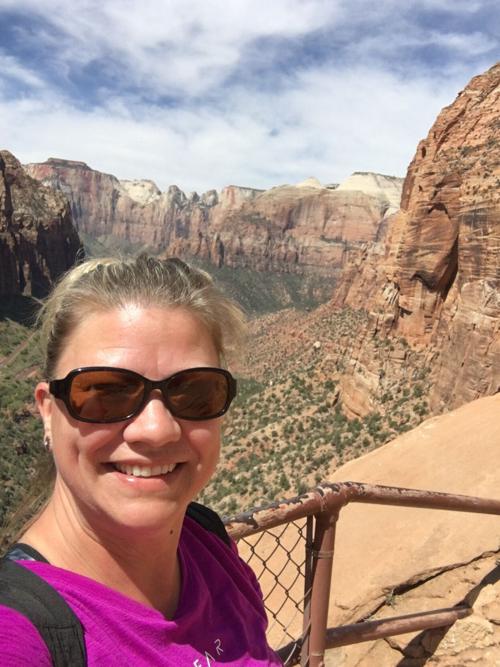 Carrie Gerlach is traveling to Zion National Park this week to map out an adventure for women only.
Gerlach, the owner of Black Hills Adventure Tours in Rapid City, is introducing SOFT adventures. These trips are for women who enjoy the outdoors and sightseeing with like-minded travelers. The first SOFT adventure, to Savannah, Ga., is coming this fall. Gerlach hopes the tour she's planning in Zion National Park can take place in spring 2022. Gerlach also has other national and international destinations in mind for future trips. Women who are interested in SOFT adventures can contact Gerlach at carrie@blackhillsadventuretours.com or 605-209-7817.
"SOFT adventures are for an average woman to get together with her friends and go out for a nice, relaxing hike and do some wine tasting and do some sightseeing," Gerlach said. "I think there's a lot of women that get intimidated by the thought of going on an adventure trip so they just don't do it. … I think there are more women out there than not that want to participate in those active things, but they're worried they're not in shape enough so they don't go."
SOFT adventures will be created for women who enjoy companionship while spending time outdoors in a safe, welcoming environment. Gerlach emphasized these trips are not for women who want more intense adventures such as running marathons or hiking the Grand Canyon.
The Savannah trip, for example, will including kayaking led by a certified instructor.
"There's some training involved before we start. It's a couple of hours of getting out there and having fun, rather than feeling like you're out there with a personal trainer," Gerlach said.
SOFT adventures tap into a growing trend of women traveling, especially to gain new experiences, knowledge and for pleasure. According to the Travel Industry Association, about 32 million women travel alone every year. Just since 2015, thewanderingrv.com reports an emerging trend of women traveling and doing so in a way that fulfills them.
"To have a trip already put together is really appealing, for women especially," Gerlach said. "I can (plan) all the airfare, all the hotels. A lot of women are worried about traveling by themselves. They don't have to worry. They show up at the airport and from that point forward I've taken care of everything."
"I decided if I started offering a trip a month in the winter to warmer places, people would want to get out of town," she said.
SOFT adventures expands on the types of day trips Gerlach provides for tourists and families through Black Hills Adventure Tours.
"We do day hikes and biking on the Mickelson Trail. That has been the philosophy, to provide a safe environment for people to come to the Black Hills to see the sights in a (unique) way," she said.
Last year, Gerlach became a certified travel agent and began traveling solo to explore locations for future SOFT adventures. According to thewanderingrv.com, travel agencies that solely cater to female travelers have increased by 250%. After traveling with friends and hearing from other local women about their travels, Gerlach said she believes designing trips for women is an unmet niche in the Black Hills.
"Women's travel is on the rise right now and solo women traveling is on the rise right now," she said. "What a perfect opportunity to get women introduced to outdoor adventures in a fun environment and … provide a service for people, too."