PHILIP | With the stroke of a pen, President Joe Biden made sweeping changes via executive orders on his first day in office, one being the revocation of the Keystone XL pipeline's permit — something that has reportedly cost several communities in Haakon and Jones counties millions of dollars.
"We're looking at $1.7 million in lost opportunities that would have gone to our schools districts in Haakon and Jones County," West Central Electric Cooperative CEO Jeff Birkeland said Monday. "We're losing $4 million in state sales tax, something I'm sure the state would like."
Birkeland was only one of approximately 20 people who spoke during a Monday roundtable at the Philip Ambulance Hall hosted by U.S. Reps. Dusty Johnson, R-S.D., Kelly Armstrong, R-N.D., and Dan Newhouse, R-Wash.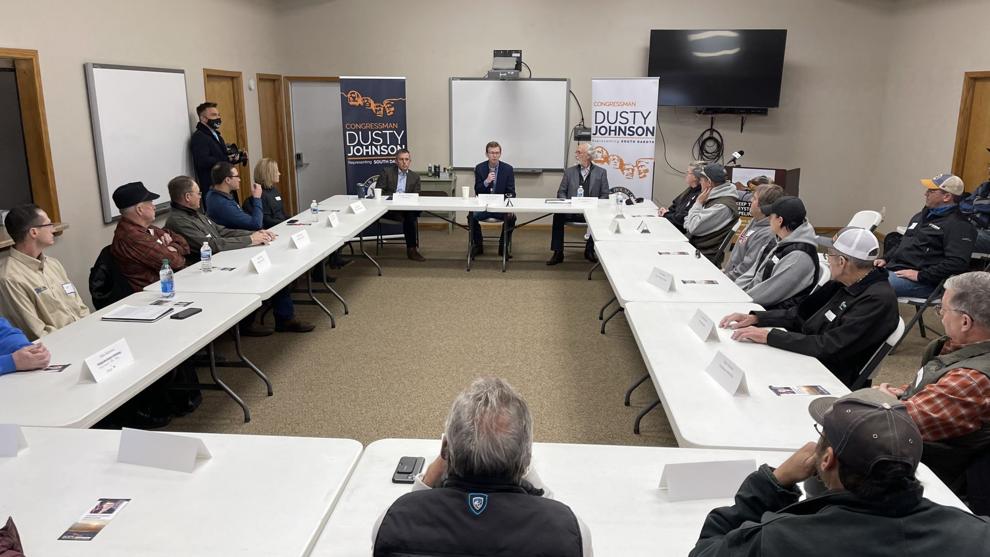 The Keystone XL pipeline was first proposed in 2008 to carry oil from the Canadian province of Alberta to the Texas Gulf Coast. On its 1,700-mile journey, the pipeline bisects western South Dakota, with bends into Haakon and Jones counties to avoid tribal lands in the Cheyenne River, Oglala Sioux and Rosebud reservations.
President Barack Obama's administration rejected the pipeline, but President Donald Trump revived it and work had started in South Dakota. That ended when Biden revoked the pipeline's permit Jan. 20.
Haakon County residents said Monday that Biden's decision has been difficult to understand in the rural county of just over 1,900 people.
Rita and Glenn O'Connell, owners of O'Connell Construction in Philip, said the Keystone XL pipeline was a great prospect for them. Approximately 25 years ago, Rita O'Connell said she and her husband invested in a gravel business.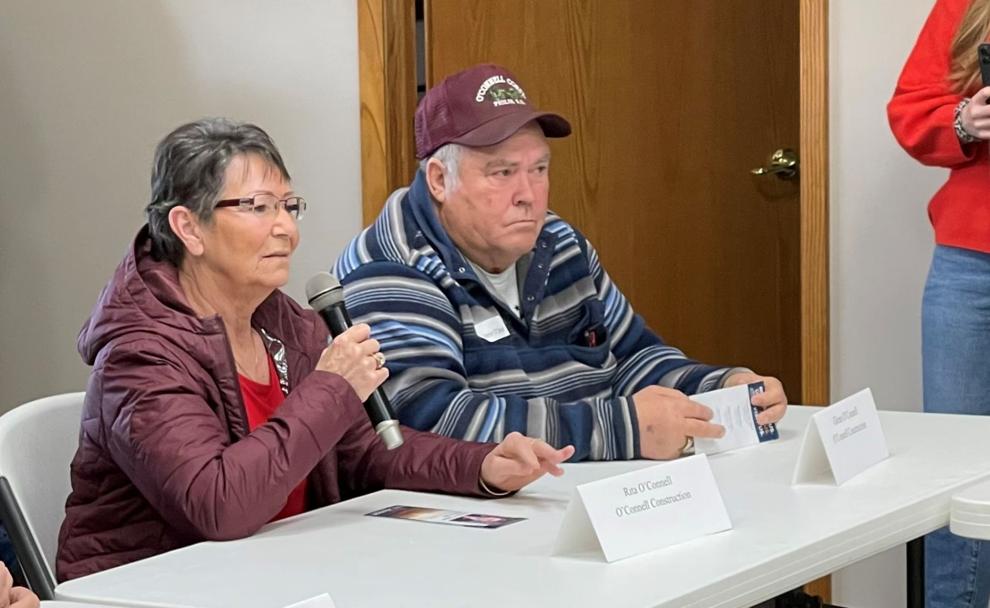 With the plans to revive the pipeline construction, the O'Connells invested another $100,000 to create stockpiles of base quartz and other materials needed for the Keystone XL project.
"It was such a shock to hear that this had just been wiped out," Rita O'Connell said. "It won't kill us financially, but as everyone else said here, this community really just backed up, everybody got together and really backed this. I just feel so sad for the people that were working for the Keystone. These were terrific people."
Several camps were set up around Haakon County to provide construction workers for the project and boost the economies of communities like Philip and Midland, which collectively have fewer than 1,000 people.
Tricia Burns, co-owner of Ignite Wellness Studio in Philip, said the membership at her fitness gym grew exponentially as work crews moved to the area.
"The people we have met have been great. I mean we have had security guards (for the pipeline) in our facility and they gave us a plaque thanking us for providing a place for them to go and exercise. They became our family," Burns said.
Now that the pipeline's permit has been revoked, Burns said all of those people have left.
"They had to up and leave because they could no longer stay without having work," she said. "Not only is it the money, but it's the lives touched here in town through these people and the life of the community has been touched throughout the nation. It's all been taken out with just the one swipe (of the pen)."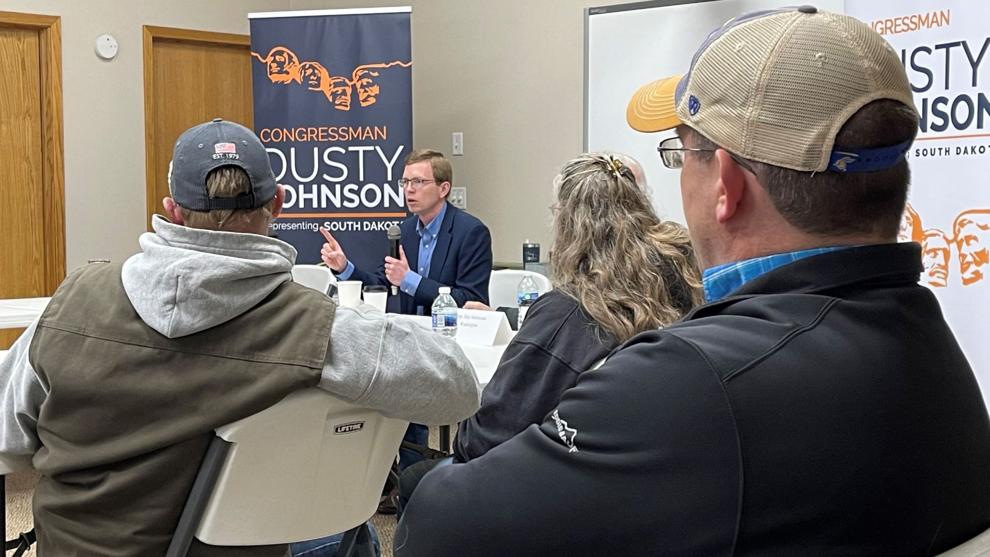 Johnson said these are the types of stories that need to be told to politicians in Washington, D.C.
"Well, for me what really stood out more than anything is how many folks talked about we shouldn't be able to disrupt an economy and people's lives with the swipe of one person's pen," Johnson said. "That has not been the traditional American way. I think this decision was not based on the facts, not based on law. It was very arbitrary and there has been a very real economic and human cost because of that."
On Feb. 2, Armstrong, along with 85 Republican members of Congress, introduced the Keystone XL Pipeline Construction and Jobs Preservation Act. The legislation authorizes the construction and operation of the Keystone XL pipeline and declares that a presidential permit is not required.
"We talk a lot about oil, natural gas and energy production, and we talk a lot about it in the Midwest, but we don't spend enough time talking about the human impact that it has on these people, these businesses and these communities," Armstrong said Monday.
Newhouse chairs the Congressional Western Caucus. He said the economic impact of canceling the Keystone pipeline is grim.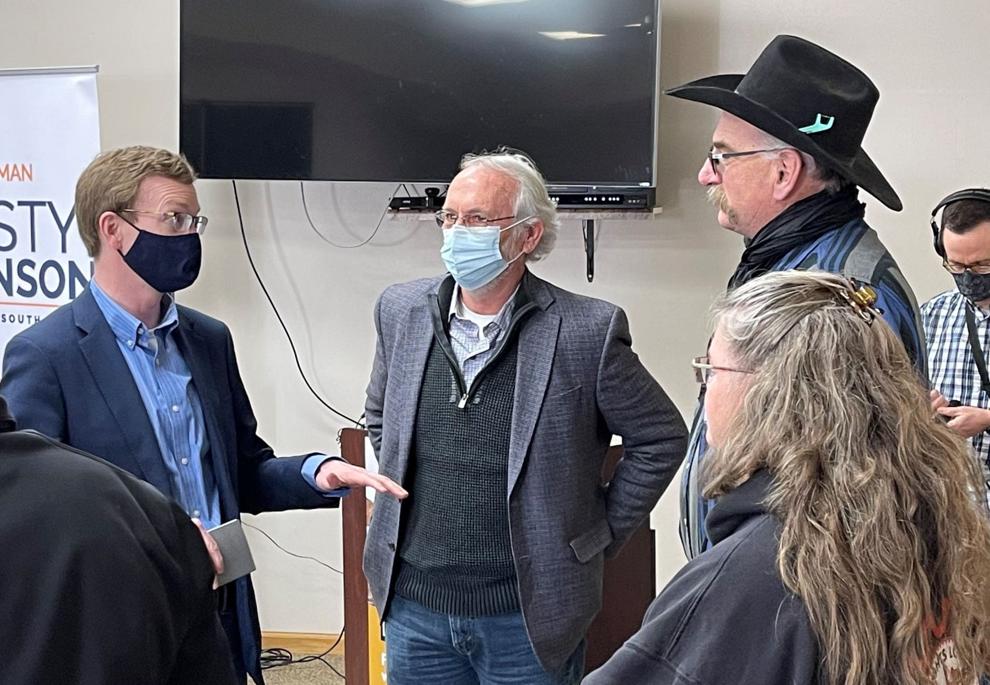 "It's not just the construction impacts of the one-time jobs for building the pipeline, but it's the ongoing tax benefits to all these local communities and counties, the states up and down the corridor of the pipeline," Newhouse said. "We also have to look at the energy independence that this provides the country. It truly is a national security issue, if you think long and hard about the decisions that are being made here."
The three Republican congressmen said they will take the stories heard in Philip back to Washington, D.C., where they say the message will resonate with other policy makers.
"We are determined that people will hear it," Newhouse said.