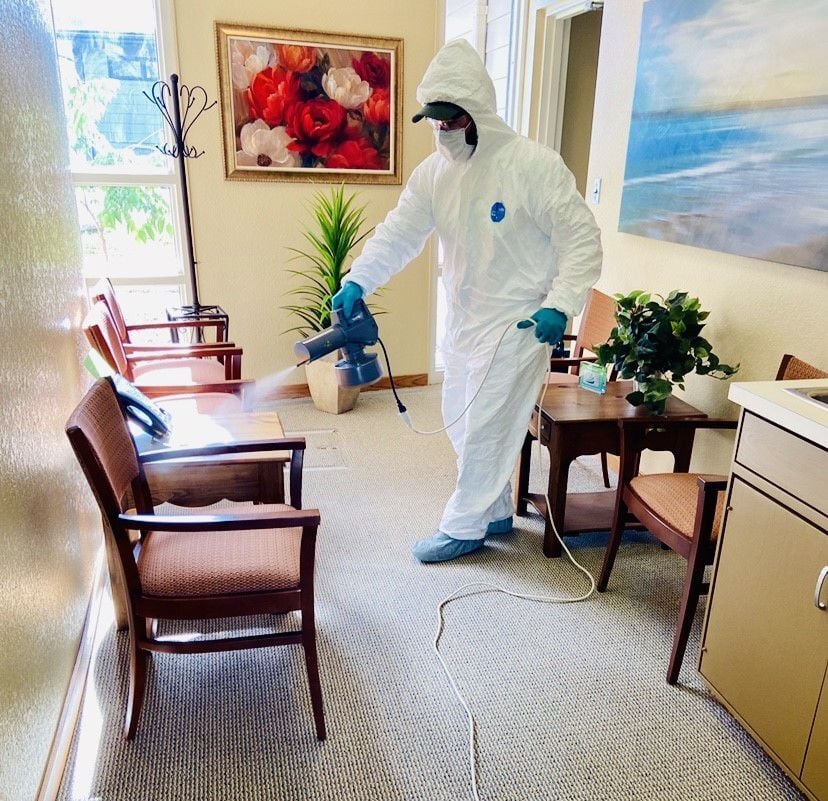 Michael Brown wanted to fill a void in the Rapid City community.
The first was in January to aid the hearing impaired with his business Alternate Hearing Solutions. The second was in April when he launched ContamiCare, a cleaning service that uses CDC-approved chemicals to combat COVID-19.
"I've worked with the elderly my whole career," Brown said. "The elderly and people with health conditions are the most at risk and I feel like those are the people we as a community need to protect. I think we have an obligation, all of us, to each other. Life sucks for everybody right now, but as a community, we owe it to the people that are the weakest to do whatever we can to protect them."
Brown said he was paying attention and tracking COVID-19 as it moved through Europe and Asia before it arrived in the United States. 
He said he read and researched as much as he could about what experts were saying and what could be used to stifle the spread of the virus.
In January, as he started Alternative Hearing Solutions, he decided to purchase the chemicals and supplies necessary for ContamiCare.
"That was a big challenge, even by then," he said. "The appropriate chemicals, there was a waiting list almost everywhere. The appropriate application tools, waiting list, everywhere."
Brown said as he traveled to different stores, he noticed there were few businesses that would sanitize their carts or high-contact surfaces, which made him think about how to clean every nook and cranny. He then came up with the idea to use a fogging system.
When businesses shut down, so did Brown's, even though it's classified as essential.
He said hearing aids typically aren't paid for by insurance, neither are amplified phones, programs in the state or other appliances to help those with hearing impairment. He said because these items are typically a large expense that no one really wants to pay for, and as the economy suffers and people become unemployed and face financial struggles, his business has been put on hold.
As the months passed and restaurants and bars began to reopen, he shifted his idea to focus on businesses that may need help keeping their environments clean day in and day out.
"Let's face it, we have to (reopen businesses). We can't stay closed forever," Brown said. "But we've got to do whatever we can to make sure that when someone walks in, it's as safe an environment as it possibly can be."
Brown printed his own flyers and met with businesses one by one.
Not many businesses have called upon ContamiCare's services, and Brown said it's kind of disappointing, especially with some downtown locations and city services having positive cases of the virus.
Brown said he has 10 people he can call to form a crew to clean a business or residence. He said each person has watched training videos he's selected in order to clean a location effectively and efficiently.
He said what the crew does isn't rocket science, but there are certain steps that must be followed.
After taking a temperature test and going through a questionnaire to make sure employees haven't been exposed to or may transmit the virus, they dress in cleaning suits with respirators. They then enter the area and identify anywhere that has possible dirt build up. If dirty areas are found, they spend time cleaning it. Then they either spray down or use a fogging system to envelope an area in CDC-approved chemicals and let it sit for 2-10 minutes. Brown said that's how long it takes for the chemical to saturate the surface.
Afterward, the crew wipes down everything sprayed or fogged.
Brown said the main chemicals ContamiCare uses are CDC-10, which is known to kill Hepatitis B Virus, HIV-1, Herpes simplex type 2 and Influenza A3 viruses, and BNC-15, a non-acid disinfectant that is used as a disinfectant, cleaner, sanitizer, fungicide, mildewstat and virucide, according to Spartan Chemical.
"We've kind of got everything in place, we're just waiting for someone to see the benefit and take advantage of what we can offer," Brown said.
Brown said ContamiCare doesn't have any accreditation yet as some associations have shut down since COVID-19, but knows the steps he needs to take once it's available.
ContamiCare can be reached at 605-201-7367 or at ContamiCare.com. Brown said the business is available to sanitize 24/7.
Concerned about COVID-19?
Sign up now to get the most recent coronavirus headlines and other important local and national news sent to your email inbox daily.