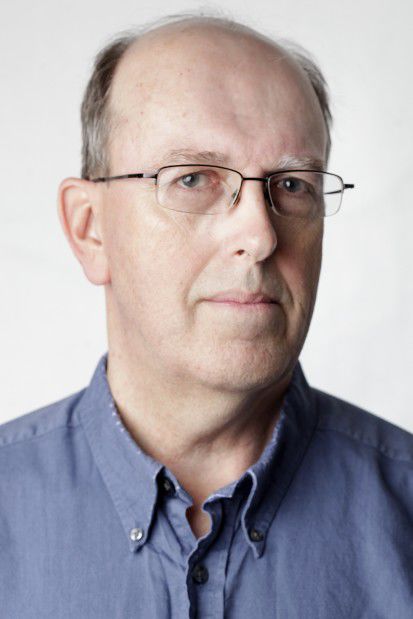 Anyone wondering what the specialty at Rapid City's new westside bakery might be, the name Pistachio Pie might offer a sweet, crumbly, delicious clue.
"We do have a pistachio pie and it's our best selling one. I sell a lot of them every day," said owner Lauren Moir, who opened the bakery at 4118 Jackson Boulevard across from Canyon Lake Park.
Moir quietly opened Pistachio Pie a couple of weeks ago and held a grand opening Aug. 12.
She and her husband, Zac, both graduates of Stevens High School, moved back to Rapid City about six months ago from Sioux Falls.
Moir said she has been baking for most of her life, but mastered her culinary art at the Le Cordon Bleu School in Seattle, where she spent 3-1/2 years as a pastry chef.
Unable, she said, to find any openings in her field upon returning to Rapid City, she made her own opening.
"I just decided to open up a bakery, and I'm doing pies because that's what I love," she said.
Beyond her namesake specialty, Moir offers more than a dozen flavors of pies, ranging from fruit varieties to other favorites like pecan, chocolate silk and coconut crème and a couple kinds of cheesecake.
Pistachio Pie is now open from 2 p.m. to 7 p.m., Tuesday through Saturday, but Moir is considering opening on Sunday's as well and hopes to expand beyond dessert pies and her location with its limited seating.
"I'd like to have more of a storefront, maybe open it up to have breakfast pies and lunch specials. That's kind of my goal," she said.
Check out her Facebook page, Pistachio Pie Bakery, or call 605-388-2051 for more information.
While you can no longer buy a new cell phone or upgrade your cellular service at 102 N. Chicago St. in Hot Springs, you can get a full range of spa services — massage, foot, face and body treatments, waxing, and specialty services like aromatherapy, steam, sauna and sinus massage.
"People here know us as the old Verizon place," said Heather Ramsey, owner of the Body Bliss Spa, which opened at the intersection of University Street and N. Chicago Street in mid-June.
Ramsey brings five years of massage experience to her new spa, including working in Rapid City and in her home state of Georgia.
Ramsey was firm in her desire to settle in a small town when she decided to return to South Dakota. She changed the interior of the former cellular business to bring esthetic services such as facials, full body waxing and body treatments to Hot Springs.
"You don't have to drive to Rapid to have this done. We can do it right here in town," she said
She also offers spa days, spa days with lunch, birthday parties and bride days.
Call Body Bliss Spa at 605-745-5373 or check out their Facebook page for more information.
You have free articles remaining.
Halberstadt's Mens Clothiers has been a mainstay for 23 years at the intersection of the J.C. Penney's and Herberger's courts at the Rushmore Mall.
A press release from the mall announced that Steve Johnson, who has managed the Halberstadt's store since its opening, is now the store's new owner.
Johnson has changed the store's name to Main Street Menswear but will continue to offer professional, casual, prom and wedding apparel lines for men.
"Although the name has changed, our dedication to our clientele and their fashion wants will stay the same," Johnson said in the release.
Store closure sales are now underway at Gymboree and Crazy 8 stores at the Rushmore Mall, among 350 stores of the San Francisco-based children's clothing retail chain slated to shutter.
According to BusinessInsider.com, Gymboree declared Chapter 11 bankruptcy protection in June and later announced closures amounting to about 27 percent of its 1,281 Gymboree, Jamie n' Jack and Crazy 8 stores.
Boutique finalist for awards
From remote ranch country of eastern Meade County, Ann Shaw's White Owl Creek Boutique is a finalist for Best Mobile Boutique in South Dakota and for global Mobile Boutique of the year as presented by The Boutique Hub.
Shaw launched White Owl Creek Boutique about five years ago, refocusing on clothing and accessories after starting her small business as a salon. She describes her offering of clothing, shoes and accessories as "modern fashion with prairie chic flare and a touch of vintage wanderlust."
She has taken her mobile boutique to rodeos and town celebrations, conventions, private shopping parties and and other special events.
The boutique, named for the creek that runs through her family ranch, is also open Tuesday through Thursday at a storefront location on the Shaw Ranch in White Owl, 55 miles east of Sturgis in east-central Meade County.
You'll have to hurry to place your vote for The Boutique Hub awards, which recognize boutiques across all 50 states, Canada, Australia and the United Kingdom in the categories of Storefront Boutique of the Year, Online Boutique of the Year, Children's Boutique of the Year, Mobile Boutique of the Year, and State or Country Overall Boutique of the Year.
Voting ends Monday, Aug. 21. Log on to theboutiqueawards.com. Follow the link to vote under SD (South Dakota) in the mobile boutique category.
Air ambulance receives accreditation
Medical Air Rescue Company, operating four fixed-wing King Air air ambulances out of Rapid City, Pine Ridge and Valentine, Neb., was accredited on July 15 by the Commission on Accreditation of Medical Transport Systems.
Operating as part of Dale Aviation, located at 3900 Airport Road at Rapid City Regional Airport, Medical Air Rescue Company has been in operation in the Black Hills since 1982 and provides flight nurse and paramedic teams to care for adult and pediatric patients in flight, according to a release.
The company will soon add helicopters to its fixed-wing fleet for medical air operations in South Dakota, Nebraska and Wyoming areas, the release said.