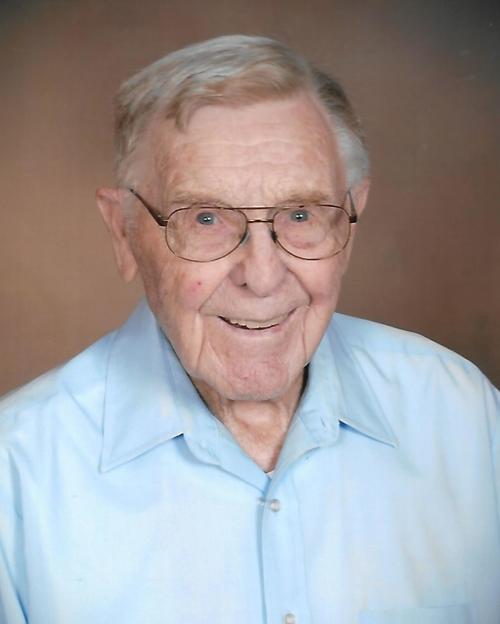 CHADRON, Neb. | Rollin Calhoun Curd was born March 2, 1926, on a homestead farm near Amherst, NE, in Buffalo County. His parents were Richard Thomas and Olive (Calhoun) Curd. Rollin passed away on June 3, 2020 at the Chadron Community Hospital.
He grew up with a brother, John "Jack" and sister, Margueritte Lorraine. Rollin learned carpentry from his father and uncles. He graduated from Amherst High School in May 1943, and enlisted in the U.S. Navy in February 1944. He served as a yeoman on the Flag of Commander, Submarines, Southwest Pacific, in Australia and the Philippines. He was honorably discharged on May 18, 1946, and returned to the farm in Amherst.
In October 1947, he was hired by the U.S. Bureau of Reclamation and started his career as a surveyor. On April 18, 1950, Dorothea Bermel and Rollin were married in Grand Island, NE, and to that union were born 10 children: Kathleen, Andrew, David, Jean Marie, Matthew, Philip, Leo, Julie, Alan, and Jennifer. Over the years, the family moved 15 times with work for the Bureau of Reclamation, U.S. Naval Ammunition Depot at Hastings, Soil Conservation Service, and U.S. Forest Service.
Curd earned his Land Surveyor License (LS-109) in Nebraska in 1958, and in South Dakota in 1967 (LS-1967). Most of his engineering tech and surveying work was performed in Nebraska with occasional trips to Texas, Kansas, and Colorado. He said that two projects were most important to him: the horizontal, vertical, and topographic vertical control survey of the Mid-State Project in the Kearney/Grand Island area and the Crow Butte Uranium Exploration in Dawes and Box Butte counties.
The family moved to Chadron in 1967, where Rollin worked for the Forest Service in Nebraska and part of South Dakota. After retirement from federal service, he established Pine Ridge Land Surveys and worked in the private sector. He was elected Dawes County Surveyor for 16 years and appointed county surveyor in Sheridan and Sioux counties.
In 1979, Dorothea died of cancer. Rollin wrote of her for his children and grandchildren, "Dorothea was the best mother any children could ask for, and I might add, the best wife a man could ask for." Rollin married Jackie Jenkins Howell of Denver, who helped raise the youngest children and welcome grown children and grandchildren to the family home at 540 Mears in Chadron. They celebrated their 25th Anniversary in 2005. Jackie passed away in May 2014.
Rollin served as the first president of the Professional Surveyors' Association of Nebraska in 1964. He was a past President of the VFW and American Legion, past Sheriff of the Westerner Corral and past Chairman of the Dawes County Historical Society. He wrote A History of the Boundaries of Nebraska and Indian-Surveyor Stories " ... to recognize the Astronomers and U.S. Deputy Surveyors who measured the State Boundaries, Parallels, Meridians, and Townships of Nebraska between 1854 and 1883."
He is survived by his sister, Margueritte Lorraine of Grand Island; sister-in-law, Lucille D. of Alameda, CA; 10 children and spouses; 22 grandchildren; 21 great-grandchildren; and many nieces and nephews.
His license numbers mark many lot corners and section corners in Nebraska and South Dakota, and his Plats of Survey are recorded in county courthouses and State Surveyors' offices.
Rollin wrote, "I never considered surveying disagreeable work because I loved my work: after all, I walked the plains and hills of my native land, saw the wildlife, the sunrises and sunsets, the beauty of little glens and valleys, the beauty of the clouds, even the storms rolling in."
Funeral services were held on June 9, at St. Patrick's Catholic Church in Chadron, with Father Todd Philipsen officiating. Burial was at Calvary Cemetery in Chadron. 
A memorial has been established for Nursing Aids at Prairie Pines and Crestview. Donations may be sent to Chamberlain Chapel, PO Box 970, Chadron, NE 69337.
To plant a tree in memory of Rollin Curd as a living tribute, please visit Tribute Store.
Be the first to know
Get local news delivered to your inbox!