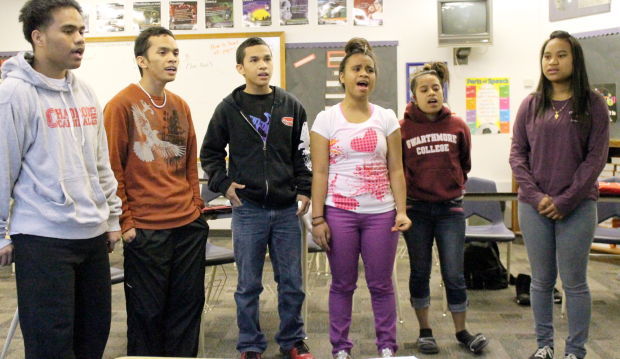 Chadron residents have a chance to hear beautiful music and help local students.
Marshallese students at Chadron's High and Middle schools are planning to host an evening of music and cultural presentations. The event is planned for 7 p.m. May 22 at the First Congregational Church, 370 Chadron Ave.
While the Marshallese people may be relatively unknown in western Nebraska, they are the fastest growing demographic in Chadron.
The Marshall Islands is a country located in the northern Pacific Ocean comprised of 1,156 individual islands and islets with a population of 68,480 spread out over 24 low-lying coral atolls.
The country is in free association with the United States, which allows its residents to reside in the U.S. with only a passport. However, while Marshallese have legal residency, they are neither citizens nor do they have alien status. The situation puts them in limbo for access to health and human services, particularly health care.
Cheryl Welch, English Language Learners (ELL) teacher at Chadron's Middle and High schools said, "Very few students and families have health insurance, because they're not full citizens. They really wrestle with trying to pay for health care."
Welch said a free will donation will be taken at the May 22 event. The funds raised will primarily help defray Marshallese families' medical and dental care costs.
You have free articles remaining.
The Record stopped by Welch's ELL class at the high school Monday.
In an interview, Marshallese CHS student Seri Andres said of the program, "This is for people to know us better. Some people don't even know we exist."
In addition to singing songs, the students will also give short presentations with photos and stories about Marshallese culture, foods, and customs.
Andres and his five classmates performed a song that morning, it was sung in Marshallese, but its title translates as "I don't know why he died for me."
"Christianity is really important to us," Andres said.
Welch estimated 95 percent of Chadron's Marshallese community attends the Good Life Marshallese church on Second Street. She also said their involvement tends to go well above the average church-going American's. On average, many of the Marshallese families spend up to 15 hours a week in worship and study groups through the Good Life church.
"Music is an integral part of their service and their lives," Welch said.
For questions or to make a donation, contact Welch at 432-3519.