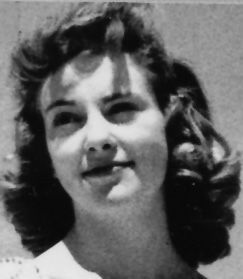 CHADRON | Fauneil Kaye (Walters) McInnis was born Feb. 16, 1940, in Lusk, WY, to William and Bonnie Walters. At age four she moved with her mother to Chadron, NE, where she grew up. She attended West Ward Elementary School and graduated from Chadron High School in 1957. She graduated from Chadron State College in 1961. During her years at CSC she worked part-time for attorney Greydon Nichols.
After graduation she moved to Denver and quickly was employed with a law firm. A year later Faun returned to CSC as a post-graduate student to earn a teaching degree. A very accomplished pianist Faun resumed being the piano soloist and accompanist to the CSC Eaglaires.
The Eaglaiers gained a lot of attention and were sponsored by the USO for a month-long Caribbean tour in December of 1962. The tour was to entertain U.S. troops at bases in Florida, San Salvador, Grand Turk Islands, Antigua, Puerto Rico, Guantanamo Bay and finally the Canal Zone where they performed 15 times in 10 days.
Upon completion of that post-graduate year and gaining her teaching degree, she took a teaching job at Winnemucca High School in Nevada.
After one year in Nevada she accepted a job in South Dakota as a Girls Dormitory Supervisor at the Rosebud Indian Reservation. It was during that year Faun made the decision that the career she was looking for was that of a librarian.
Moving back to Denver Faun enrolled at Denver University, earning her Master of Library Science degree. As a condition of the scholarship she had used to earn her MLS, she worked in the Denver City Library system for two years.
By the summer of 1969 she had completed her scholarship obligation. She packed her belongings and moved to San Francisco and immediately got employment at the San Francisco Main Library in downtown San Francisco. She spent the next 32 years there before retiring in 2001.
At the time of her retirement she was the manager in charge of the fifth and sixth floor of the then newly built San Francisco Main Library. She gained many dear friends at the library and stayed in touch with them during her nineteen years of retirement.
Not only did she make many dear friends during her time at the library, she met and married Will McInnis. A few years later she gave birth to her son David Austin McInnis. She lost her husband to cancer when David was just six years old. As a single mother she raised David until he entered the U.S. Navy and made it a career. David McInnis and Faun's three beloved granddaughters, Kiera McInnis, CiAnne McInnis and Zoey McInnis, live on Whidbey Island in the Seattle area.
When Faun retired she moved back to Chadron to take care of her ailing mother. She stayed at that residence for many years as the sole occupant except for her beloved cats.
In the Spring of 2017 she shared her home and her cats with Johnny Miller, her high school sweetheart, until they moved to Prairie Pines Lodge, an independent living retirement facility. She made friends with many of the residents of Prairie Pines while enjoying the activities provided there.
After just over one year at Prairie Pines she was hospitalized with complications of diabetes. She went into hospice care at the Chadron Hospital on April 19, 2020. Fauneil Kaye McInnis passed away at Crest View Care Center in Chadron on April 20, 2020. A memorial service will be held at a later date.
To plant a tree in memory of Fauneil McInnis as a living tribute, please visit Tribute Store.
Be the first to know
Get local news delivered to your inbox!