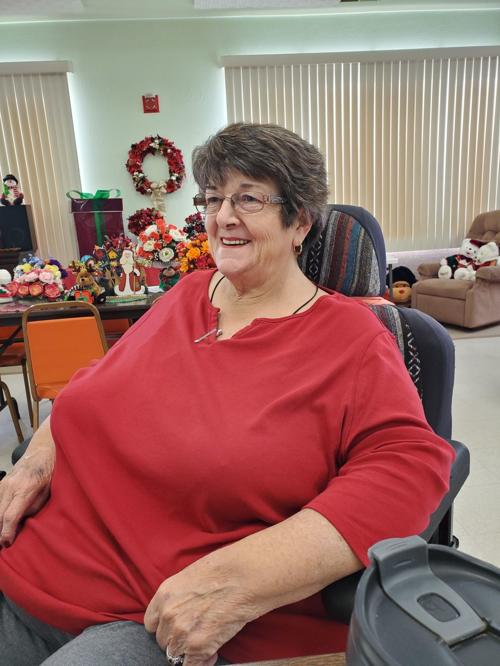 Frederika "Fredi" Sommerville moved to Chadron in 1989 with her children, Jason and Shawn Sommerville and Danny Case, but the road here had quite a few stops along the way.
"I was born in The Netherlands," she said, and she went to Australia with her family in 1954, an ocean voyage when she was only seven years old. She further noted she was a "service brat." There was no additional family in Australia, but there was in the United States, so she came to this country in 1965 with her parents, Frederik and Cornelia Sipman, and her sister Margaret.
They came in at Los Angeles International Airport and were met by her aunt and uncle, whom they would stay with in Covina, Calif. Her parents found a beautiful home of their own, but Fredi was able to find employment and moved out on her own in 1966. She noted she travelled to locations like Palm Springs, the L.A. Tennis Club and the Saltan Sea.
As for her job, she worked at Wallichs Music City, which dealt in large goods such as pianos and organs, sheet music and vinyl records. Within a year she became the assistant manager, and after several more years she was offered to start a Wallichs store in Phoenix, Ariz., an offer she refused as she knew the company was closing.
"They started liquidated things, and I suspected we were closing. We were still open for another six to eight months before we closed the doors, and they never did start the store in Arizona."
The year the store closed – 1970 – was also the same Fredi married her first and only husband, Richard. They remained in the area until 1979, and he requested she be a stay-at-home mother and raise the stepchildren because it would be better for the kids. There were four stepchildren. Two of them – Charlene and Alex ¬– Fredi helped raise, though Rick and Betty Jean still call her "mom" and they all get along with her other children, forming one large family.
From California the couple moved to South Dakota. Richard was an over the road trucker. The kids were around graduation age, so they chose to stay in California with their mother. Fredi learned to drive truck and for five years she was the second seat driver for Richard until her children by him started school. In 1984, the couple divorced but remained friends. She continued to drive truck for five years and raised her three boys by herself, and her path eventually brought her to Gordon.
You have free articles remaining.
Sommerville said she chose to come to Chadron to further her education at Chadron State College, studying juvenile delinquency and criminal justice, but pointed out the commute between here and Gordon can get fairly nasty in the winter.
Her boys were in their early teens and going to school in Chadron, and Fredi's going to school at CSC meant she'd have to be here all day. "If the weather got really bad," she said, "my kids would sit and there would be nobody to take care of them. That was the main reason for my wanting to move."
Fredi also worked at the truck stop and Common Cents, and later worked for the state in Child Protective Services as a case aide. She further explained she volunteered with Health and Human Services for seven years, and that turned into the paid case aide position. She worked at the main office in Alliance and later Bridgeport at this time and travelled to the 11 Panhandle counties to work with kids and case managers.
On one of her days off, she was bit by a brown recluse spider. Noticing she'd been sick for several days, her youngest son, Danny, convinced her to go to the doctor, though she thought it was just a touch of the flu.
"That venom had already gone into my system, and he knew something was wrong and I didn't."
After telling the doctor about the spider bite, Fredi said doesn't remember much but remembered being transported to Scottsbluff. "They transported me at about 7:30 at night . . . and by 1 a.m. I was on life support and they did not expect me to live." Her pastor, Darren Stroh, her kids, her medical team and friends who were there rallied around her and prayed at the request of her sons. After nine days, she awoke and questioned what happened. She was kept on life support for a few more days to check her out, "and here I am, 16 years later, in a wheelchair. It took the use of my right leg and I've been running around town in this wheelchair ever since, in the summer time. In the winter time I kind of hibernate and take the hand-bus wherever I want to go."
She's grateful for her home at The Heritage Apartments, the services she receives and the medical staff. "They are wonderful. They have treated me with great care. No question is ever too much." She's also keeping busy volunteering with various organizations around town, including the Chadron Senior Center. She added that Northwest Community Action and the 60-Plus Club are very giving and offer great services. She encourages people to check out the senior center.
"The food is great, and we would really love to have more Bingo players. If anyone wants to come and join us for Bingo on Tuesdays and Thursdays from 12:45 or 1:00 to 2, 2:15, 2:30, they're welcome."
Of the city, she said, "Chadron's a fantastic community. Chadron is filled with caring people, very friendly. When someone sees me struggle with a door they just jump right over and help. It doesn't matter if I know them or not. There's many, many angels in disguise out there."