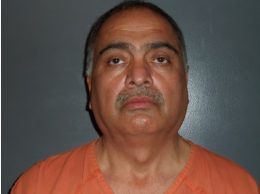 The previous owner of Cheema's Gas and Oil in Chadron, Kuldip "Cheema" Singh, was convicted last week in Scotts Bluff County on four counts of evading or attempting to evade liquor tax and acquiring liquor from someone other than a licensed dealer. He was found not guilty on an additional eight charges of transporting liquor in the state and transporting liquor with no tax.
At Singh's trial, 17 boxes of liquor including Jack Daniels, Crown Royal and other types of alcohol were presented as evidence. The alcohol was seized during a 16-month investigation by the Nebraska State Patrol.
Singh is scheduled for sentencing on July 7, in Scotts Bluff County Court, and faces a maximum two years in prison and $6,000 in fines.
At the Chadron City Council's Nov. 16 meeting, a manager application was approved for Sharanjit S. Chima in connection with the liquor license for the Chadron Store. It was noted that the application was submitted, in part, to sever ties with Singh
The case against Singh began with after the Nebraska Liquor Control Commission received a complaint about Singh selling alcohol at the convenience store that he hadn't purchased from an identified Nebraska wholesaler. Representatives of one of the wholesaler's had been in his store when the employee noticed a Captain Morgan product, and Singh had not ordered from the company for years, according to court documents.
The Nebraska State Patrol conducted investigation that included surveillance of Singh's store using a pole camera. Patrol Investigator Rob Jackson, who oversees liquor law enforcement in Troop E, testified that video surveillance captured Singh loading and unloading boxes of liquor from his personal vehicle.
Investigators suspected Singh to be transporting alcohol from Wyoming, where some of the popular, and more expensive, brands of liquor such as Jack Daniels and Crown Royal sold cheaper. In Wyoming, the state is the only distributor of alcohol. In Nebraska, there are 13 distributors, with there being three main distributors, according to testimony in the case. The Nebraska State Patrol, working with Wyoming authorities, labeled alcohol destined for Singh's Wyoming store, affixing it with a star label that went unnoticed.
As part of the patrol's investigation, undercover officers with the Nebraska State Patrol and Western Nebraska Intelligence Group (WING) task force purchased alcohol in controlled buys from the Scottsbluff store.
Thirteen boxes of alcohol were purchased during the controlled buys, with just four boxes of the liquor containing alcohol seized from Singh's store as investigators executed a search warrant at the business in October. Jackson testified that the alcohol from all of those buys was stored in an evidence locker at the NSP.
Mark Davis, a fiscal analyst with the Nebraska Liquor Control Commission, testified about the taxes that are paid by wholesalers for alcohol sold in the state. Wholesalers pay $3.75 per gallon liquor that is sold in the state. Those taxes are remitted to the state on the 25th of every month by the wholesalers. Distributors track the sales of alcohol throughout the state to retailers, which is reported to the Nebraska Liquor Control Commission. Nebraska law requires all alcohol to be purchased from a wholesaler licensed in the state of Nebraska.
Davis examined wholesaler reports for purchases by Singh on his liquor licenses for brands identified as popular in Nebraska and the U.S. generally, and testified that authorities found a marked decrease in purchases from Nebraska wholesalers. Evidence at trial was that decrease had begun as early as 2015.
Danielle Larson, Scotts Bluff County deputy attorney, said Singh purchasing alcohol from outside the state put him at an unfair advantage over other competitors in the community, she said. He purchased alcohol for lower prices in Wyoming, then resold that alcohol in Nebraska for lower prices than the wholesalers were selling it to the businesses.
Bell Island, who represented Singh, argued that Singh wouldn't have transported liquor from Wyoming to the Scottsbluff store "just to save a couple hundred bucks." He argued the state didn't have any evidence that specifically tied Singh to any of the crimes alleged and he questioned why they did not produce surveillance video or even testimony from employees of Singh's business. He said that the state failed to identify specific quantities of alcohol purchased in Wyoming and sold in the Scottsbluff store, failed to specifically show that Singh had transported the liquor for sale. He told the jury that more questions than answers were presented by the state's case, and therefore, reasonable doubt existed.