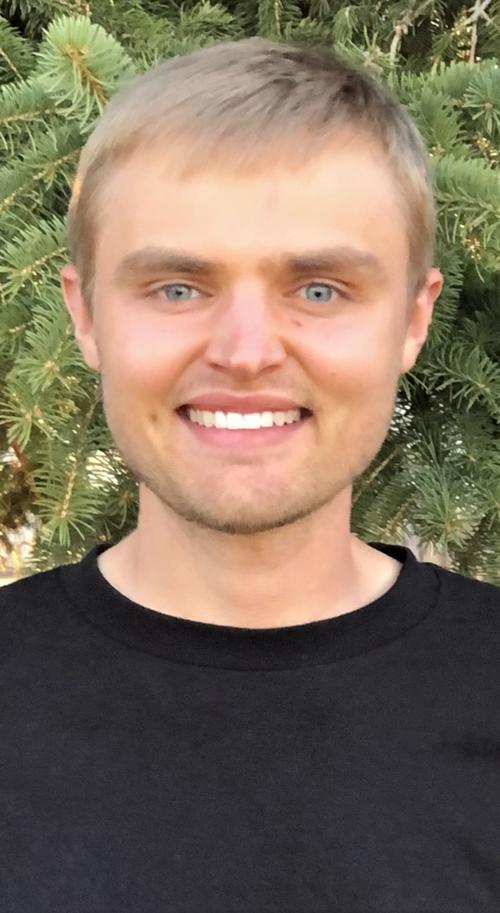 About 18 months ago, Chadron Christian Church had a dilemma. Numbers were dwindling and the membership was composed of an aging population. Though it had an active youth program, the number of adults in the congregation were inadequate to served and maintain programs the church offered. This led to two choices — either find a new pastor with a ministry appealing to younger people and families, or close the church doors.
The pastoral search committee began the search, with well over 100 applicants contacting them as applications came in from all over the United States and even some foreign countries. The ultimate decision was made to ask Jared Pilkington, a recent Chadron State graduate and employee of the Fellowship of Christian Athletes (FCA) to apply.
Soon after Pilkington filled the position, attendance increased to more than double its previous averages and the demographics shifted to a younger age, with many high school and college students, as well as young families. College students also jumped in to help with youth programs, and the bonds with the FCA were strengthened.
Pilkington grew up in Scottsbluff, graduating from high school there in 2016. He attended junior college at Eastern Wyoming College in Torrington, and graduated from the school in 2018. Next he, came to Chadron State and finished his degree in Business, graduating in May of 2020.
As for his being called to the church, Pilkington said, "I always had a heart for ministry. That's what I wanted to do, especially since about my third year in college." Specifically with Chadron Christian, he had spoken a couple times as a "fill in." His friend encouraged him and could see him taking on the full-time position. It was something Pilkington considered, but those thoughts disappeared somewhat over last summer due to his commitment to FCA. However, they returned strongly in August and he became the church's pastor in September.
Pilkington's heart for ministry and for people, are reflective of his upbringing. "I was raised in a Christian home. Both of my parents have a really strong faith in Jesus, so I had a strong foundation. I started out college wanting to teach and coach, so on that level I knew I wanted to make an impact, and then over the years it evolved into pastoring."
He further noted in junior college he started developing a close relationship with his golf coach, Zach Smith, both of them sharing their faith in Jesus and growing. "I knew that's what I wanted to keep doing, and I just thought it was FCA, but then it transitioned into this which is awesome."
Pilkington's young age might surprise some, though he hasn't run into any conflict because of it. The same friend who encouraged him to pursue the position also shared with him, "God equips the called, he doesn't call the equipped," a comment that's stuck with him. He also spoke to Acts 4:13, in which the apostles Peter and John are recognized as ordinary but who had been with Jesus. "That's been my theme verse this whole time," Pilkington said.
Becoming the pastor of a church in the middle of a global pandemic was "kind of crazy," Pilkington said, "but at the same time I guess that's all I knew. We can only go up from here. If it's this fun in the middle of a pandemic I can't imagine what it's like outside of one. I think God's really doing something in the Church. Where he gives vision, he also provides the provision. I've seen that so clearly . . . Pandemic or no pandemic, you can't put God in a box. He's a God of unlimited resources."
The church building itself is also undergoing some changes, with a new audio and video system and a couple walls being taken out in the lower level to make some classrooms bigger. The rooms are used for Children's Church programs and child care during service. The church also has a solid Wednesday night Bible Buddies program for youth, regardless of denomination.
Pilkington would love to have people come to the church. "We want people to know they're welcomed and loved, and God has a home for them if they don't have a church family. We're all about becoming better friends with Jesus and sharing his heart with the world."