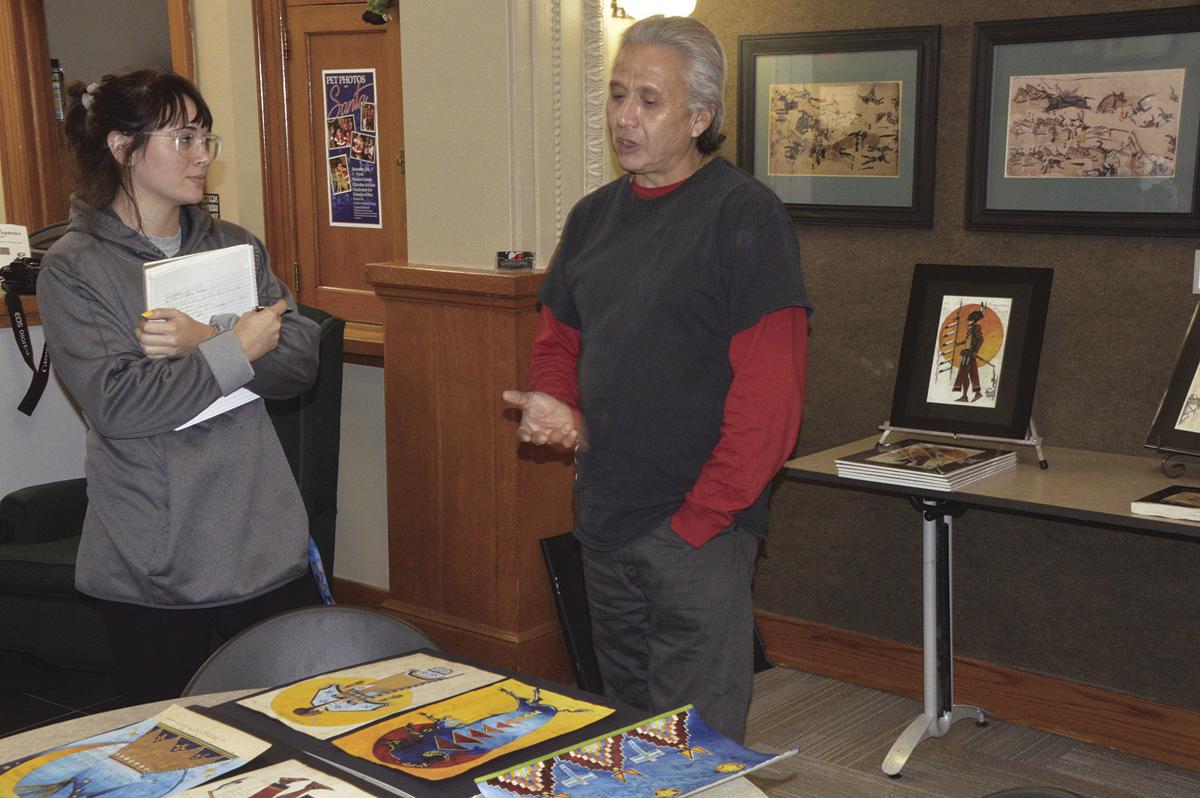 During the Mari Sandoz High Plains Heritage Center's honoring of Native American Heritage Month, artist Joe Pulliam presented his watercolor ledger and paper teepee art as part of the "Native American Legacies" exhibit. Pulliam is also the artist-in-residence for this exhibit, and available to speak to his art and its meaning last week.
Pulliam, a member of the Oglala Lakota tribe whose Lakota name is Akicita Tokahe, which means "the leading warrior," describes himself as a homeless veteran and single father living on the reservation. Of his artwork, he said it is "mainly intended to help preserve history and preserve our culture. It's intended to help people heal from a century of genocide and to bring awareness to the major injustices committed against my people."
He noted these injustices include stealing of the land, his people being placed in prisoner of war camps, forced assimilation, and the taking away of language and culture.
You have free articles remaining.
Further, he wants to bring awareness to the U.S. government's obligation to honor the treaties of 1854 and 1868, "which established the great Sioux reservation, which land we sit on right now." He also wants to promote economic self-sufficiency and economic development on the reservation.
Pulliam does murals, but said his passion is ledger art, for its historic aspect. He explained ledger art is "art created by pre-reservation and early reservation tribal artists. They were repurposing and reusing ledger books. In that, they were preserving not only their personal war deeds but tribal histories."
As for what he hopes people get from his artwork, Pulliam said, "I want them to feel the prayers. I want them to feel the healing. I want them to know the truth about the history and to understand."
Pulliam's artwork will be on display in the "Native American Legacies" exhibit at the center through Friday, Dec. 13. The exhibit also features ledger art by Amos Bad Heart Bull, Honoring Quilts and an informational display about missing and murdered indigenous women. Sandoz Center hours are 10 a.m.-noon and 1-4 p.m., Monday through Thursday, and 10 a.m.-noon on Friday.