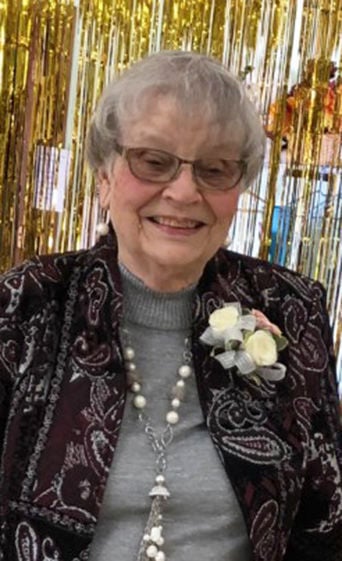 CHADRON | Betty Reading, a Chadron resident her entire life, died August 12, 2021 at Chadron Community Hospital. She was 91 years old.
Betty was born at Chadron Municipal Hospital on February 22, 1930 to Lura (Clayton) and John Feldhausen. Her father was a conductor for the Chicago and Northwestern Railroad and her mother maintained order around the house after being an early graduate of the Chadron Normal School and teaching at rural schools in Wyoming and South Dakota.
Even at an early age, Betty enjoyed traveling and talked often of train trips with her parents. Some were visits to family in the Black Hills while others to California and places in between. These early journeys instilled a life-long sense of adventure and desire to see new places.
Betty learned to play the clarinet as a fifth grader. While never a professional musician, music and the clarinet became an important part of her life. When the Bordeaux Community Band formed in the 1980s she was one of the first members. For over 20 years she enjoyed both rehearsals and performances with the Band as well as the friendships she developed with her fellow musicians. She reluctantly retired from the Band when arthritis made it difficult to play the clarinet.
Betty attend Chadron Public Schools from first grade through high school graduation in 1947. After attending Chadron Normal School for a short time she married John Reading at St. Patrick's Catholic Church in Chadron on her birthday in 1949. A year or so later her son John Michael was born followed a few years later by daughter Joanne and then son Steve.
Family vacations were often camping trips with a small pop-up camper pulled by a Rambler station wagon. During the summer Betty would organize weekend trips to the Black Hills at Bismarck Lake, her favorite spot. She would also organize a longer trip each summer to places like Glacier or Olympic National Parks. Even after her husband, John, passed away she continued family camping adventures and purchased a newer model with a some enhanced amenities.
After John's death in 1969, Betty returned to work at Chadron Schools and then later at Chadron Community Hospital. She eventually became director of medical records, after earning her degree, and was active in several professional organizations. She enjoyed traveling to state and national conferences and conventions for both the camaraderie as well as career development.
After retiring Betty spent much of her time gardening and traveling. Her fondness of Ireland was evident as she visited the country on five occasions. Her most memorable trips were with her family and friends. A "foodie" before the term was widely used, Betty enjoyed trying different foods when she traveled and could describe meals (both good and bad) in intricate detail.
Betty was an active member of St Patrick's Church and served on the parish council and, at various times, other committees. She also enjoyed meeting college students through the Newman House. She developed many friendships with students over the years and enjoyed keeping up with them after graduation. Her involvement with the Newman House was one of her most rewarding experiences.
Betty was preceded in death by her husband, John; her son, John Michael; her parents, Lura and John Feldhausen; and her brother, Clayton Feldhausen. She is survived by her daughter, Joanne Schulte of Elkhorn, NE; son, Steve (Arlene) Reading of Atlanta, GA; daughter-in-law, Kay (Wendel) Marley of Arimo, ID; as well as nine grandchildren and 12 great-grandchildren.
Funeral Mass was held on Monday, August 16 at St. Patrick's Church.
A memorial has been established for The Newman House at Chadron State College. Donations may be sent in care of Chamberlain Chapel, PO Box 970, Chadron, NE 69337.