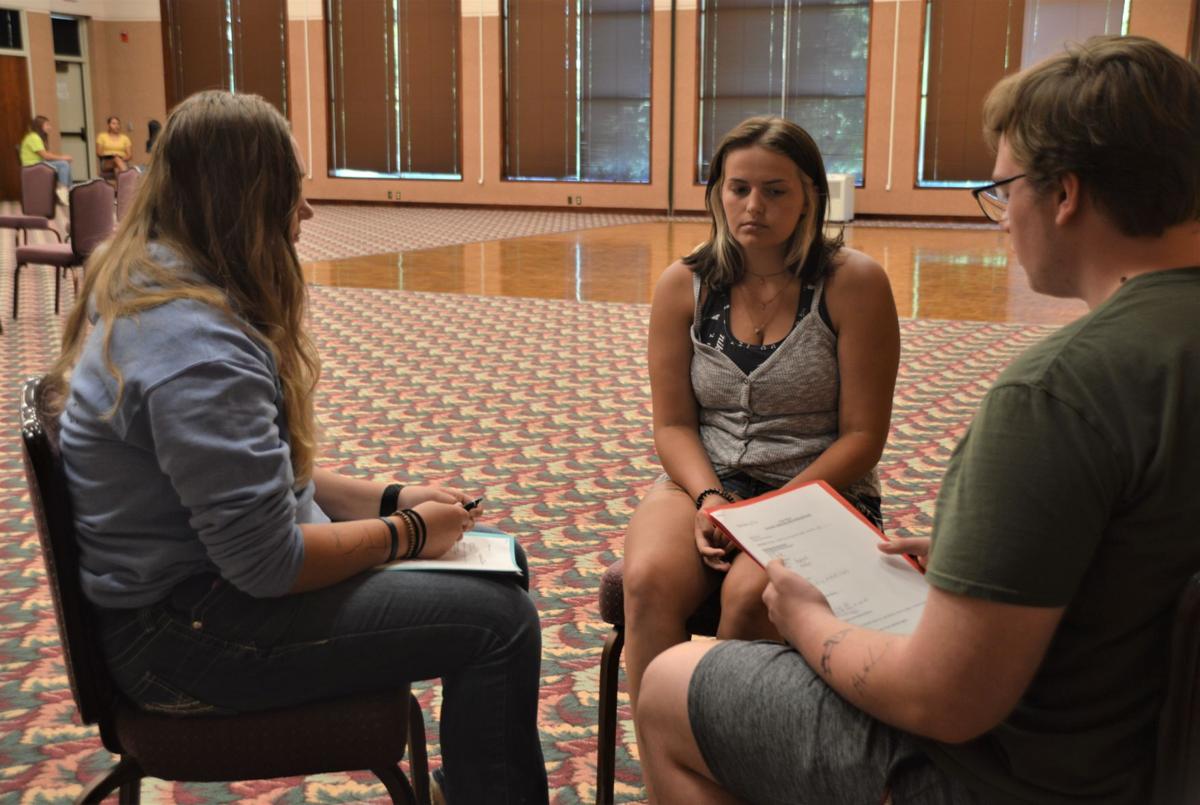 Last week, Chadron State College was home to the eighth annual Frontier Area Rural Mental-Health Camp And Mentorship Program (FARM CAMP). Typically a full week program, due to the pandemic it was only three days. High school students attending are mainly from Nebraska interested in careers in mental health.
Psychologist Dr. Catherine Jones-Hazledine explained she had the idea for the program about nine years ago, noting Beacon has been one of the largest supporters since the camp began. She proposed it to Beacon, she said, as the vast majority of Nebraska is under served in terms of mental health.
"For many years," Jones-Hazledine said, "the way to try to address that was to try to lure people from out of state or from urban areas to come." Incentives were given, such as paying off student loans, but what would happen is the folks who came didn't have ties to the area and would leave after their contracted time was up.
Jones-Hazledine and Licensed Mental Health Practitioner Shanna Rosentrater had a colleague who had visited with them and said he'd known since middle school that he wanted to be in the mental health field. This interest sprang from his grandmother, who was a mental health provider and visited with him about it.
The idea for the FARM CAMP stemmed from this, and the idea of "raising our own" mental health professionals rather than recruiting them from elsewhere.
"That's what we've been trying to do," Jones-Hazledine said. In a typical year, she and Rosentrater would go to schools to visit with students to generate interest in the camp. Due to COVID-19, the students in this year's program were recommended by school staff or learned about it through word-of-mouth. Rosentrater noted they still had a full camp this year, with 15 students.
More than just a series of lectures, Jones-Hazledine said the FARM CAMP was designed as a college introductory course and run by CSC. The school approved it, and in a normal camp students actually earn two college credits. Courses include common diagnoses in mental health, history of psychology, cultural aspects, basic brain anatomy and foundational clinical skills. "Just a variety of topics," Jones-Hazledine said, "to give them a grounding in mental health issues and behavioral health issues, and give them a sense of what it would be like to be a mental health provider."
Rosentrater added they also bring in professionals in the mental health field to speak about their educational journeys and real world experience. "There's so many avenues within behavioral health, we want to make sure they have some touch from it."
Many students, they said, don't know what careers exist in the mental and behavioral health fields, or how much each one does, before they get exposed to it in the camp.
Campers also get to test their skills, doing mock clinical interviews with actors who have been given profiles with symptoms to report and exhibit. It's not all classwork, though, and there's also time for activities including hiking, yoga, journaling, swimming, bowling and movies.
In a full camp, students career papers and small-scale community projects, along with pre-tests and post-tests. With the shortened timeframe, the career paper was eliminated though they will still address it in their community projects. They also have a photo voice project, in which they use photography in a therapeutic or advocacy way to express an idea or thought.
On the final day, students are assigned a mentor who follows them. "We still have kids we mentor from the first camp, years ago," Jones-Hazledine said. "We'll get calls or emails asking us to recommend a class when they're in college, or to write a letter of recommendation, or to be interviewed for a class project." Alumni are also invited to come back and present to new students.
Though not all students who attend FARM CAMP will continue with a career in mental or behavioral health, Jones-Hazledine said even one per year benefits the rural communities.
Among the students at the camp this year was CSC sophomore Summer Mayhew, who said her career path is to be a mental health provider in correction. She is a Psychology major and Criminal Justice minor. It's her third year attending the FARM CAMP, and she loves learning about psychology even in her free time, and the environment provided was always warm and welcoming.
Mayhew encourages students to attend the program, as it can help them understand people better. "You're always going to have to deal with people in whatever job you have," she said.
Student Tessa Hurlburt said her interest in psychology is more personal, as she had some mental health issues. "Eventually, it just developed into an interest in the brain and psychology in general. As soon as I got into FARM CAMP I realized I really do want to pursue a career in mental health because there's such a shortage in our area."
A junior at Gordon-Rushville High School, this was her first year as a FARM CAMP alumni, and she's looking at going into either social work or clinical psychology.
The program, Hurlburt said, will make someone a better person, allowing him or her the knowledge and awareness of struggles people go through. "That's something anyone can do."