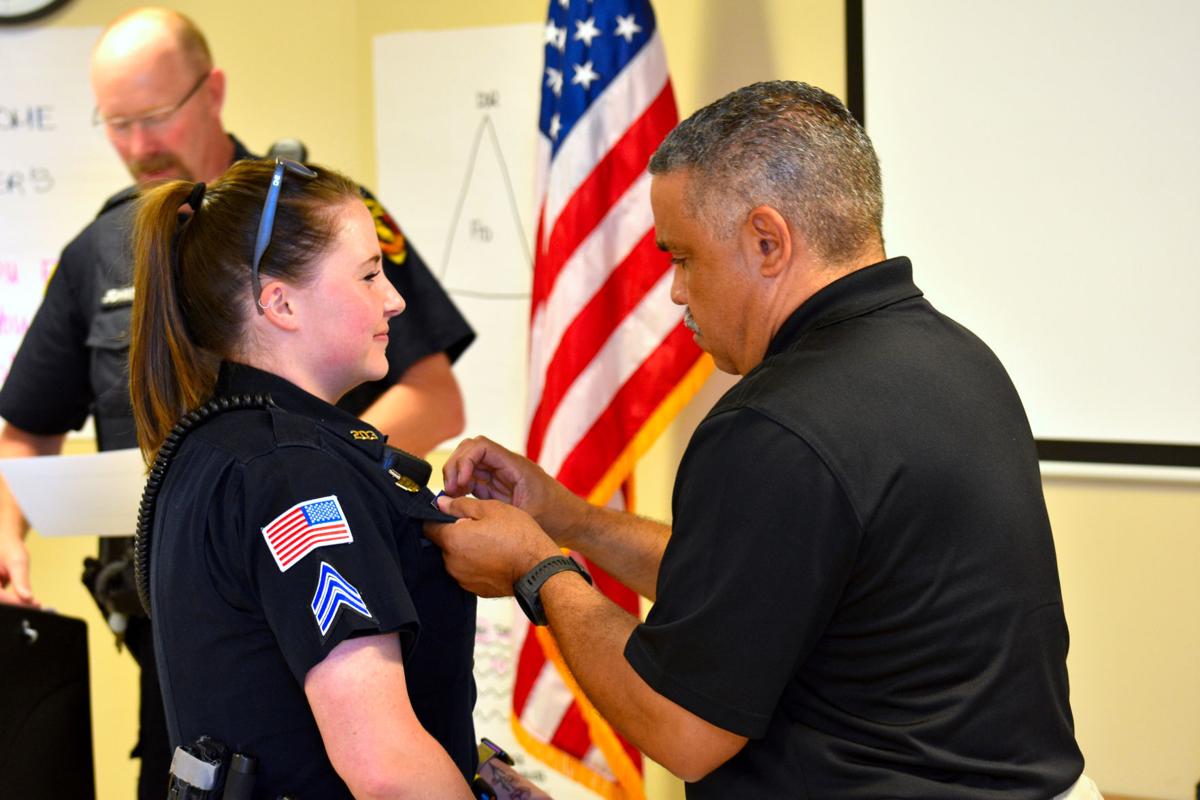 Sergeant Chelsey Stolley with the Chadron Police Department completed a Field Training Officer (FTO) Certification Course last month. With this certification, Stolley is able to provide training to new officers as they come on with the department.
Torrington Police Chief Johnson explained when a new police officer starts with any agency, he or she gets some training and is then assigned to a field training officer "who essentially takes them from knowing nothing about the profession to teaching them all the way through until they are capable of functioning on their own." He further added some officers might be assigned to two or three FTOs as they go through, getting a slightly different perspective from each and a well-rounded learning opportunity on how to be an officer.
The certification course was really focused on how to bring people in and teach them what they need to know so they can be proficient and serve the community well in law enforcement, Johnson said. It focuses on leadership, motivating people and helping them learn, and writing evaluation reports among other topics. "It really just provides the skills that a field training officer needs to create high-functioning, successful police officers."
The training is more of classroom setting than in the field, but Johnson noted it is very challenging with plenty of homework, paper-and-pencil exercises, role-playing and critiques.
"It is very much a hard class," Johnson said. "It's not one where you're going to sit and relax, and listen to someone drone on all day." The class is a full 40 hours over a week, and last month's had 20 students from Nebraska, Wyoming and Colorado.
The field training officer is an important position, Johnson said, as in today's world there is a desperate need for high quality officers who care about their communities and do a great job. The only way to get that is to have people who know how to train them well.
This was the first time Torrington has hosted such training, though Johnson hopes it won't be the last. It also helps his department, as he has a couple new officers coming on. Looking at the three-state area of Nebraska, Wyoming and South Dakota, he said, it's difficult to get training here so it's beneficial to be a host.
Originally from Wyoming, Stolley attended the University of Wyoming. "When I first started college I was wanting to peruse a career in physical therapy," she stated. "However, I was not a big fan of some of the science classes and quickly decided it wasn't for me. After that I did a semester undeclared and took a wide variety of classes, some of which were Criminal Justice courses. I really enjoyed the CJ classes, and decided to choose that as my major. While in school, I ended up doing an internship at the police department in Gillette. The internship was awesome and I learned a lot, but more importantly it confirmed that I had chosen the right path for myself with law enforcement." She's been with the Chadron PD since January of 2016.
As for her decision to attend the training, Stolley stated, "Honestly this training became necessary for me to go to because of the new LB 51 which recently passed. It requires that all new hires must be with an FTO prior to attending the Nebraska Law Enforcement Training Center (NLETC), and also that only an officer with at least three years' experience can become an FTO. Our department was down to only two FTO's, so LB 51 would technically limit us to two hires at a time depending on when we would be able to get them into NLETC. With me becoming an FTO, and Sergeant Young attending the class later in the year, we will have at least four field trainers in the department which will help immensely."
Among the highlights of the training, Stolley said, "I feel like I was given a roadmap to help train new officers, but more importantly, to me at least, how to figure out where a new officer might be struggling, and how to help them overcome it. There was a lot of material cover, but the instructors did a great job and I feel like I learned quite a bit from them. I feel like this training will help me not only as a training officer, but also to be a better supervisor.
"It's an extensive process teaching someone the ins and outs of this profession. For me personally, this class helped me to better figure out how to adapt to different learning styles and how to better offer constructive criticism while still keeping them motivated. We all make mistakes, especially first starting out, and it can start to get discouraging, but hopefully now I can help dissuade some of that anxiety that new officers often struggle with."
Sergeant Stolley is currently training new officer Aaron Tidyman "and trying out the new things I learned on him. I found this training extremely beneficial and would love to attend more trainings like it. Sometimes trainings can fall into 'death by PowerPoint', but this training, as Chief Johnson mentioned, was very interactive and required participation. I'm always looking for training opportunities to not only better myself as an officer, but also as a supervisor and a leader within the department."
Chadron Police Chief Rick Hickstein stated, "LB 51 passed this year and will go into effect soon. The new bill requires an increase in training hours for each certified police officer from 22 hours currently to 28 hours in 2022 and 32 hours in 2023. The bill also requires that when hiring an un-certified that the officer must go through 80 hours of training prior to being assigned to a field training officer. The un-certified officer then can only work alongside and under direct supervision of a Field Training Officer with at least three years of law enforcement experience for a 16-week period prior to attending the training academy.
"This is where Sgt. Stolley's attendance and completion of FTO school was so vitally important to future development of our staff. With Sgt. Stolley, we currently have three certified field training officers on staff and we are sending Sgt. Young to FTO school in October to bring that number to four.
"To become a field training officer takes dedication and leadership, which is why officers that attend the course need to have three years of experience. The field training officers are setting the newly hired officers foundation in our profession and what the newly hired officer learns during their time in field training will be used by them their entire careers.
"Chadron PD is always looking at hosting training if feasible, so if the opportunity to host a field training course ever presents itself, we would be willing to do so."