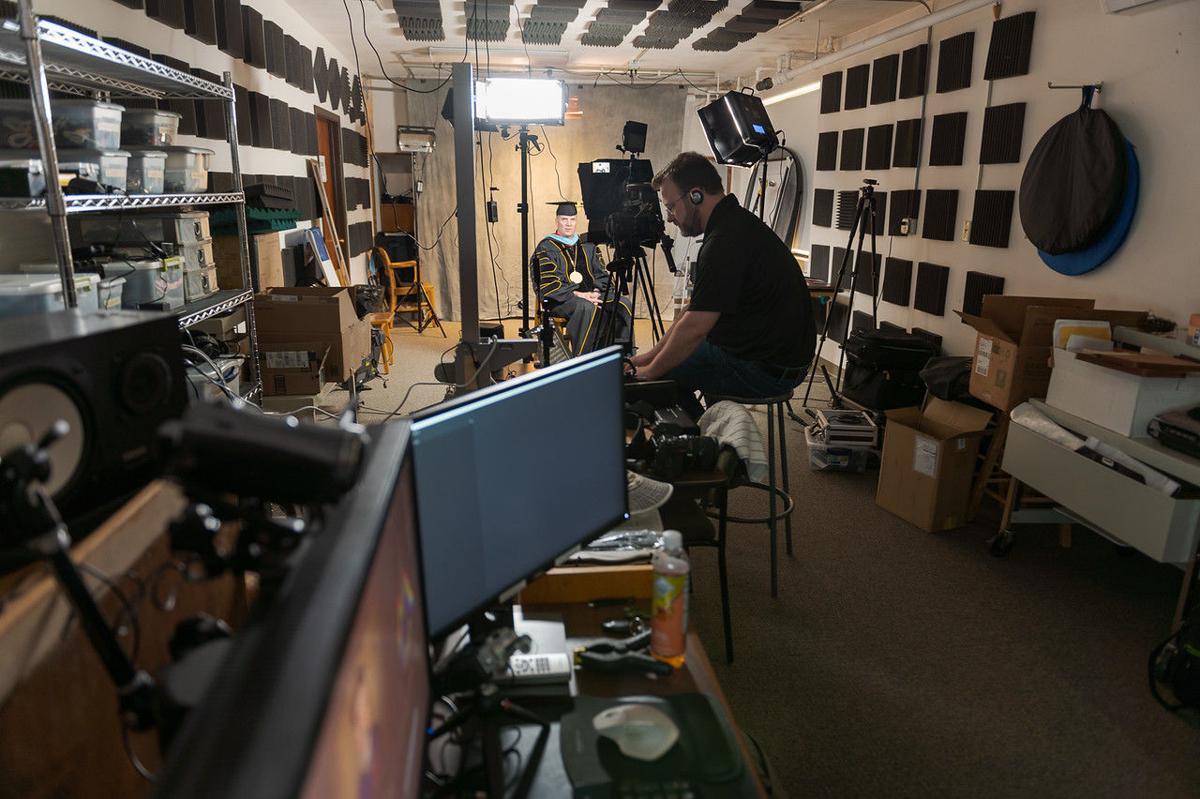 Chadron State College honored 315 graduates, 89 earning master's degrees and 226 earning bachelor's degrees, with the institution's first virtual commencement Saturday. Digital Graphic Designer Daniel Binkard edited the video that included recognition of each person earning a bachelor's or master's degree, and congratulatory messages from employees of the college. The college plans to conduct an in-person ceremony for the graduates at an appropriate time in the future and after Directive Health Measures have been lifted.
Masters graduates Taylor Osmotherly of Crawford, and Kelsey Brummels of Ewing, Nebraska, presented the opening and closing moments of reflection.
Dr. Beth Wentworth was recognized as the recipient of the Nebraska State College System Teaching Excellence Award by Gary Bieganski representing the NSCS Board of Trustees. Wentworth returned the CS Foundation cash awards she received and asked that they be earmarked for the Math Science renovation project. She received $3,000 for the system award and $1,000 for the CSC award.
The following ROTC cadets were recognized for commissioning as Second Lieutenants in the U.S. Army
Chasidy Horton of Colorado Springs, Colo.,  Ordnance Branch (Active Duty); Samuel Klammer of Juniata, Neb., Military Intelligence Branch (Active Duty); Mason Marsh of Scottsbluff, Neb., Transportation Branch (Colorado National Guard); Gregory McCallum of Chadron, Transportation Branch (Active Duty); Demetrius McFadden of Pahokee, Fla., Quartermaster Branch (Army Reserves); Mitchell Parish of North Platte, Neb., Infantry Branch (Active Duty); Shae Weber of Rapid City, S.D., Quartermaster Branch (South Dakota National Guard).
Following is the list of candidates to graduate by degree. 
***Summa cum laude, 3.9-4.0 GPA
**Magna cum laude, 3.75-3.89 GPA
Master of Arts in Education
Chadron: Sarah Bennett, Rachel Girard
Lincoln: Bridget McPhillips
Mitchell: Trevor Teichroeb, Fernando Vizcaino
Scottsbluff: Colton Ehler, Josh Gomez, Krystal Rodriguez
Sidney: Ashley De Los Santos
Weeping Water: Zachary Barrett
Rapid City: Martin Red Bear, Shae Weber
Douglas: Angela Allbritton
Torrington: Russell Stienmetz
Valerie Baalerud, Eagle River, Alaska
Sara Nixon, Gilbert, Ariz.
Ruth Valentín, Vernon, Conn.
Helen Knight, Lemont, Ill.
Sara Berglund, Dickinson, N.D.
Aaron Ingersoll, Cleveland, N.Y.
Master of Business Administration
Highlands Ranch: Karen Adams
Longmont: Alexander Bracht
Atkinson: Tearza Mashburn
Big Springs: Katie Krause
North Platte: Angie Bringewatt
Scottsbluff: Kristy Petersen
Sidney: Whitney Cochran, Caitlin Feddersen
Belle Fourche: Brian O'Dea
Rapid City: Eric Schiermeister
Other States and Countries
Rolan Liwanag, Phoenix, Ariz.
Son Nguyen, San Francisco, Calif.
Melody Kilcommons, Honolulu, Hawaii
Lauren Johnston, Batesville, Ind.
Patsy Gilkey-Lamothe, Abilene, Kan.
Kevin Hodik, Kalispell, Mont.
Tony Bacon, Wibaux, Mont.
Alecia Dukart, Dickinson, N.D.
Keri Rosser, Cambridge, Ohio
Farnaz Dejdar, Boerne, Texas
Dennis Click, Elkton, Va.
Gary Goodell, Longview, Wash.
Patricia Jordan, Toronto, Canada
Dominika Šenkeríková, Uhersky Brod, Czech Republic
Alliance: Melissa Cordell
Sidney: Donna Schluckebier
Mariah Quintus, Wibaux, Mont.
Melody Bergquist, Douglas, Wyo.
Amanda DeBoer, Gillette, Wyo.
Master of Science in Organizational Management
Crawford: Taylor Osmotherly
Hay Springs: Sharla Blonien
Mitchell: Whitney Coop Rien
Mark McGinnity, Pembroke Pines, Fla.
Karen Stone, Blackfoot, Idaho
Brandon Gossett, Roselle, Ill.
Chase McLendon, Lapeer, Mich.
William Engel, Cooperstown, N.D.
Samantha Rightley, Cuyahoga Falls, Ohio
Mikayla Cooper, Delaware, Ohio
Summer Humbracht, Hot Springs, S.D.
Brittany Sigel, Rapid City, S.D.
Charles Pruitt, Mt. Sidney, Va.
Joseph Brown, Richmond, Va.
Jessica Fischer, Jackson, Wyo.
Bachelor of Applied Science
Aurora: Javan Lanier, Jeff Mugongo
Castle Rock: Kali Ritterbush
Colorado Springs: Nalani Stewart**
Grand Junction: Collier Westcott**
Snyder: Kaylee Osier**, Shelby Wolever
Alliance: Abigail Elder, Kobe Giger, Angela Kaiser, Mitchell Martin***, Kelly Steinman**
Bayard: Cassandra Mohrman
Bellwood: William Reiter**
Bridgeport: Tatum Miller, Cole Retchless*
Chadron: Kyle Fry, Celeste Lee**, Rieley Maier, Gregory McCallum, Alexandria Nobiling***, Brooke Roes
Gering: Brent Barge***, Nicholas Bibb, Michael Gillen***, Luis Hernandez, Mason Marsh**, Kelsey Molina, Brooklyn Perez
Gordon: Shane Child, Toi Riggs**, Bradford Schaer
Gretna: Jennifer Sellers**
Juniata: Samuel Klammer**
Lewellen: Ashley Heelan, Ross Rochlitz
Lodgepole: Wyatt McMillen
Loomis: Andrew Klintworth
Mitchell: Levi Avila, Edward Grentz*
Moorefield: John Klintworth*
Nebraska City: Michelle Davis
North Platte: Mitchell Parish**, Emily Parker
Rushville: Leala Jimerson
Saint Paul: Ethan Larson, Gabriele Moody, Tanner Tomlinson
Scottsbluff: Spencer Griess, Katelyn Lambert***, Jared Pilkington***
Sidney: Maria Comparan, Matthew Gudahl, Chaona Radtke
Stromsburg: Kayla Hackenkamp
Elm Springs: Celine Trask
Estelline: Shanie Hollenbeck
Hill City: Taylor Sandven***
Rapid City: Ashtyn Faehnrich, Hannah Furchner, Jon Hansen***, Makahla Johnston, Lukas Klueber*, Kristina Rudge, Morgan Smith, Randee Thayer***, Taylor Thies, Samantha Wageman
Sturgis: Christina Culverhouse**
Cheyenne: Alexandria Williamson*
LaGrange: Brittney Palmer
Moorcroft: Tucker Allison
Pine Bluffs: Casey Kukowski
Riverton: Rachel Mitchell***
Rock Springs: Rochelle Twomey
Sheridan: Annalee Bailey**
Torrington: Lacy Judkins, Pamela Pierce**
Other States and Countries
Virginia Spotted Thunder, Vacaville, Calif.
Megan Horn, Colorado Springs, Colo.
Demetrius McFadden, Pahokee, Fla.
Chessa Parker***, Bremen, Ga.
Leslie Beckman, Nampa, Idaho
Shelby Schouten, Alton, Iowa
Shaylynn Montes, Duluth, Minn.
Elizabeth Rotherham***, Drake, N.D.
Andrew Wilson, Albuquerque, N.M.
Jacob Otuafi, Sparks, Nev.
Georgia Napoli, Brunswick, Ohio
Rose Burman, Dallas, Texas
Faith Nelson**, Midland, Texas
Justin Williamson*, New Braunfels, Texas
Aspen Naylor, Clinton, Utah
Wade French, Herriman, Utah
Melisa Kadic, West Valley City, Utah
Chase Clasen, Moses Lake, Wash.
Jeremy Bilbrey**, South Surrey, Canada
Riku Kitamura**, Hiroshima, Japan
Dinema Mate, Maputo, Mozambique
Ainsworth: Wacey Gallegos, Nathaniel Goodloe, Jayden Philben*
Chadron: Jacqueline Dailey*, Eli Goff***, Clay Madsen, Kiya Passero, Benjamin Wegner
Emmet: Christa Wentworth**
Gothenburg: Herschel Foster
Grand Island: Tucker Vahle*
Hastings: Brandon Kile, Braden Poppe
Henderson: Eve Vanderneck*
Nebraska City: Evelyn Causgrove
Norfolk: Travis Millikan***
Paxton: Joel Schroeder***
Rushville: Rebecca Wellnitz***
Saint Paul: Ryley Schulte
Be the first to know
Get local news delivered to your inbox!