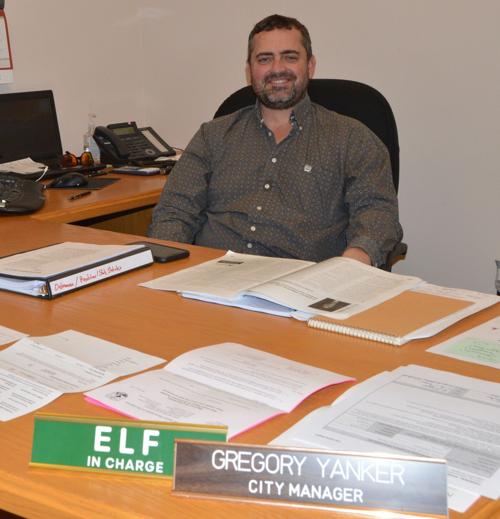 During the Chadron City Council's Dec. 7 meeting, council members expressed sorrow as they accepted the resignation of City Manager Greg Yanker. With is final day Dec. 31, Yanker will leave the position after serving just over three years from his start in August of 2017.
Prior to coming to Chadron, Yanker was a city engineer in Colorado. The manager position with Chadron was the first city administration job he's had, so it was a new experience coming into it. Prior to accepting the position, he and his wife made plans to move back to the Panhandle. The city manager position was available, and Yanker saw it to be a great fit and a way to get involved in the community.
Yanker said the duties from being a city engineer compared to those of a city manager were similar in nature. Where he was at in Colorado, he managed some staff and presented information to the city council much like he did here. However, in Chadron he's found himself managing different full departments.
Working with public safety was also a new challenge to him, but he worked well with Police Chief Tim Lordino and other officers to get a better understanding of the challenges faced by the department.
His biggest accomplishment, he said, came in regard to the city's budget. When he first started, the council at the time had just approved their budget. But going into the 2018-19 financial year, they knew there was a large deficit in the General fund. Yanker said he worked with staff to solidify their budget position, though this did require recreating a new budget philosophies, some heavy cutbacks and increases to water and wastewater rates. Tough decision to be sure, though Yanker pointed out that it allowed the city to maintain a good financial position moving forward.
Yanker is also proud of the accomplishments at the Chadron airport. Working with the FAA, he helped to get a new hangar. He's also worked to secure a new fixed base operator at the airport.
He's appreciative of the staff who worked with him and got through the hurdles like wage and hiring freezes, and to all those who stepped up and got behind the changes in the budget philosophies.
Yanker is also proud to have been part of securing funding for development of the Second Street Plaza. Though the project is not complete, in just over a year developments have included additional seating, a bike rack, a water bottle filling station, shaded areas and an electric vehicle charging station. On top of that, it's a focal point for the community with the annual Christmas tree lighting.
The next step for the plaza, Yanker said, is restroom facilities. Plans also include a stage and gazebo area, and improved parking along Second Street.
Though leaving the city position, Yanker said he plans to still be in the area. During the Dec. 7 meeting, he noted he is taking a position that will allow his return to the engineering field. Chadron City Council will determine the hiring process and qualities for whom they want to fill the city manager position, but Yanker said he will be around to provide information to the new hire and answer any questions if the need arises.