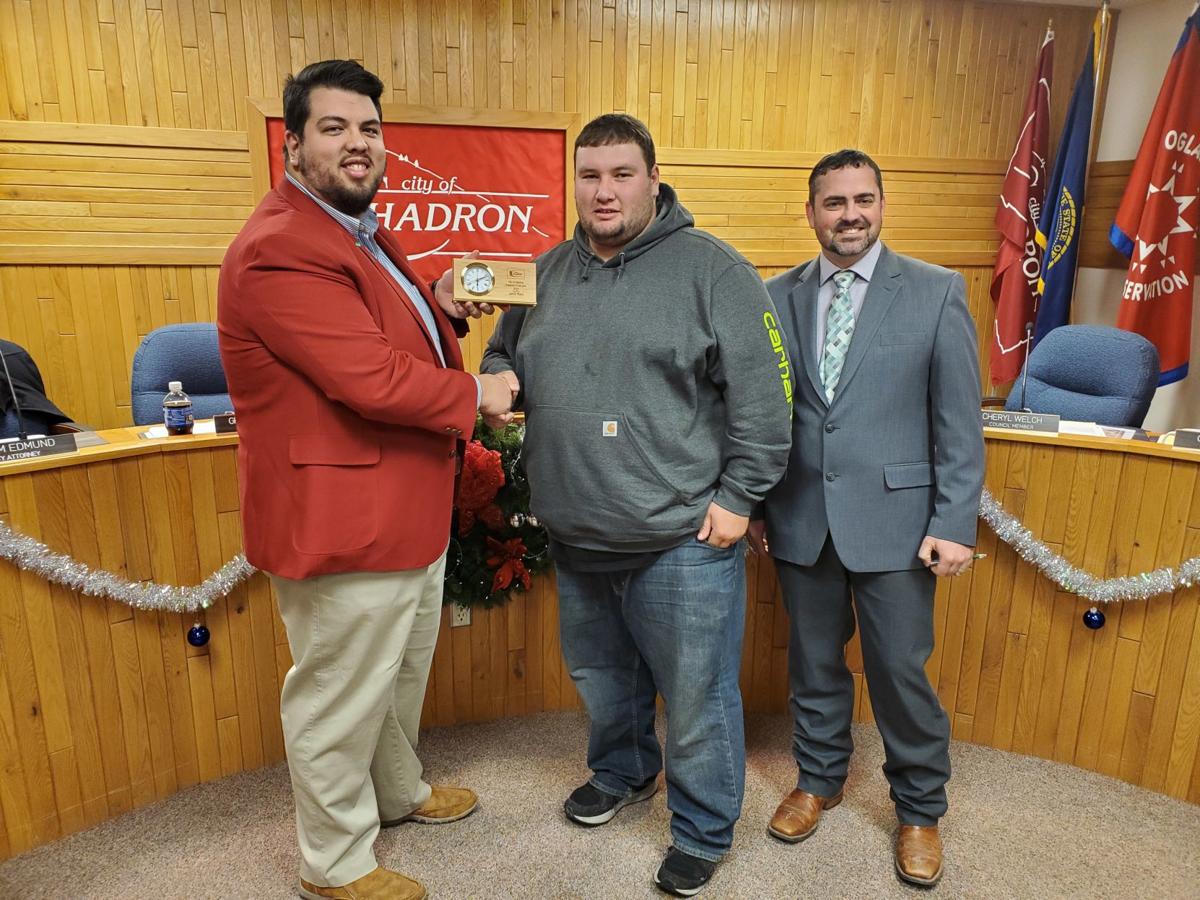 During their regular meeting on Monday, Dec. 16, the Chadron City Council discussed a deer management program.
Police Chief Tim Lordino said this had been an ongoing discussion over the years, and in a way it sprung from him. He noted there was small deer outside a local business, and there were people petting and feeding the animal. As a result, there were some calls about how the city was trying to take care of the deer.
Lordino reached out to Nebraska Game and Parks with concern of how sickly some of the deer were looking, spurring conversation about Chronic Wasting Disease. Further, at the end of 2018 and into 2019, Lordino began meeting with Game and Parks and others about what could be done about the animals.
Lordino noted this process took several months and he learned quite a bit. They're not looking to reinvent the wheel, he said, but they are looking at what other communities with deer populations are doing and working to find something that fits here.
Among the concerns are property damage, safety issues, accidents and disease. The density population in the Chadron and Pine Ridge Deer Management Area is 225 in a seven square mile area.
With regard to Chronic Wasting Disease, commonly referred to as CWD, Todd Nordeen, the big game disease and research biologist with the Nebraska Game and Parks Commission explained it is a fatal disease to deer moose or elk. Neither a virus nor a bacteria, the disease is caused by prions — proteins that become malformed and attack the animals' brain and nervous system. Symptoms generally take a couple years to manifest.
High density populations have increased risk of transmission, and Nordeen noted there are certainly high densities in the Chadron area. In a seven square mile area, a survey done last Thursday showed 336 deer. There is a real concern for CWD in this area, Nordeen said, further noting it has spread to 24 states and two Canadian provinces in wild deer populations. He appreciates Lordiono and others taking a pro-active stance in helping ensure the health of the deer populations.
Transmission of CWD is done primarily through bodily fluids, Nordeen said, but also other means, and higher density populations have increased risk of transmission. Currently there is a good species barrier, where CWD has found to not spread to human and other species.
Among the options discussed include trapping and transplanting or sterilization. However, the former has and increased risk of spreading CWD, and the latter is not considered viable due to staffing and overall costs. Other options include harvest of the animals, either public or private.
In addition to a plan to reduce the deer population and control the spread of CWD, there is also consideration in regard to keeping people from feeding deer and/or keeping the animals from ready food sources such as trees, bushes and hay bales.
You have free articles remaining.
Lucinda Hays with Chadron State College is appreciative of the city's responsiveness, and of Game and Parks working with the city to address the issue, as there have been sick deer on campus and the animals have caused an estimated $20,000 in damage for replacement plants that have been lost in the past three or four years. Hays noted this does not include damaged plants that are not going to be replaced, but are slowed in their growth. Ensuring there are good landscapes and teaching collections, she added, is good stewardship of taxpayer dollars.
A copy of the slideshow presentation from Monday's meeting will be made available on the city website, and comments should be made at the City office, or with City Manager Gregory Yanker or Police Chief Lordino. A final draft of the plan is expected at a January council meeting.
Also at the meeting, council recognized various employees of the city for reaching milestones in their years of service. Recognized for five years were Chuck James with Public Transportation, Gale Kittell with Communications and Susan Rolfsmeier with the Chadron Public Library. Those with 10 years are Ray Thewke and Torey Zuver with the Water/Wastewater Departments. Those with 15 are Derek Bauer and Aron Chrisman with the Chadron Police Department. Rick Hickstein was recognized for 20 years with the police department. Scott Schremmer was recognized for 25 years with the Parks/Cemetery Department.
Following recognition of the milestones, Jared Maez with the Parks/Cemetery Department was honored as the 2019 Employee of the Year.
Northwest Nebraska Development Corporation (NNDC) Executive Director Deb Cottier reported that the NNDC has received an inquiry from Crawford regarding a potential loan from the revolving loan fund. The NNDC has about $45,000 to lend, with one application from Chadron in house waiting for some additional information.
Cottier further reported she had been busy preparing for next year and the annual NNDC meeting, on Friday, Jan. 17 at noon at Country Kitchen. She's hopeful members of the council will be able to attend.
The Heartland Expressway Association meeting is meeting this Friday in Torrington, Cottier reported, and they will be looking specifically at the local Chadron budget for the expressway. Chadron will be home to a Heartland Expressway meeting in April.
Council approved the second reading of Ordinance No. 1413. This ordinance would annex to the city a tract of land located in Northeast Quarter of Section 30, Township 33 North, Range 49 West of the of the Sixth Principal Meridian in Dawes County. The tract is also known as Lots 5B and 5C of Lot 5, Deans addition, a re-plat of Lot 5, Deans Addition in the county.
Resolution 2019-124 was approved, under which $875 in delinquent assessment fees for maintenance of the Business Improvement District be assessed on Lot 21, Block 10 of the Original Town (now City).
Two resolutions — 2109-125 and 2019-126 — were approved, both of which are for payments to Fuller Construction for materials furnished and work performed in the construction of the 80'x80' storage hangar at Chadron Municipal Airport. The first payment is for $221,234.24, to brings everything up to date, while the second, $51,408.94, is lowering the retainage.
As a final course of action, council approved Resolution 2019-127, in which the City Council and employees of the City of Chadron extend holiday greetings to citizens of Chadron and the surrounding area. In their closing comments, councilmembers again wished everyone happy holidays and expressed appreciation to the street workers for keeping the roads clear.