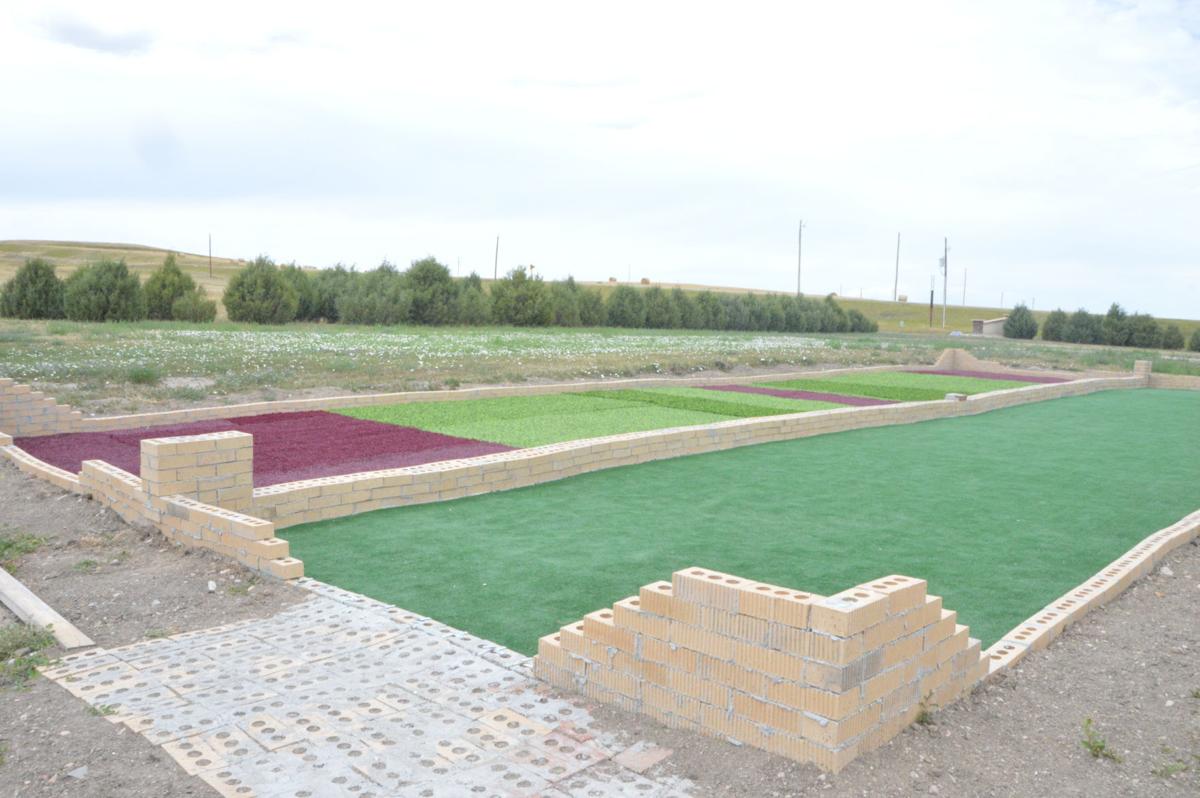 The Region I Office Of Human Development (OHD) west of Chadron has some new additions to the grounds with the help of Girl Scout Bristyn Cummings. A scout for more than 12 years, Cummings chose to create Bocce Ball courts at the OHD as her service project for the Girl Scout Gold Award.
Cummings explained for such projects a scout has to invest in the community and provide something beneficial for people. Her brother, Bastain, is in the Chadron Special Olympics program, which has been using rope to build courts on the ground. This is not beneficial for the local Special Olympians, as it doesn't really help them prepare for state competition. Cummings decided it was time for an upgrade. 
She first had to plan for the equipment she'd need, as well as what material to use for the courts. She decided on turf - salvaged from the renovations to Chadron State College's Elliott Field - and bricks, as the turf doesn't need a lot of manual labor to maintain and the bricks will hold up well over time. She also researched the court dimensions for the state games, and found each court would need to be 60 'x12'.
Cummings brought the idea of having the courts in a Chadron park before the City Council, though was denied a space because they did not want to have to maintain them after she leaves. However, OHD staff visited with her and had no issues about keeping up the courts.
The courts now have a home on the west side of the OHD building, and Cummings also installed a path for wheelchair accessibility. The public can use the courts, but will have to either bring their own Bocce balls or ask the OHD staff to use what they have. Cummings also visited high school gym teachers, who plan on using the courts in their classes.
For those who have never played Bocce Ball, Cummings likened it to a cross between bowling and shuffleboard. She further explained a pallino is thrown by a chosen team to at least half court, then players throw the Bocce balls to try and land them as close as possible to the pallino; those who get their shots closest win points. Cummings noted she put a red mark on one side of each court to designate the halfway point.
Overall, the project took about a year to plan and build, and at least 500 hours of work. With school and sports, Cummings said the building took about six months with the courts completed and finished in three months. She's appreciative of all the people and businesses who provided help, materials and equipment for the project. Before she receives her official award, she must submit her final paperwork and do a final interview.
The daughter of Craig and Kristol Cummings, Bristyn is a 2020 graduate of Chadron High School and has been volunteering with Chadron Special Olympics for about two years. She plans to attend Chadron State College, majoring in Elementary Education and minoring in Special Education.
An open house for the courts is scheduled for Tuesday, Aug. 11 from 1-3 p.m. at the OHD office, 5789 West Highway 20.
Be the first to know
Get local news delivered to your inbox!