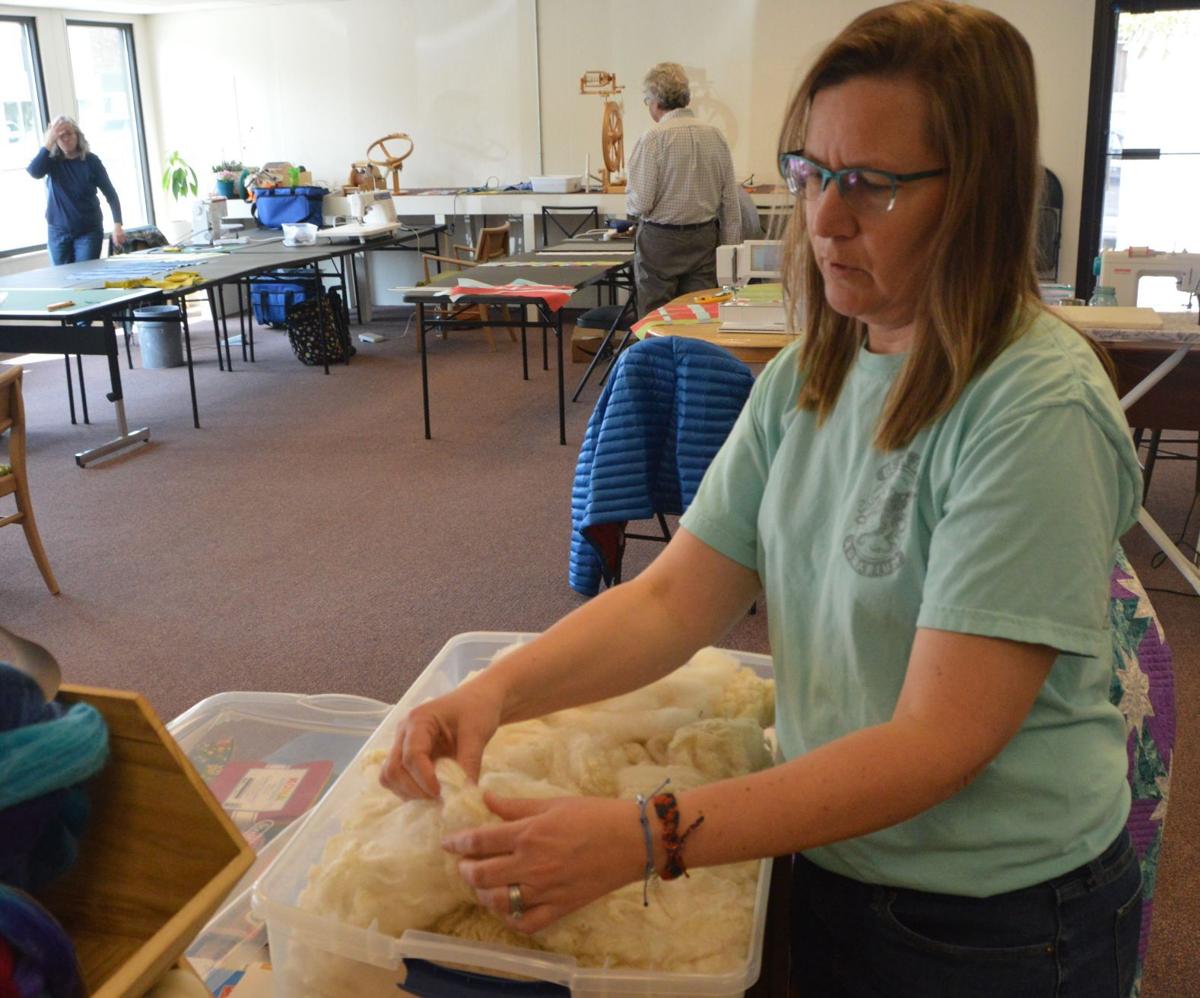 Those who are into quilting and crocheting, or who are looking to try their hand at a new skill, have a new place to learn and buy supplies.
Madison Quilting and Yarns opened in early November, and owner Lara Madison said it took a long time to paint the former Second street appliance building. Owning a shop has been a goal of Madison's, who formerly worked out of her basement with a Long Arm quilting machine.
"The idea was to eventually open a shop," Madison said, "because I like the fibers for knitting, weaving and quilting, and to have a place to get together as a community." Though the community already has a quilt guild, she would like to get a fiber guild going for those who knit, crochet, spin or hook rugs and even have a fiber fair in Chadron.
"We've got all these people who do fiber work, but we're not together and sharing."
The quilt guild meets at the shop the second Wednesdays of the month. Prior to the COVID-19 pandemic, meetings would include an activity and demonstration. If everyone likes the demonstration, they would do the project together on "sew days." Since November there hasn't been an organized project so the sew days have been for individual creations.
As for the products at the store, Madison has commercial yarn and homespun yarn. Of the latter, she added, there are a lot of different breeds including Navajo Churro and Costwold. She also has roving — some natural-colored and others she's dyed — which can be spun into yarn.
As for the process of turning wool into yarn, Madison explained people can get their wool multiple ways, such as locks in fleece form, after it's been sheared off the sheep. It comes dirty, she noted, and she washes, rinses and dries it before sorting it by color. For there, she can spin it, straight from the lock, and it doesn't have to be processed any more.
Other forms of wool might be shorter, requiring carding into roll logs which are then used for spinning. She explained the carding straightens the fibers so they are aligned in the same direction.
For the quilters, she's got fabric on the bolt and pre-cut for charm packs and fat quarters. She also has some supplies for knitting and pre-made knitted items if people don't want to knit or sew but want a homemade product.
Madison Quilting and Yarns is open Monday through Thursday, 9 a.m.-2:30 p.m., and also 6-8 p.m. on Wednesdays. She is also open by appointment, and added, "If I'm going to be here, I'm open." The extended hours on Wednesday, she said, is to allow working folks an opportunity to stop in.
Those who want to try their hand can join one of Madison's classes, or join her for a demonstration during Fur Trade Days, Saturday after the parade. She recommends people pursuing quilting to start with a baby quilt, to see if it's something they want to do. She also welcomes people to stop by on Tuesdays and Thursdays to ask questions of quilters who are there for sew days.
"To me," she said of her business, "It's part shop, part community center."