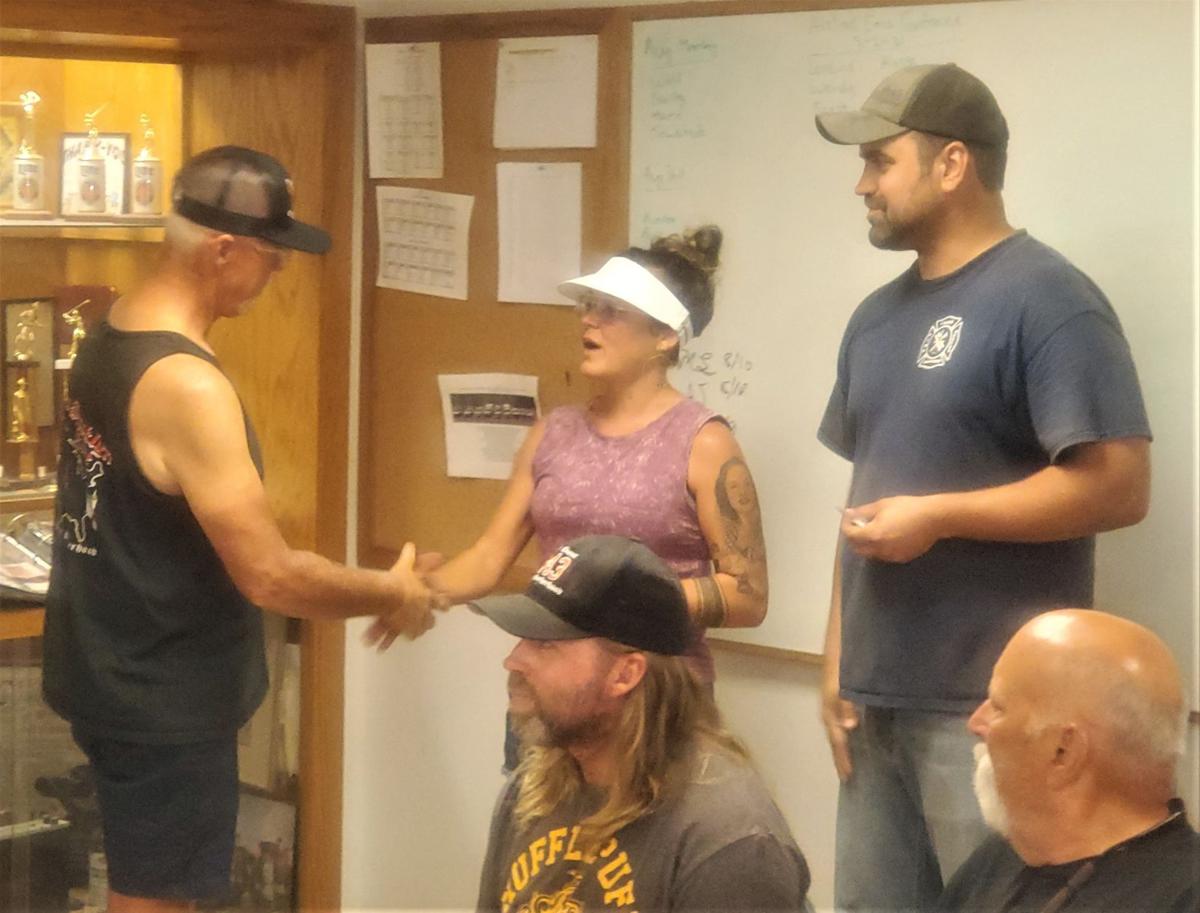 The evening of Tuesday, Aug. 17 saw some special visitors to Chadron, as the city provided respite to 10 bicycle riders who had just completed 81 miles as they make their way from California to New York. At the Chadron Volunteer Fire Department hall, bike riders enjoyed a hosted dinner of hamburgers, steak, chicken and various side dishes.
The 2021 343 Bay2Brooklyn ride is in recognition of the 20-year anniversary of the World Trade Center attacks of Sept. 11, 2001, commonly referred to as 9/11. The "343"in the event is in honor of the number of firefighters that died and the final stop for the riders on this 40-day journey will be at Ground Zero on September 11.
Along with the riders, there are three support people. Riders David Lombardo and Darrell Sales explained these support folks drive the trailer for the bikes, take photos and "really handle any need we have," including water, bike repairs, grocery store runs and making connections in communities such as Chadron for stops along the route.
When planning the route, Sales further added, for every town they plan to stop for the night they look to see if there is a fire department or community entity they can connect with. "It gives everybody a chance to meet up and meet with us, so we try to set that up for the 40 nights we're gone."
The event was also held in 2011, for the 10-year anniversary of 9/11, though only David Lombardo and Darrel Sales made the ride.
Though the 2011 ride was focused on honoring firefighters and first responders in the 9/11 attacks, this year's also included military. "After 9/11," Sales said, "our military stepped up and took over that cross to bear." During that ride 10 years ago, he said, they connected with different departments and had discussions about what 9/11 was like for them and the importance of the ride.
"That mission is still the same this time, except we've added the military to it also."
Most of the riders are from Santa Fe, California, Sales said, so the ride began Aug. 1 at the fire station there and brought the riders north through their home state and into Eugene, Ore. in those first few days. From there, it was east across Oregon, Idaho and Wyoming before crossing into Nebraska, with Chadron as their first stop. It would be another four days across Nebraska before they crossed into Iowa.
Even though the riders come from different places and may have never met before that first day, Sales said they all enjoy their time together and get along really well, joking around as if they've been long-time friends.
The smoky conditions along the route are there but haven't impeded the ride, Sales said, though their visit to Chadron was the hottest day they had seen at that point, with a record-breaking 105 for the date. Most stops along the route afford the riders a chance to stay at a hotel or fire hall, though they've also had opportunities to sleep in parks.
Though not able to fully explore the new training center that the Chadron Volunteer Fire Department has, Sales said it's good to know that such tools are being made available to departments. Both he and Lombardo commented on the positive impression the department's well-kept main building and polished vehicle fleet made on them 10 years ago.
The average mileage for the riders is about 100 per day, and their riding time depends largely on terrain and weather conditions. "There's days we think are going to be fairly easy," Sales said, "but they can be a long time in the saddle." He further added their longest day in terms of miles was actually their shortest for riding time, due to the terrain, tailwinds and everybody being in good shape.
"We've been really blessed, overall, for weather," Lombardo said. He further added that they have an amazing support team praying for them.
The overall message is connecting with people, Sales said. "That's really what we want to do. We want to be able to share the stories of 9/11. Maybe you know somebody that died in the [twin] towers. Those are the kind of stories we want to hear." Further, he said, the stories of the ride helps spread that message.
"We want to build community from west coast to east coast," Lombardo said, to remember the sacrifice that 9/11 responders made. "They died serving their community, and there's many that have suffered since."