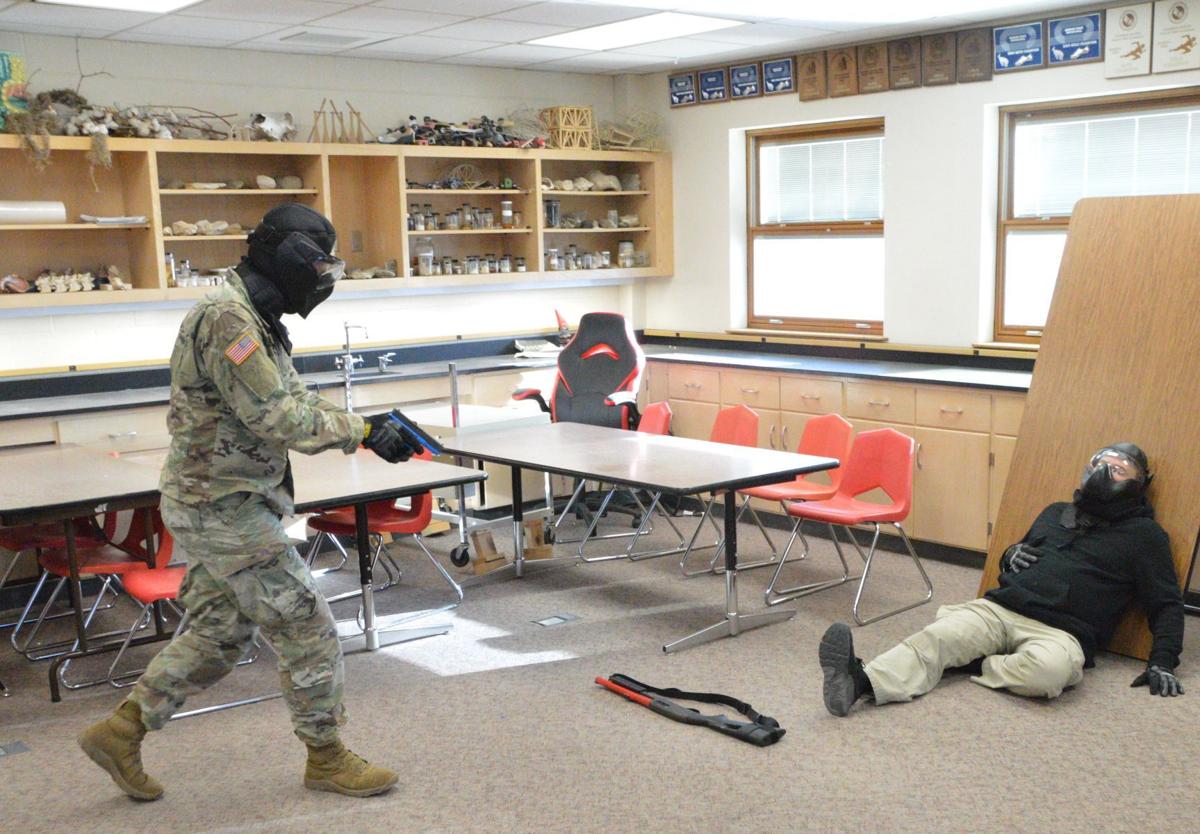 Nearly 16 years ago the unthinkable happened in Chadron when a seventh grade student walked into a classroom and shot a teacher. Shots rang out again through the halls of Chadron High School this weekend, and while it was a grim reminder of the middle school shooting, the bullets fired Saturday and Sunday were "simunitions," consisting of colored soap pellets similar to paintball rounds.
The Nebraska National Guard 1057th Military Police Company based in Chadron and Scottsbluff worked with local law enforcement agencies to conduct active shooter training drills at the high school, providing important practice in evaluating and eliminating threats, clearing and securing rooms, and caring for civilians in the line of fire.
Troy Brown, chief deputy with the Scotts Bluff County Sheriff's Department, explained, "We're teaching the soldiers to form up as teams, move as a team, evaluate thresholds – what their goal is – move to the threat, and neutralize or isolate any threat they come across."
Brown further noted he and Scotts Bluff County Deputy Kristopher Still became certified instructors in 2012, and approached Western Nebraska Community College about training officers through the college. "They actually funded a lot of the simunition guns that we use," Brown said of the college, "and our safety equipment that we use." Since that first training, they've taught in West Point, Kearney, Harlan County, Scotts Bluff County and Chadron.
"The training we're doing now has been tried, true and tested by special operators overseas, who are doing this in other countries," Brown said. "They're learning these skills, and they're bringing that knowledge when they deploy back." The University of Texas in San Marcos was the school that originally started the program in 2000, he added, when school shootings were starting to become more common, to better respond to threats.
Two additional trainers – James Jackson and Justin Brunz with the Gering Police Department — were also assisting and have been certified since 2015.
As to training in the high school, Brown said in most places there are long hallways and multiple doorways as well as multiple angles from which threats can come. "What we teach these teams — everything from a two-man to a five-man — is how to negotiate those angles so they have the highest chance of survivability."
Regarding the simunitions, the guns represent Glock 17's, firing 32 caliber bullets — colored soap inside plastic capsules — at about 300 feet per second. "You do hear a bang, you do see a flash, and you do feel an impact if you get hit but it's not an impact that's going to cause major injury. The worst you get is a little pucker, maybe tear the skin a little bit."
The reason for using realistic firearms is to "inoculate" soldiers to the sounds and sights and to continue moving, fighting and putting well-aimed direct fire on the threat.
Among the teachers involved with the training was Craig Nobiling, described by Brown as a "rock star" for his availability as a role-player not only here but other training sites. Brown further added it was Nobiling who ran to the sound of gunfire during the 1995 incident, and took down and held the student shooter until law enforcement arrived. He's a teacher who understands the importance of this training, Brown said.
Also assisting is Chadron State College Criminal Justice major James Wada, who also understands the importance of the training. "He wants to make sure these guys that are learning get those skills they need to help them survive," Brown said.
Both Nobiling and Wada are great and lining up role-players for the training, Brown added, and "just having fun with it."
The school is an ideal setting for the training, as they are typically empty on weekends. Also, instead of a sterile training facility with no obstacles, here the soldiers have to learn maneuvering around desks, chairs and doors, providing a more realistic environment.
Sergeant First Class Matt Dodge, a platoon sergeant for the First Platoon of the 1057th, said it was paramount for the National Guard to receive the training, as he's been through it with Brown and Still. "I've run through this course," he said, "understood the importance of it for the training aspect of neutralizing an active shooter. On the Army side it's really important, since we've realized since the Fort Hood shooting we're going to have to work with different agencies to develop a plan and neutralize that threat."
Dodge further added there will always be different policies with different agencies and they will have to learn to work with that to reach the ultimate goal of saving lives. This type of training helps to inoculate soldiers against the effects of stress. "Once that heart rate gets up to about 180 beats per minute people start to get tunnel vision. You get that auditory exclusion and they're not able to focus as well. With the simunitions, the blank fliers, having the actors scream and yell helps that stress inoculation, up it a little bit, and they're able to work with different tactics and different agencies to be successful."
Overall it's been successful for the soldiers, Dodge said. They feel like they're putting in the work and actually getting a skill out of it that they're going to use later on.