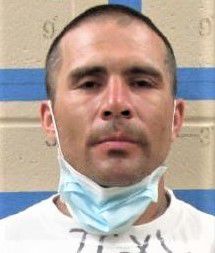 A potentially dangerous situation in Chadron ended peacefully on Feb. 15, when a suspect in a South Dakota homicide investigation remanded himself to the police.
Thirty-eight-year-old Phillip Wayne Pond of Pine Ridge, S.D. was arrested at the police station on a federal warrant issued out of South Dakota for homicide – negligent manslaughter with a weapon. The charge stems from a shooting incident on Nov. 22 during which 40-year-old Justin "Ohitika" Little Hawk was shot outside his Pine Ridge Home.
Acting Chadron Police Chief Rick Hickstein said on the evening of Feb. 15 Pond entered the department and asked the dispatcher whether there were any warrants out for his arrest, as he had been told by others that his name was in the news. As officers are provided with regular intelligence bulletins on suspects, they were familiar with Pond's name.
After he was notified there was a warrant for his arrest, Pond chose to turn himself in rather than attempt escape. Following his initial arrest he was turned over to FBI custody. Pond will go to trial on April 27 unless he reaches a plea deal by April 9. 
Pond was believed to be living on the Pine Ridge Reservation or in Rapid City, according to Bob Ecoffey, chief of the Oglala Sioux police.
Following the shooting Little Hawk, who also went by Thomas Leroy Hoof, was taken to the University of Colorado Hospital in Aurora and died at about 1:45 a.m. Dec. 11.
According to an affidavit of probable cause filed in the case by Jerrick Myers, an FBI agent with a criminal squad of the Minneapolis Division of the FBI, Rapid City Resident Agency, Little Hawk was shot in the left shoulder on Nov. 22 during a fight/argument with Pond while the two were in a vehicle.
Myers and FBI Victim Specialist Curt Lauinger responded to Monument Health in Rapid City, where Little Hawk was initially transported and taken to the operating room. Myers was not able to ask any questions at that time but did take initial photos of the wound.
The following day, Oglala Sioux Tribe Department of Public Safety Captain John Pettigrew interviewed Mahpiya Arapaho about the incident. According to his report, Arapaho, Little Hawk and Emelio Esparza pulled into a housing area and stopped to turn around. At that time, Pond entered the rear driver side seat, behind Little Hawk. An argument between Pond and Little Hawk ensued, with all but Pond leaving the vehicle.
Little Hawk continued to argue with Pond through the rear window, and that argument ended with the gunshot. Hearing the shot, Arapaho and Esparza ran in separate directions. Arapaho was familiar with Pond, and though he didn't see where the gun was hidden he described it as being about two feet long when Pond fired it.
Following Little Hawk's death, Agent Myers conducted a phone interview with Fred Bagola, who advised he had spoken with Little Hawk after he was transferred to the Denver hospital and was out of surgery. During that conversation, Bagola said, Little Hawk remembered Pond shooting him but also that he had forgiven him for it.
Upon further interviews performed by Captain Pettigrew, it was learned that Pond and Jamie Dreamer had been looking for Little Hawk the night before he was shot, and that they had a gun with them. The captain was also advised Pond said the shooting was an accident.