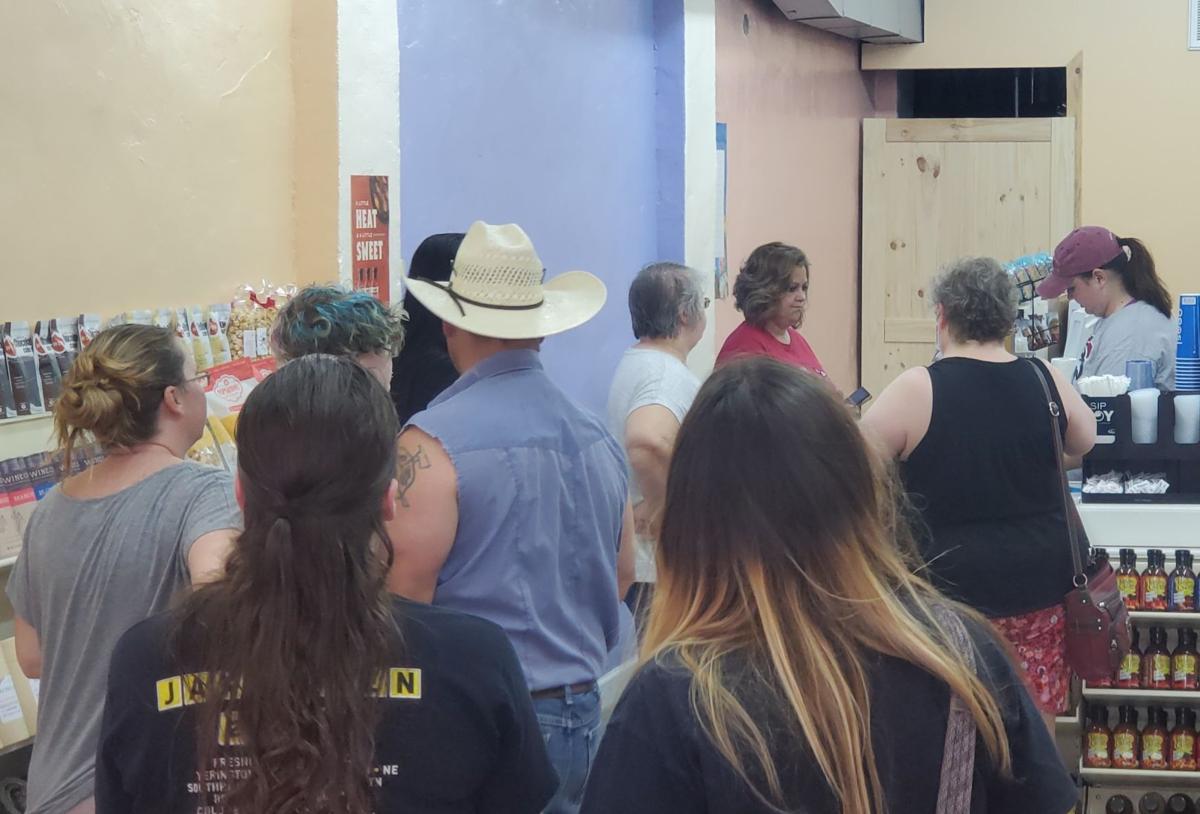 Though the summer heat has been near unbearable some days, a new downtown business has been helping people cool off. Though the most prominent feature in Main Street Sweets is the ice cream dipping cabinet serving area with its variety of flavors and toppings, owner Ray Misner has plenty more on the shelves with plans to expand his wares.
Misner officially opened the doors on the downtown location on July 24, but those attending the Chadron State Park Centennial were able to get an early sample from his booth. The park celebration went well, Misner said, particularly with the "King Kong" banana split.
"It's one of those fun items for us," Misner said. "We like to have fun with a few things, and it puts our own unique touch on things."
Prior to opening his own business, Misner worked at The Ridge. He's been planning this new venture for some time, but the pandemic held things up. He stressed he still on good terms with his former employer, and Ron Moore of The Ridge has been very supportive of his efforts.
"He and I talk on a regular basis still. I go over there, and he stops by here. We're having fun with it."
It also helps that Moore and Misner are both open late nights.
"He's got the alcohol, we've got the ice cream," Misner said with a laugh.
There are some slow nights, he noted, but the late hours still see plenty of business, especially with Chadron State back in full session. Right around 9 p.m., Misner said, it seems the college students are getting done with classes and want to blow off some steam.
As to the flavors and toppings for the ice cream, Misner said he had his own ideas at first, but when word got out about what he was doing he had folks asking for certain flavors "and they were pretty persistent, so we do carry some of those flavors."
Of course, one of the most famous pairings with ice cream is cake, and Misner plans to have a cake bakery side of the business as well. Other plans include providing pizzas for birthday parties at the business and another dipping cabinet to up the number ice cream flavor offerings to 31.
One of the biggest issues has been shipping, he noted, with items ordered months ago, such as the convection oven for the cakes, still awaiting arrival.
While looking over the ice cream menu, there's plenty of other products to browse through including flavored jerkies and sauces, snacks, candies and party supplies. Misner said he always envisioned a multi-concept shop with ice cream, a small retail area and a kitchen.
"Ice cream's not going to foot the bill," he said, noting there have been other ice cream parlors that haven't done well. He did some additional research to help ensure his didn't follow the same path. "I think our multi-faceted concept is going to work."
Misner recently added an all-day breakfast menu and extended the popular Friday and Saturday "Taco Nights," and he has plenty more planned in the coming weeks. To help make sure each concept in the business is run well he has different managers, each with his or her own area on which to focus. For example, he said, the ice cream and kitchen areas are run as if they are separate businesses, so as not to overwhelm a person with trying to manage everything.
Misner suffered a tragedy a month before the opening of the business when Emily, his daughter and one of the biggest supporters of the store, passed away. One of the walls is largely covered with her photo, and the shop is a way of keeping her memory alive.
"She was excited about this place," Misner said, and he hopes everyone stops by to give Main Street Sweets at 118 West Third a try.