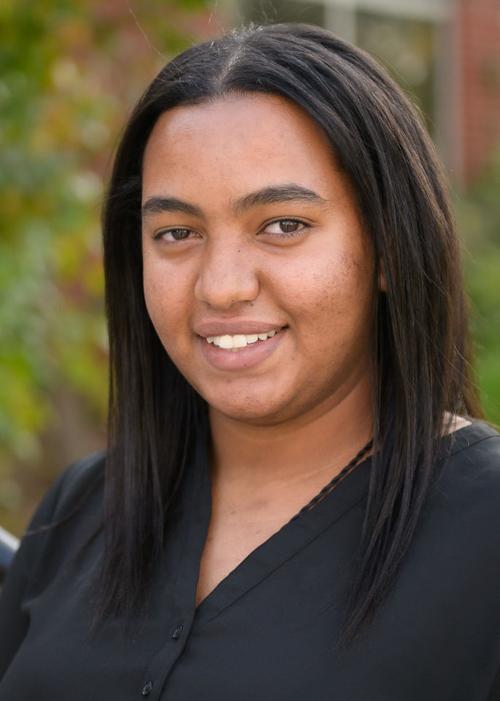 Chadron State College senior Lelisse "Lily" Umeta of Addis Ababa, Ethiopia, has earned a full fellowship to the Cancer Research doctoral program at the University of Nebraska Medical Center (UNMC). She said she is grateful for the opportunity especially in a competitive environment where graduate schools receive hundreds of applicants for a handful offers for fellowships.
Umeta said she feels well prepared for graduate school beginning in August.
"Our CSC professors challenge us to be critical thinkers from the first class we take. My interest in cancer biology started early in my life, but developed in my immunology class when I learned the role of our immune system in cancer. Every class I took not only expanded my knowledge but intrigued me to ask more questions and dig deeper to understand the science behind cancer," Umeta said.
Her acceptance to UNMC is the next step in realizing a goal from her youth.
"I am very excited to start my journey of becoming the person I dreamt of becoming as a little girl. Becoming a scientist is a dream many girls that look like me have and it is an honor to have this opportunity to make my dream come true. I recognize the challenges, the hard work and dedication it takes, and I feel prepared for it," Umeta said. "I came to CSC because I wanted to get good education with affordable price. As an international student, CSC provided me with international student scholarship and a supportive community."
Her ultimate career goal is to become a cancer researcher and work in a translational clinical laboratory. Translational research includes laboratory experiments carried through clinical trials to the point-of-care for patients.
In addition to classes, Umeta is a research assistant to CSC Professor Dr. Ann Buchmann.
"In research, she is working on understanding the pathways that allow deadly breast cancers to grow out of control. Lily is a great student and a great leader on campus," Buchman said.
As another example of Umeta's initiative, she revived the Rotaract Club on campus. She has also served in several different positions in Student Senate over the past three years. She is a senior Resident Advisor in High Rise, a learning assistant in the Principles of Cell Systems class, a member of Beta Beta Beta, a biological honor society, the Health Professions Club, and the International Club.
Umeta is also a mentor for students in Dr. Rachelle Rider's Anatomy and Physiology class.
"Lelisse is an amazing person. She is a hard worker, always strives to do her best. She has the results to show for it. Yet, at the same time she doesn't sweat all small things and the stress get to her. She has a smile that lights up a room, and a warm and caring personality to match. I am so excited for her future," Rider said.
Umeta's adviser, Dr. Joyce Hardy, said she exemplifies what it is to be a scientist.
"She has the strong knowledge and skills, the dedication to working well with others to make a difference in this world, and the curiosity that continually pushes the boundaries of her own learning and understanding. She exhibits the capacity to bring information from multiple perspectives to understand the complexity behind breast cancer. She will be an amazing researcher, and I have no doubt we will be learning much from her future work," Hardy said.