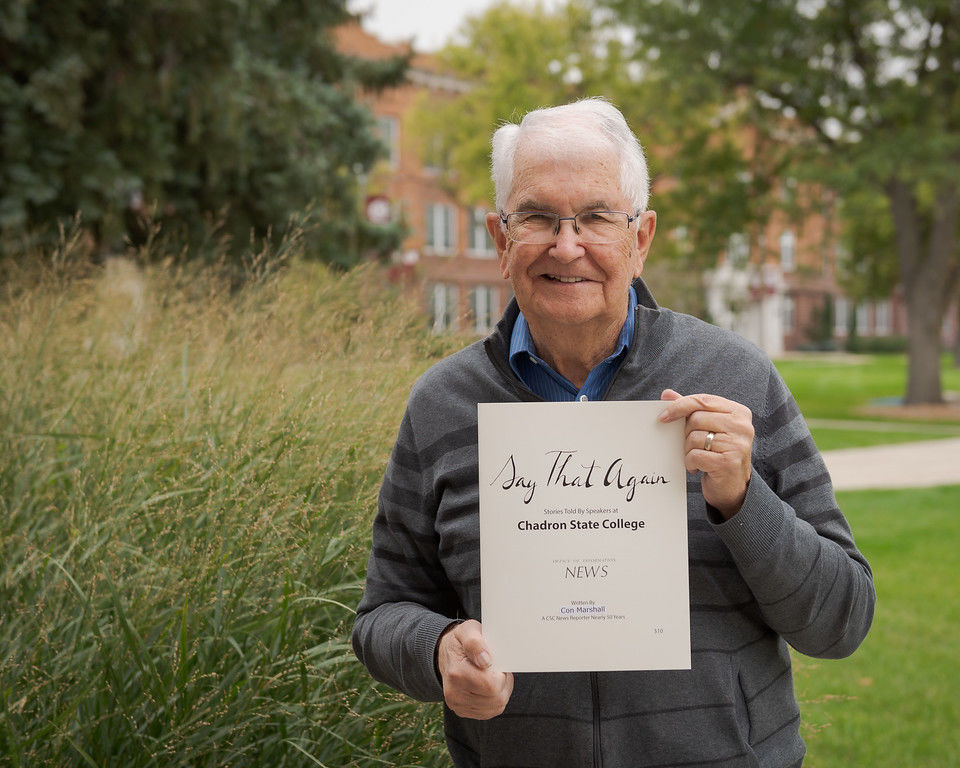 In nearly five decades of work at Chadron State College, Con Marshall has written stories touching on virtually every aspect of college life: homecomings and graduations, sporting contests, student-athlete profiles, cultural events, outstanding students, and distinguished alumni.
Among his efforts to let the world know about CSC activities, Marshall often provided brief accounts for local and regional media of speakers who were invited to talk to student organizations or at conferences on campus. Self-described as something of a hoarder, Marshall, whose career began long before the era of computerized records, still keeps printed versions of many of those stories in a manila file labeled, "Speakers."
Thirty-two of the speaker stories, mostly from the 1980s and '90s, are collected in "Say That Again-Stories Told By Speakers at Chadron State College," a book Marshall recently published.
While most of the stories deal with topics of history, the range of speakers included in the book is diverse, including among others, an Olympic champion, a Nobel Prize winner, a former Secretary of the Interior, a Russian comedian, college professors, Holocaust survivors, and a Harlem Globetrotter.
Many of the talks Marshall covered were presented at a weekly noontime series presented by the Phi Alpha Theta history fraternity at CSC. Those speeches were often given to people who were eating sack lunches from brown paper bags, Marshall said.
While the college has hosted speakers whose topics were controversial, Marshall said he tried to avoid controversy in choosing material for the book.
"I wanted this booklet to primarily contain stories on experiences and events so the readers don't have to decide whether they agree or disagree with what was written," he wrote in the book's foreword.
Even with that caveat, the speakers' comments may not please everyone. A 1987 Chautauqua speaker, Clay Jenkinson, told his audience that Thomas Jefferson was "something of a male chauvinist pig" and that the U.S. Constitution was drawn up at an illegal convention and is inherently flawed.
Another story recounts that in 1992 Val Fitch, a Novel Prize winner in physics who studied at CSC, said U.S. government leaders were ignoring major world problems including global warming and pollution, and that more scientists and mathematicians should be in government service.
Less likely to raise hackles are the comments of Harlem Globetrotter basketball star Meadowlark Lemmon and Olympic distance running champion Billy Mills who both advised students to work hard to achieve their dreams.
The book also contains many local voices and topics, with a focus on regional history that includes stories about settling the Great Plains, early-day Chadron, Nebraska author Mari Sandoz, and northwest Nebraska rancher and banker Charles Coffee. An entire chapter of talks about World War II includes personal accounts by several local military veterans of the conflict.
Because computers had limited storage at the time Marshall wrote the stories, his paper versions of the reports had to be scanned electronically for printing. CSC Publications Specialist Dewayne Gimeson took on that task, as well as scanning photos of the speakers and designing the layout. CSC Publications Specialist Craig Conway also played a major role in getting the manuscript prepared for publication, and Marshall's granddaughter, Elizabeth, helped design the cover. Marshall also acknowledged assistance and support in preparing the book from his wife, Peggy, CSC Director of College Relations Alex Helmbrecht, and Chadron State President Randy Rhine.
Marshall, who has written detailed books on the history of Chadron State College, said the new publication contains only his original, short, easy-to-read stories that he hopes will be entertaining for readers.
"My thoughts are, 'Just enjoy them,'" he said.
The book costs $10 and is available by contacting Marshall at 308-432-6478.