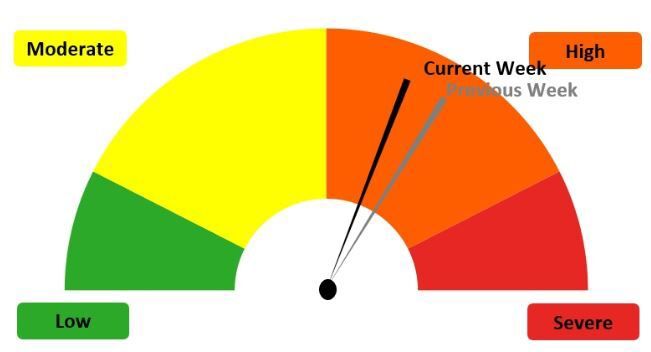 As of Monday afternoon, a total 4,648 doses of COVID-19 vaccine had been administered across the Panhandle, according to data from Panhandle Public Health District. The Panhandle's risk of spread also continues to decline, making weekly declines closer to the Yellow, or "Moderate" level.
Dawes County has had 631 confirmed cases of the virus, 44 in the past two weeks, and 17 deaths. Chadron Public Schools still had no active cases as of Monday, and no staff or students quarantined. The district has had 36 cumulative confirmed cases, all of whom recovered. Chadron State College had 14 cases as of Monday, 11 in students and the rest in employees. The college has had a total 179 cases, 143 in students.
Sioux County has had 29 confirmed cases, five in the past two weeks, and one death; Sheridan has had 453, 18 in the past two weeks, and 13 deaths; and Box Butte has had 881, 29 in the past two weeks, with eight deaths.
Last Friday, Governor Pete Ricketts provided an update on the State's progress distributing and administering the coronavirus vaccine. Over 120,000 vaccinations have been administered so far in Nebraska.
Nebraska Department of Health and Human Services (DHHS) Incident Commander Angie Ling discussed the State's work to vaccinate Nebraskans in Phases 1A and 1B of its COVID-19 Vaccination Plan. The State's COVID-19 Vaccination Plan is available by clicking here. Ashley Newmyer, Chief Data Strategist for DHHS, overviewed upcoming enhancements to the State's dashboard that tracks coronavirus cases.
Gov. Ricketts stated, "Vaccinations have been moving quickly statewide in 2021. We're in Phase 1A in four of our local public health districts. We've moved to Phase 1B in 15 of the districts.
"As we enter Phase 1B, we expect 90% of vaccinations to be administered to people who are 65+ years old.
"Mortality data shows that the 65-plus age category is the most vulnerable to coronavirus. We're prioritizing this group to protect older Nebraskans. We expect Phase 1B to take several weeks."
Additional folks listed in Phase B1 include first responders, teachers, and people 18 years and older with high risk medical conditions.
Ling added,"We had a small increase in allocations [last] week. We received 11,700 primary doses of the Pfizer vaccine and 11,800 primary doses of the Moderna vaccine. Our federal pharmacy program continues with around 428 facilities having received their first doses, and second doses starting at clinics next week. After next week, all doses to the federal pharmacy program will be completed. We anticipate all long-term care facilities receiving their first dose of vaccine by the end of the month."