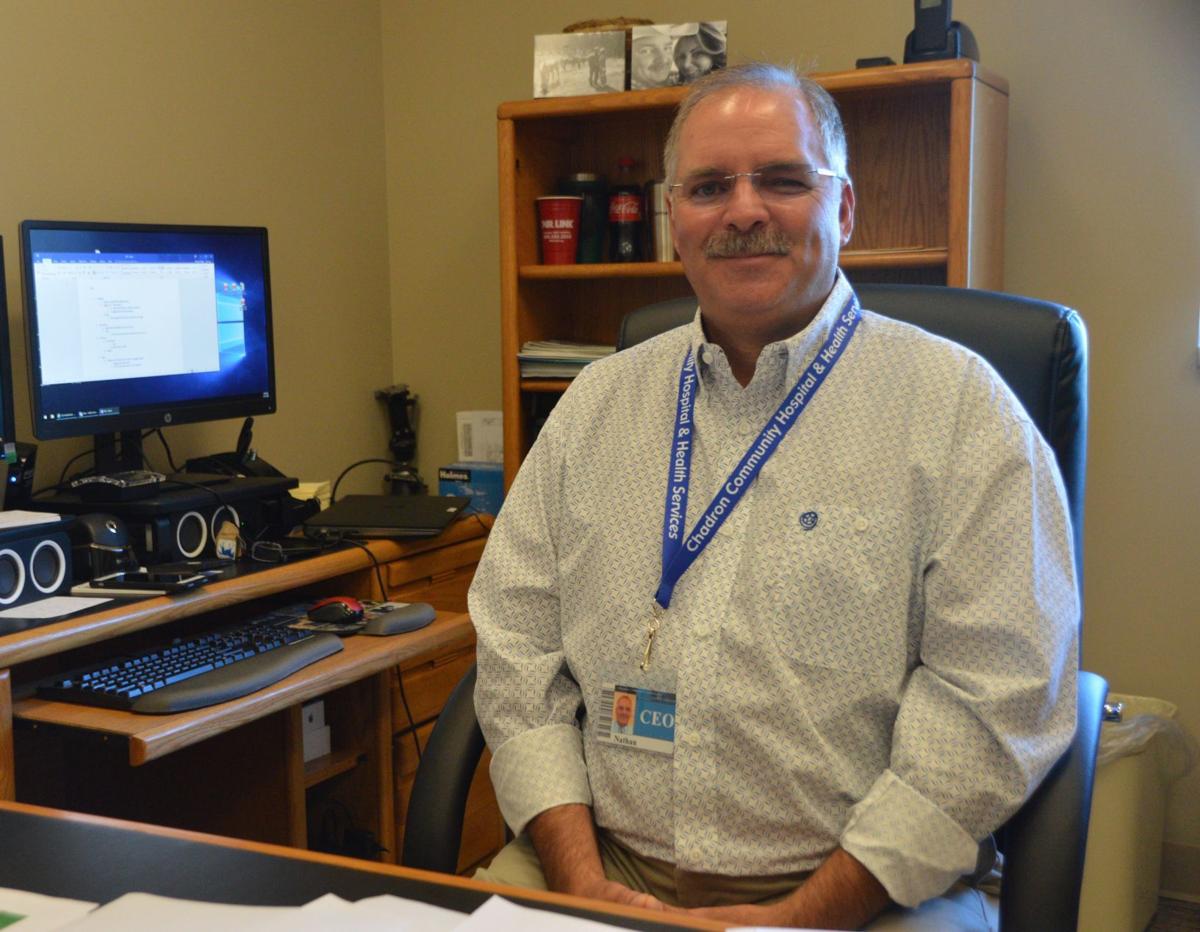 Thursday, June 11 marked one month since Nathan Hough assumed administrative responsibilities as the new Chief Executive Officer of Chadron Community Hospital and Health Services.
Hough was most recently in Beulah, Wyoming, and he worked at Sundance Hospital for five years. He earned his Bachelor's at the University of Minnesota, and his Master's through Southern New Hampshire about seven years ago.
As for his decision to come to Chadron, Hough said what really helped him make up his mind is the community's support of health services and wanting them in town. His goal is for the community to have pride in the hospital and know it's a resource for them for care, specialists or even just for answers as to how their insurance works.
"Insurances are changing so much," he said, "one of our jobs is being a resource for people on how their insurance works and things like that."
This first month has been a good one for Hough. He's working with medical staff and is looking for their help in recognizing what is being sent out for specialty care that might be available at the hospital through visiting providers. "We're not talking brain surgery necessarily, but if somebody has to go out of state or out of town to get something done that we could maybe do here, it's definitely something we want to look at. And if not, have connections to ensure our community members are getting to places we're confident with and have a good working relationship."
Hough said one of his favorite things to do with an organization is to "get the community to the point where it is their hospital, they're proud of it and they don't have any hesitations on it being the first stop they make."
The new CEO said he can't mingle as much as he wants to right now, but he's helped gather cattle and gotten involved with the local archery club. He and his wife Bernie have also enjoyed getting to know their neighbors. The couple's youngest child is here with them, and they have a total of five children. Hough noted they do foster care. "It's truly something I grew up with. My folks did it and ended up adopting a couple of my sisters. That's kind of how it happened with ours. We have three biological kids and adopted two that we did foster care for."
He noted the desire to do foster care must be hereditary, because one of his children and her husband are considering it.
Hough and his wife first started doing foster care when they lived in Minnesota, near the southern edge of Red Lake Indian Reservation. He and his wife eventually became the first non-tribal enrolled Native American foster family there. "The tribal council had faith in our family."
Having that interaction, he said, will be of advantage to him, being near the Pine Ridge Reservation. "I've been exposed and am used to some of their traditions and ceremonies. It isn't something that's foreign to me."
Hough is also looking to build relationships with the Chadron Medical Clinic, noting that it's under the same roof as the hospital but is its own organization. He also wants to expand on the services the hospital has. Speaking to dialysis in particular, he said the demand is continually increasing. The COVID-19 pandemic was an eye-opener as to how to care for patients who are susceptible or who have had exposure to the virus, and who still need dialysis treatments. One idea is having a separate room for such people from others. These rooms also give some privacy to ask questions that might not be comfortable in a group setting.
Director of Nursing, Alisha Obando, said, "Nathan is a great addition to our Healthcare team here at Chadron Community Hospital. His previous experiences in rural hospitals is a great resource for our hospital and community as we continue to build services to meet the needs of our patients. We look forward to his leadership and guidance as we look towards the future of CCH&HS."
Chief Financial Officer, Jennifer Brown, said, "We are so excited to have Nathan at Chadron Community Hospital. His experience and background are a great fit for our organization and our community. Nathan's focus on creating a team environment and aligning the goals of the organization will inspire change and lead our vision of being the healthcare system of choice in Chadron and our surrounding area."
Be the first to know
Get local news delivered to your inbox!