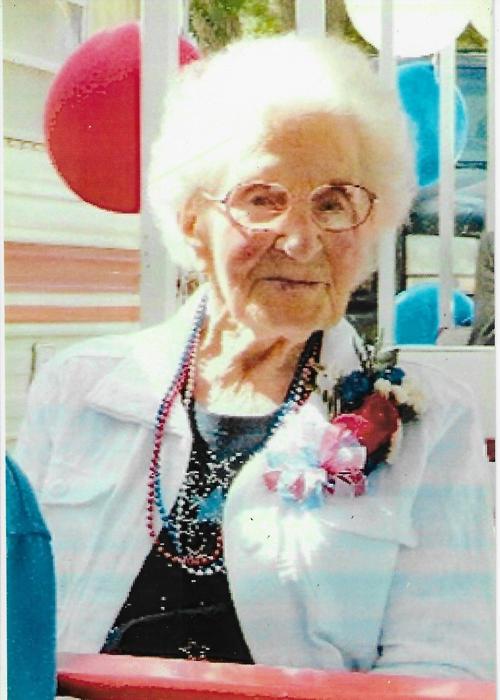 The person believed to be the oldest resident of Dawes County, Irene Snook, passed away early Saturday morning at Ponderosa Villa in Crawford. She had observed her 103rd birthday on Feb. 20.
Born Irene Dyer at Bertrand, Neb., as one of 13 children, she was visiting her brother and his wife at a WPA Camp north of Crawford where a dam as being built during the Great Depression when she met Glenn Snook, who was working at the same camp.
They were married in 1938, a few months after she turned had turned 21. During the next year and a half, they lived in a covered wagon while herding sheep for Perry and Alice Moody. A few years later, the Moodys helped the young couple buy the land along the state line in the Wayside area northwest of Chadron that became the home place.
In a 2015 interview, Irene said she had survived prairie fires, hail storms, blizzards and a tornado that wiped out most of the building on the ranch except the house. She said she had never drilled grain, but had disked, mowed hay, placed bales on a stack and checked cows that were about to calve. She also milked cows and raised chickens, selling cream for 15 cents a pint and eggs for 30 cents a dozen to railroad section bosses who live in Wayside.
She also remembered finally getting electricity and television and being connected to the pipeline that brought water to the ranch in 1970 after they had spent 30 years collecting water off the roof or hauling it from town.
The house had one convenience that others in the neighborhood, even in the mid-1950s, did not have. That was a telephone. Neighbors often came to use the phone and generally left a dime.
At one time she had a sizable collection of agates that she gave to her grandchildren and she also accumulated numerous trophies while bowling in Chadron for 50 years.
Glenn died in 1985, but she didn't move to Ponderosa Villa until 2017. Survivors include her daughter Glenda Hutton of Rapid City, son Lorn (Tuffy) of Wayside and six grandchildren, including Chance Snook of Whitney
Unable to visit her the past two months because of the COVID-19 situation, Tuffy said he talked to his mother by telephone Friday morning, less than 24 hours before she died, and she asked him how many calves he had and when he was going to brand.
Twila Schilling, the nurse in charge at Ponderosa Villa, called Irene "the kindest, loving little lady I ever met. She never complained about a thing."
Be the first to know
Get local news delivered to your inbox!