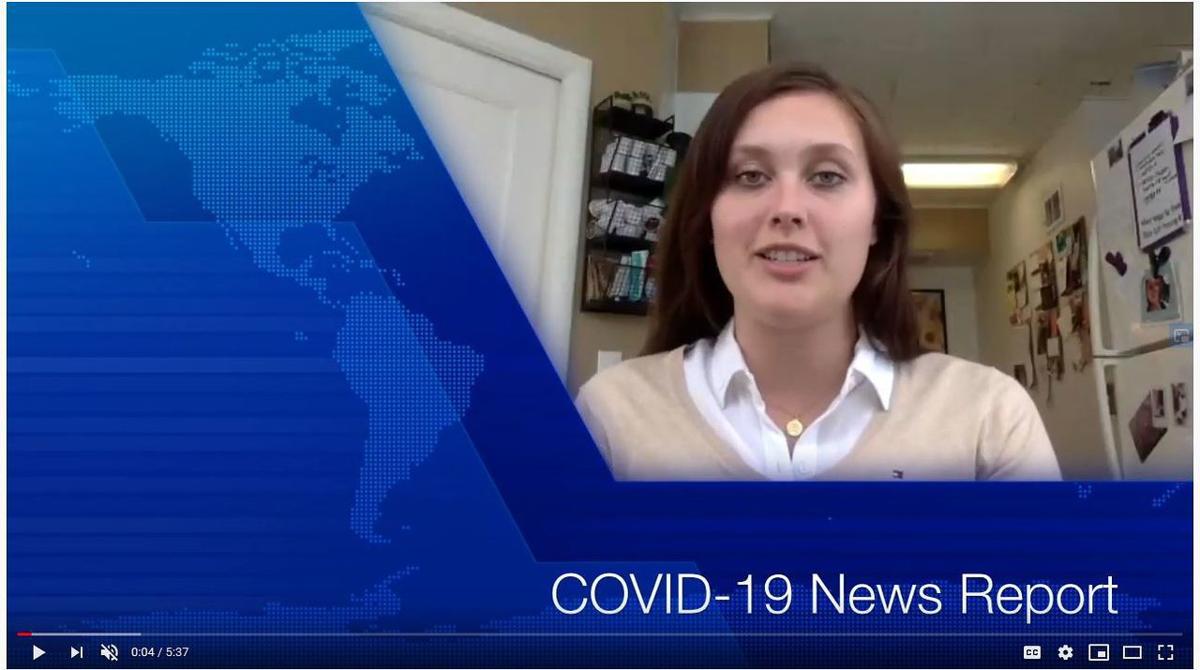 Chadron State College students enrolled in Pathogenic Microbiology this semester explored the epidemiology of the coronavirus and the COVID-19 pandemic. Students generated questions based on reading assignments from their professor, Dr. Ann Buchmann. She then organized the questions and formed three discussion groups to answer them. The students each compiled their findings in a formal paper and short synopsis for the public.
Two years ago, Buchmann's class studied Zika and four years ago, Ebola.
Joe Keating of Casper, Wyoming, who will enroll in the University of Washington School of Medicine in August, said understanding how pathogenic microbes, including viruses, interact with the human body is going to be huge part of his career.
"One of the most interesting things I learned about SARS-CoV-2 is what drove viral seasonality. The change in environment would apply to the current situation. The virus spreads from human to human, and does not depend on an animal vector like mosquitoes. There is evidence to suggest that UV light kills the virus, which can slow the pandemic, but won't be enough to get rid of it. I wonder if our nation will dedicate more resources than before to preparing for an event like this," Keating said.
Keating said with the change to remote rather than face-to-face course delivery, his science courses became more project-based including writing papers and making videos since proctoring exams at a distance can be difficult.
One student group, Eve Vanderneck of Henderson, Neb., Keating, and Tucker Vahle of Papillion, Neb., produced a five-minute video in a TV news format. They explain manufacturing and technology companies adapting their processes to produce substitute ventilators, seasonal fluctuations and prospective treatments being investigated at UNMC.
April 8, Buchmann hosted a video conference and Q&A with Dr. Sharon Medcalf Director of the Center for Bio-Security, Bio-Preparedness and Emerging and Infectious Diseases at UNMC. Medcalf, who has a doctorate in Emergency Preparedness, said she was impressed with the CSC students' questions.
She reviewed the timeline of the origin of the disease in early January in Wuhan Province, China. She told the CSC students she was on a call with the Center for Disease Control Jan. 17, when it was preparing to deploy 100 CDC workers to airports in Los Angeles, San Francisco, and New York City.
"This is public health intervention. It's nothing new. We did it with SARS, H1N1, and Ebola," Medcalf told the class. "Now, case contact tracing is probably the most important thing public health can do."
She shared links to videos of simulation rooms at UNMC that demonstrate three different types of transmission: contact, droplet, and airborne. She said certain procedures such as nebulizer treatments can make the droplets airborne and increase the distance they spread.
Medcalf shared a graphic from the 1918 flu pandemic comparing cities that did and did not implement non-pharmaceutical interventions.
"Champion cities included St. Louis implemented social distancing and no large gatherings, early, layered them, sustained them. Philadelphia held a parade to sell war Bonds in 1918, in spite of protests by public health officials and within six days of that parade there were thousands of people per day dying. So we don't learn from history," Medcalf said.
Be the first to know
Get local news delivered to your inbox!